Spotkanie regionalne / Inwestowanie w nieruchomości
Gdzie?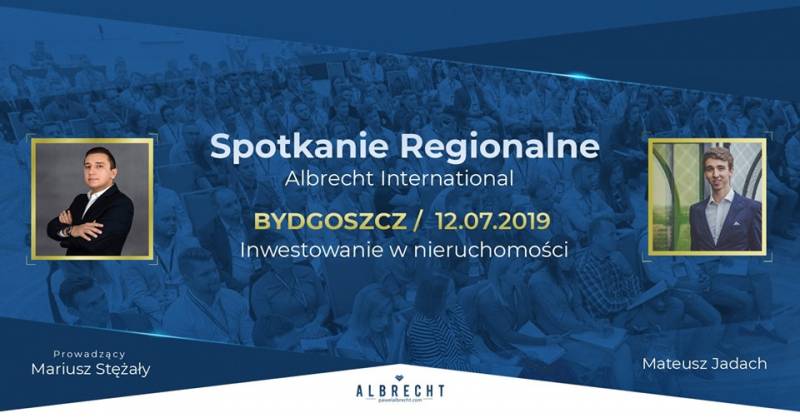 Informacje od Organizatora:
Interesujesz się inwestowaniem w nieruchomości?
Przyjdź na czwarte spotkanie regionalne Albrecht International.
Prelegentami podczas tego spotkania będą:
Mateusz Jadach - pierwsza prelekcja
Inwestor z Krakowa, który po Warsztatach z Podnajmu rozpoczął swoją dynamiczną przygodę z nieruchomościami.
Historia Mateusza jest o tyle ciekawa, że przychodząc na Warsztat zadawał wiele pytań, a dzisiaj sam udziela odpowiedzi i dzieli się swoimi doświadczeniami z początkującymi inwestorami.
Występował już na Zjeździe Absolwentów oraz Akademii Sourcingu™, gdzie pokazywał swoje aktualne realizacje.
Na spotkaniu regionalnym Mateusz pokaże swój biznes podnajmu i opowie o swoim rozwoju w tej branży.
Dowiesz się jak może wyglądać budowanie firmy w oparciu o nieruchomości zaczynając od samego początku.
Mariusz Stężały - prowadzący, druga prelekcja
Mariusz na swojej prezentacji opowie o zarządzaniu mieszkaniami na wynajem.
Przychodząc na to spotkanie poznasz charyzmatycznych prelegentów oraz uczestników, którzy pomogą Ci w Twoim biznesowym rozwoju.
Nie musisz mieć doświadczenia w nieruchomościach, aby uczestniczyć w spotkaniu.
Każdy jest mile widziany - zapraszamy serdecznie.
Dlaczego organizujemy spotkania regionalne Albrecht International?
Mamy kilka tysięcy zadowolonych Absolwentów naszych spotkań w całej Polsce.
Chcemy utrzymywać z nimi kontakt poprzez spotkania regionalne w największych miastach.
To idealna okazja do networkingu - poznania nowych lokalnych inwestorów.
▪ Jak wygląda spotkanie regionalne? – informacje organizacyjne
Program spotkania:
Rejestracja + networking: 17:30 do 18:30
Panel z prezentacją: 18:30 do 21:00
Networking: po 21:00
▪ Rejestracja:
Bilety płatne przed wydarzeniem 92 zł.
Zapisy dostępne przez portal evenea:
https://evenea.pl/event/bydgoszcz4regionalne/
Miejsca rozchodzą się bardzo szybko - ze względu na ograniczenie na sali nie jesteśmy w stanie zagwarantować więcej miejsc niż pula podana podczas rejestracji.
▪ Jak się przygotować?
Zarezerwuj swoje miejsce w systemie rezerwacyjnym
Przygotuj swoje wizytówki z imieniem i nazwiskiem, mailem oraz numerem telefonu.
Dopisz czym się zajmujesz, aby uczestnicy pamiętali po spotkaniu z jaką sprawą mogą się do Ciebie zwracać.
Zarezerwuj sobie czas po spotkaniu, aby poznać się z uczestnikami.
Dress code: Smart casual – warto zrobić dobre wrażenie podczas networkingu
▪ Prowadzący spotkania regionalne: Mariusz Stężały
______________________
Kalendarz wydarzeń odbywających się w Bydgoszczy miej zawsze pod ręką dzięki aplikacji mobilnej (Android i iOS).
______________________
Informacje o wydarzeniach przesyłajcie na adres wydarzenia@visitbydgoszcz.pl
______________________
Bydgoskie Centrum Informacji nie ponosi odpowiedzialności za jakiekolwiek zmiany miejsc, godzin i dat wydarzeń.