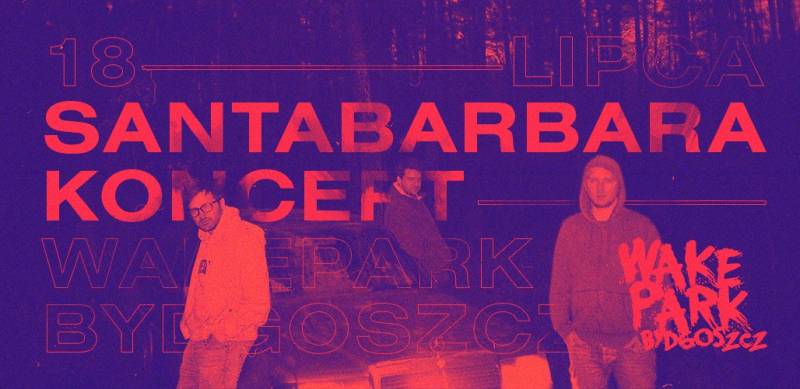 Kolejna niespodzianka dla Bydgoszczy - z przyjemnością informujemy, że udało nam się sprowadzić do wakeparku jedno z objawień tegorocznego Sprintbreak'a - Panie, Panowie, najnowszy projekt muzyczny braci Pospieszalskich drugiego pokolenia - Santabarbara !!
SANTABARBARA - projekt muzyczny , który zapoczątkowali Łukasz, Marek, Szczepan i Nikodem Pospieszalscy. Na co dzień poruszający się na przeróżnym gruncie muzycznym, od szeroko pojętej muzyki rozrywkowej, elektronicznej, klasycznej, poprzez muzykę ludową, aż do awangardowej improwizacji.
Projekt ten to połączenie syntetycznych brzmień z akustyczną perkusją oraz męskimi wokalami.
"Staramy się tutaj pokazać jaka jest nasza koncepcja na tworzenie piosenki, przy czym nie opieramy się na utartych schematach formalnych i kompozycyjnych. Nadrzędną rolę w każdym utworze pełni melodia i harmonia, do której staramy się podejść w nieoczywisty sposób aranżacyjny. W naszej twórczości inspirujemy się wpływami min. Jamesa Blake'a, Radiohead, Metronomy, a także muzyki czysto elektronicznej, czy nawet techno.
Tutaj staramy się połączyć te pomysły w jedną spójną całość, a przy tym mamy nadzieję na pokazanie czegoś nowego i świeżego.
Obecnie zespół funkcjonuje w trio (Szczepan, Łukasz i Nikodem) i szykuje się do nagrania płyty."
"Od najmłodszych lat wspólnie pragnęliśmy stworzyć zespół. Wszyscy wychowaliśmy się na dźwiękach TieBreaku i nikt z nas nigdy nie wyobrażał sobie życia bez sceny. Wydawało się to dla nas naturalne, że w przyszłości pójdziemy w ślady naszych ojców.
Santabarbara jest owocem naszych wspólnych poszukiwań brzmienia i koncepcji na tworzenie muzyki.
Każdy z nas na co dzień jest pochłonięty własnymi muzycznymi projektami. Czekaliśmy wiele lat na ten moment, by w tym składzie móc stanąć na scenie i swoją twórczością opowiedzieć własną historię. Teraz jest na to najlepsza okazja."
Bilety
1 pula - 20 zł
2 pula - 25 zł
dostępne na Going https://going.pl/santabarbara-wakepark-bydgoszcz
oraz w Salonach Empik
______________________
Kalendarz wydarzeń odbywających się w Bydgoszczy miej zawsze pod ręką dzięki aplikacji mobilnej (Android i iOS).
______________________
Informacje o wydarzeniach przesyłajcie na adres wydarzenia@visitbydgoszcz.pl
______________________
Bydgoskie Centrum Informacji nie ponosi odpowiedzialności za jakiekolwiek zmiany miejsc, godzin i dat wydarzeń.