Szmidt x Ostrowski | instalacja słowno - muzyczna + after
Gdzie?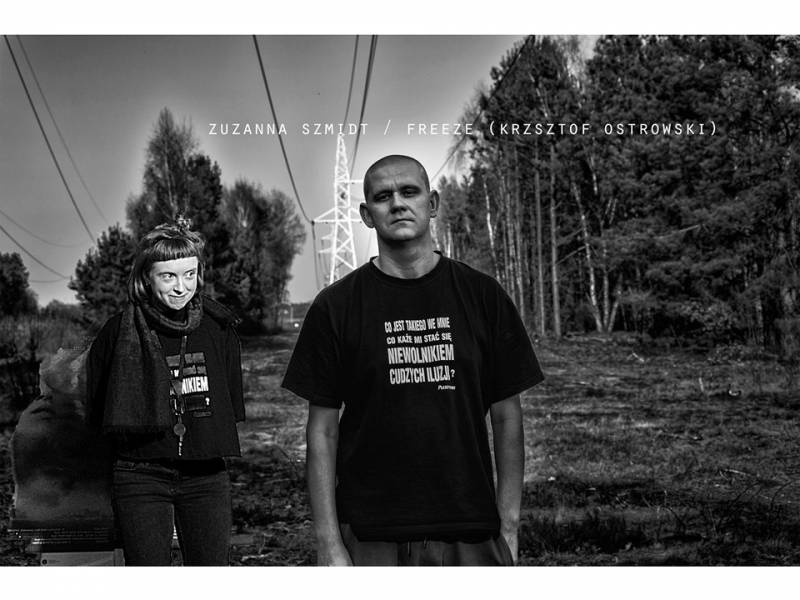 Wydarzenie towarzyszące regularnym cyklom. Podróż w nieznane. Empiria muzyczna. Tam i wtedy. Doświadczenie mrużące oczy jak psu - wszystko w cenie.
| CZĘŚĆ 1
Duet, który jeszcze nigdy nie wystąpił. Mają spójne założenia. Być może obydwoje ubiorą koszulki od pleszyńskiego. Improwizowana instalacja słowno - muzyczna. Opowieść tak intensywna, że ciężko odnaleźć początek i koniec, składająca się z części "przeplatających wzajemnie i równouprawnionych zarówno pod względem dźwiękowym, sonorystycznym jak i językowym" - mówi Freeze.
| Zuzanna Szmidt - urodzona w Warszawie, zamieszkała w Bydgoszczy; poetka, performerka, oficjalna koordynatorka i promotorka SLAMów Poetyckich w Polsce; organizatorka imprezy Tupot Poetycki, współorganizatorka NURT MOVIE. Wzięła udział w Pierwszych Ogólnopolskich Mistrzostwach Slamu Poetyckiego (Poznań, 2016) i w Drugich Ogólnopolskich Mistrzostwach Slamu Poetyckiego (2017). Współpracuje z klubem MÓZG.
| FREEZE (Krzysztof Ostrowski) to bydgoski muzyk, instrumentalista i producent, najczęściej kojarzony z szeroko rozumianą sceną elektroniczną. Na jego artystyczną działalność wpływa mnogość doświadczeń związanych z dźwiękiem: wykształcenie muzyczne, lata produkcji muzyki elektronicznej, audiofilska pasja, czy nawet... regularna gra w orkiestrze wojskowej. Sprawnie porusza się w różnych rejonach muzycznych, m.in. techno, eksperyment, ambient, dub, jazz, kraut, improwizacja. Szeroki, stale udoskonalany dobór instrumentarium i rozległa wyobraźnia artystyczna to znaki szczególne artysty, często skłaniającemu się ku eksperymentalnym i analogowym rozwiązaniom, takim jak syntezatory modularne, samplowane dźwięki z VHS, czy wydawnictwa kasetowe. Występuje solowo, bądź w formie audiowizualnego duetu Soundscape Mirror (z artystą wizualnym Tomem Skofem), jak i w różnych konfiguracjach zazwyczaj związanych z bydgoską alternatywą wywodzącą się z klubu Mózg. Nagrywał i występował m.in. z Piotrem Cisakiem, Grzegorzem Pleszyńskim, improwizowaną orkiestrą Come Down to Earth. Zadebiutował pod koniec zeszłego roku winylowym materiałem w wytwórni Jacka Sienkiewicza – Recognition Records.
| CZĘŚĆ 2
https://recognition.bandcamp.com/album/primary-fluctuation
https://pawlaczperski.bandcamp.com/album/further-fluctuations-ppt46
Pawlacz Perski pisze: "Further Fluctuations" Ostrowskiego brzmi jak fantazja na temat sztucznej inteligencji, która wyrwała się spod kontroli swojego twórcy. Zaprogramowany systemem, stopniowo zaczyna zachowywać się jak żywy organizm i podejmować nieprzewidywalne decyzje. To wizja fascynująca, ale też niepokojąca, bo nie wiemy czy ruchy maszyny to jeszcze taniec, czy ekstatyczny szał, który znajdzie swoją kulminację w pożarciu zatrwożonego obserwatora.
Album opiera się na narracyjności rzadko spotykanej w bitowej muzyce elektronicznej - ten bunt maszyn ma nad sobą reżysera, który misternie planuje wszelkie zaskakujące zwroty akcji, umiejętnie dawkuje napięcie i nie pozostawia miejsca na przypadek."
______________________
Kalendarz wydarzeń odbywających się w Bydgoszczy miej zawsze pod ręką dzięki aplikacji mobilnej (Android i iOS).
______________________
Informacje o wydarzeniach przesyłajcie na adres wydarzenia@visitbydgoszcz.pl
______________________
Bydgoskie Centrum Informacji nie ponosi odpowiedzialności za jakiekolwiek zmiany miejsc, godzin i dat wydarzeń.