Radosne Serca - Ogólnopolskie Warsztaty Artystyczne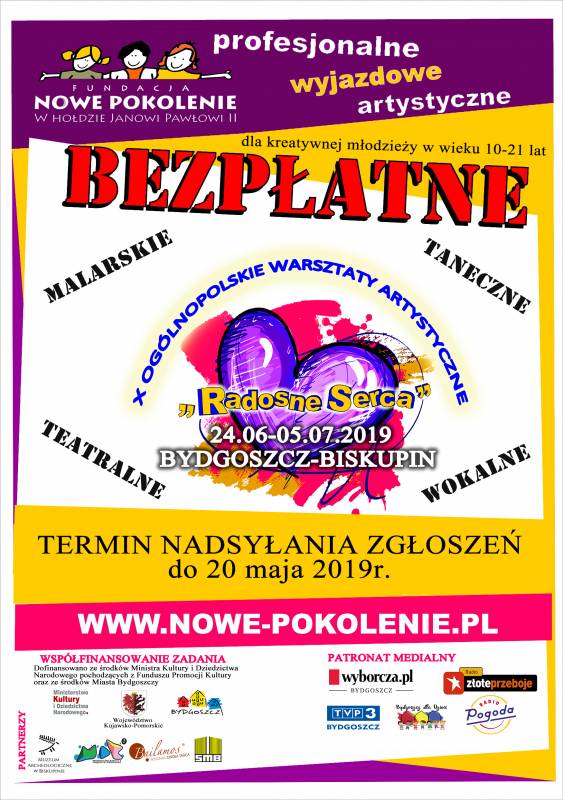 Informacja od Organizatora:
Uważasz, że jesteś wyjątkowy i masz talent? Od zawsze marzysz by tańczyć, śpiewać, malować, realizować się aktorsko? Chcesz spełnić swoje marzenia i wystąpić przed szeroką publicznością? X Ogólnopolskie Warsztaty Artystyczne "Radosne Serca" organizowane przez Fundację "Nowe Pokolenie" z Bydgoszczy to propozycja właśnie dla Ciebie!
Do udziału zapraszamy dzieci i młodzieży w wieku od 10 do 21 lat ze wszystkich typów szkół, placówek opiekuńczo-wychowawczych i kulturalnych. Warsztaty odbędą się w dniach 24.06 – 05.07.2019r. w Domu Muzealnika w Biskupinie. Uczestnicy zgodnie z zainteresowaniami i talentami zostaną podzieleni na 4 grupy artystyczne: plastyczną, taneczną, teatralną i wokalną. W obrębie każdej z tych grup będą odbywały się intensywne warsztaty. W trakcie trwania projektu uczestnicy wezmą udział w spotkaniach z artystami i instruktorami zaproszonymi gościnnie na warsztaty. Projekt będzie realizowany przy współudziale partnerów w postaci różnych instytucji kulturalnych, organizacji pozarządowych i firm, aby zapewnić uczestnikom jak największą wszechstronność zajęć oraz zmotywować ich do dalszego artystycznego rozwoju po zakończeniu projektu. Czas wolny od zajęć będzie wypełniony różnymi kulturalnymi atrakcjami. W tym roku po raz pierwszy chcemy zaprosić gwiazdy TV, które poprowadzą warsztaty dla uczestników projektu. Ramy programu są ukierunkowane na zindywidualizowane podejście do każdego uczestnika, ale również na pracę w grupach, zabawy i gry twórcze. Intensywne 12-dniowe warsztaty zakończą się autorskim widowiskiem w Kinoteatrze Adria w Bydgoszczy w wykonaniu uczestników projektu, prezentacją multimedialną z przebiegu warsztatów oraz wernisażem prac plastycznych. Jak co roku Fundacja szykuje dla naszych widzów wielką niespodziankę w postaci niesamowitego widowiska! Szczegóły już niebawem!
Jeśli masz ochotę razem z nami rozwijać swój talent zajrzyj na stronę internetową Fundacji http://www.nowe-pokolenie.pl/2019_warsztaty_nowe-pokolenie i do 20 maja 2019r. wyślij do nas kartę zgłoszeniową!
W tym roku to wyjątkowe wydarzenie również łączymy z Ogólnopolskim Festiwalem Radosnych Serc, który w całości kierujemy do dzieci i młodzieży z domów dziecka z całej Polski. Zapraszamy do udziału dzieci i młodzież w wieku 6-21 lat, które chcą zaprezentować swoje talenty wokalne lub taneczne na profesjonalnej scenie. Festiwal odbędzie się w dniach 04-05.07.2019r. Karty zgłoszeniowe również są dostępne na naszej stronie! Termin zgłoszeń do 20 maja 2019r.
____________________
Kalendarz wydarzeń odbywających się w Bydgoszczy miej zawsze pod ręką dzięki aplikacji mobilnej (Android i iOS).
______________________
Informacje o wydarzeniach przesyłajcie na adres wydarzenia@visitbydgoszcz.pl
______________________
Bydgoskie Centrum Informacji nie ponosi odpowiedzialności za jakiekolwiek zmiany miejsc, godzin i dat wydarzeń.