Spotkanie poetyckie z Jarosławem Jakubowskim: Wzruszenie
Gdzie?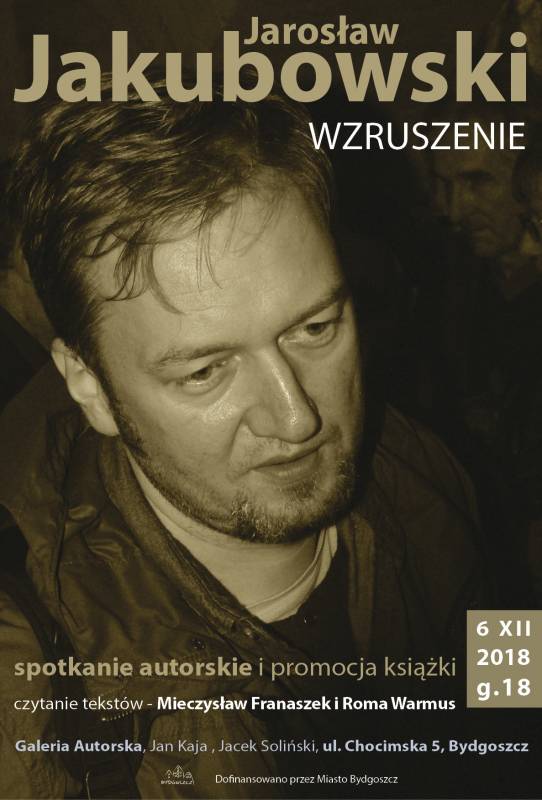 "spotkanie poetyckie z Jarosławem Jakubowskim pt. "Wzruszenie" i promocja tomu wierszy. Czytanie tekstów – Roma Warmus i Mieczysław Franaszek.
JAROSŁAW JAKUBOWSKI – urodził się w 1974 roku w Bydgoszczy. Poeta, prozaik, dramatopisarz, dziennikarz. Studiował budownictwo na Politechnice Gdańskiej i politologię na Uniwersytecie Gdańskim. Autor kilku tomów wierszy, między innymi: Pseudo, Ojcostych, Święta woda, Światło w lesie, prozy: Slajdy, Cyryl, dlaczego to zrobiłeś?, Oczy pełne strachu, Rzeka zbrodni oraz wyborów sztuk teatralnych Generał i inne dramaty polityczne oraz Prawda i inne dramaty. Czterokrotny laureat nagrody Strzała Łuczniczki za najlepszą bydgoską książkę roku – ostatnio za wybór wierszy Światło w lesie. Jako dramatopisarz debiutował w 2007 roku w Laboratorium Dramatu w Warszawie czytaniem scenicznym sztuki Dom matki. Na polskich scenach odbyły się premiery szeregu jego sztuk, w tym: Generała, który zdobył Grand Prix festiwalu polskich sztuk współczesnych "Raport" w Gdyni w 2011 roku oraz Wiecznego kwietnia, za który zdobył Nagrodę Główną Konkursu Metafory Rzeczywistości 2012 w Poznaniu. W 2016 roku jego sztuka Viva Violetta! została wyróżniona w ogólnopolskim konkursie na sztukę teatralną inspirowaną życiem i twórczością Violetty Villas. Zdobywał nagrody w konkursie na sztukę dla dzieci i młodzieży Centrum Sztuki Dziecka w Poznaniu (za Wielką podróż Malinowego Królika i za Opowieść o Dziewczynce-Wiewiórce). W prestiżowym rankingu miesięcznika "Teatr" jego dramat Prawda został wymieniony jako jedna z najlepszych nowych polskich sztuk roku 2017. W 2018 roku odznakę honorową "Zasłużony dla Kultury Polskiej". Współpracownik Dwumiesięcznika Literackiego "Topos". Należy do Stowarzyszenia Pisarzy Polskich. Mieszka w Koronowie.
Utwierdzić się w istnieniu
W moim pisaniu zawsze starałem się być blisko egzystencji. Jeden z pierwszych wierszy, które napisałem, może nawet w ogóle pierwszy, był opisem parku, drzew, kwiatów, nieba, słońca i ptaków, które skakały po trawie z orzechami w dziobach. Intuicyjnie wyczuwałem, że gdy tylko oddalam się od naoczności, zaczynam uczestniczyć w jakiejś grze.
Poezja nauczyła mnie troski o konkret. "Rozchodnik i macierzanka" to przecież zupełnie co innego niż "kwiaty" czy "łąka". "Miłość" czy "cierpienie" należy również koniecznie zastąpić właściwymi desygnatami, nasycić jednostkową, niepowtarzalną treścią. Nie wolno oddawać się uczuciom nie mając całej gamy ich nazw, a najlepiej – obrazów i fabuł, którymi można je opowiedzieć. Taką praktykę pisarską nazwałbym "utwierdzaniem się w istnieniu". Staram się być jej wierny.
Z jakiegoś powodu konsekwentnie (na ogół) piszę według pewnego porządku, co w ostatnim czasie choćby w moich wierszach uwidacznia się w ich formie – trzy strofy, po cztery wersy każda, co narzuca już określony rytm: początku, rozwinięcia i kody. Być może jest to odbicie mojego przekonania o skończoności i niepowtarzalności, jedyności wszystkiego.
Dużo czasu zajęło mi zrozumienie, że w poezji nie idzie wyłącznie o możliwie wierne oddanie czy też wywołanie w odbiorcy określonych stanów emocjonalnych albo o oczarowanie samą językową biegłością. Poezja, wiem że to może się niektórym nie spodobać, ma nade wszystko dawać światło i nadzieję, na przekór wszystkiemu.
Jarosław Jakubowski
______________________
Kalendarz wydarzeń odbywających się w Bydgoszczy miej zawsze pod ręką dzięki aplikacji mobilnej (Android i iOS).
______________________
Informacje o wydarzeniach przesyłajcie na adres wydarzenia@visitbydgoszcz.pl
______________________
Bydgoskie Centrum Informacji nie ponosi odpowiedzialności za jakiekolwiek zmiany miejsc, godzin i dat wydarzeń.