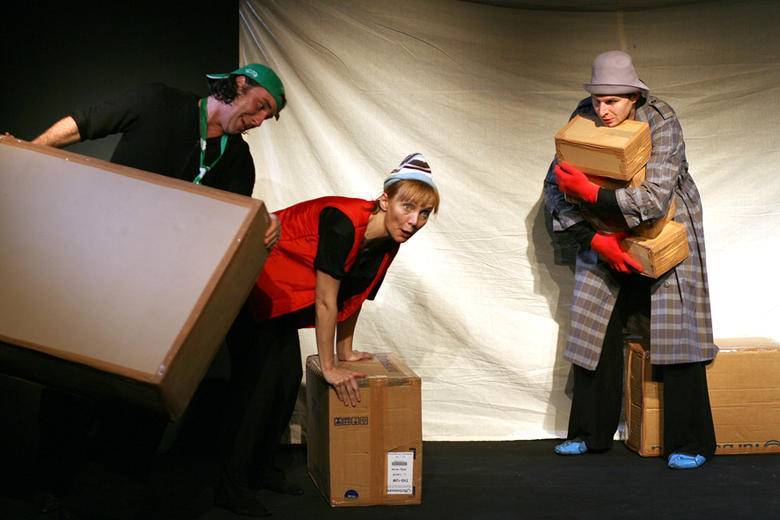 SPEKTAKL
mała scena
czas trwania: 65 minuty, jedna przerwa
Jan Brzechwa Pchła Szachrajka
reżyseria Łukasz Gajdzis
scenografia Aleksandra Semenowicz
występują Małgorzata Witkowska, Paweł L. Gilewski ,Marcin Zawodziński
Chcecie bajki? To proste pytanie zadaje kolejnym już pokoleniom dzieci autor wielu utworów dla najmłodszych, wybitny polski poeta Jan Brzechwa. Tak! Chcemy bajki! Naprawdę? Ależ proszę bardzo – oto bajka, której bohaterką jest niezwykła Pchła Szachrajka. Niby malutka, prawie niewidoczna, ale – jak to z pchłami bywa – dokuczliwa, psotna, wszędobylska, piekielnie sprytna i na domiar złego niesłychanie pomysłowa. Barwna opowieść o jej zdumiewających psotach i gałgaństwach to gotowy scenariusz, w którym ważne miejsce zajmuje aktorska improwizacja. Poczucie humoru Małgorzaty Witkowskiej, Pawła Gilewskiego i Marcina Zawodzińskiego połączone z dowcipnymi strofami Brzechwy gwarantuje znakomitą teatralną zabawę. A tak swoją drogą to bardzo ciekawe, w jaki sposób Pchła Szachrajka zdołała niepostrzeżenie wyjeść krem z trzydziestu rurek płacąc tylko za jedną...
Scenograf i reżyser zaufali najmłodszej publiczności. Nie podali im bajki jak na tacy. Zaprosili do wspólnej zabawy wyobraźnią. I odkryli oczywistą prawdę – dzieciaki to lubią… – Michalina Łubecka, Gazeta Wyborcza
______________________
Kalendarz wydarzeń odbywających się w Bydgoszczy miej zawsze pod ręką dzięki aplikacji mobilnej (Android i iOS).
______________________
Informacje o wydarzeniach przesyłajcie na adres wydarzenia@visitbydgoszcz.pl
______________________
Bydgoskie Centrum Informacji nie ponosi odpowiedzialności za jakiekolwiek zmiany miejsc, godzin i dat wydarzeń.