Grzech Piotrowski Project - One World
Gdzie?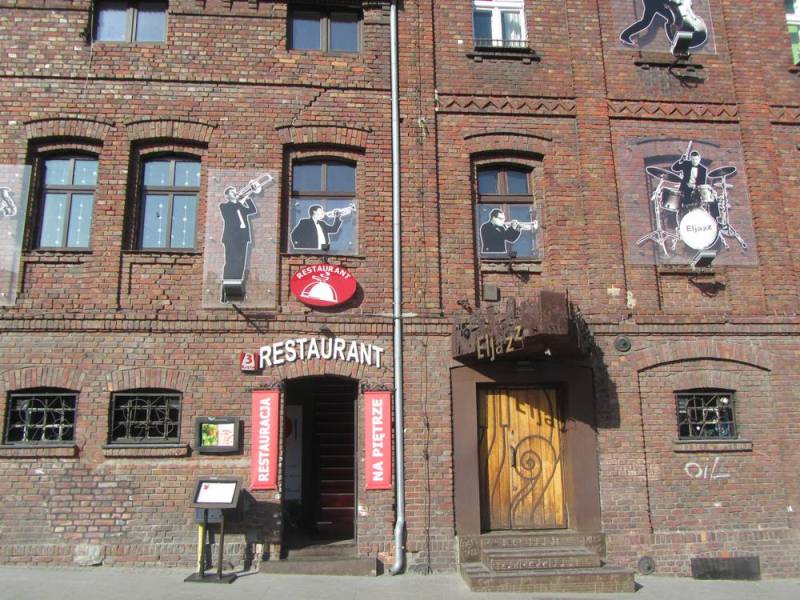 26.07.2018 - GRZECH PIOTROWSKI PROJEKT - ONE WORLD
18.00 - WARSZTATY MUZYCZNE - wstęp wolny, zgłoszenia: eljazz.bydgoszcz@gmail.com
20.00 - KONCERT - bilety 30 zł - do nabycia w klubie Eljazz po godz. 16.00
Grzech Piotrowski "ONE WORLD"
Grzech Piotrowski - Sax
Jenifer Solidade - Voc (Cabo Verde)
Fattu Djakite - Voc (Guinea)
Adam Lemańczyk - piano
Piotr Zaczek - bas
Robert Luty - drums
"Solowa podróż ̇po świecie w poszukiwaniu źródeł muzyki."
Po premierach dwóch płyt "World Orchestry" (nominowanych do Fryderyków w 2012,
2013), Grzech Piotrowski wybrał się w podróż po świecie w poszukiwaniu nowych
muzycznych inspiracji. Efektem był album "One World" (2015), oraz współpraca z
wokalistami z kilku kontynentów. Gościnnie wystąpili m.in.: Sainkho Namtchylak
(Tuva), Ruth Wilhelmine Meyer (Norway), Liz Rosa (Brasil), Sadia Youssouf (Cabo
Verde), Sebastian Karpiel - Bułecka, Ghostman, Sebastian Wypych (dbss) i wielu
innych instrumentalistów.
Koncerty "ONE WORLD" pokazuje pełnię możliwości brzmienia saksofonu. Dzięki
loopingowi Grzech maluje dźwię̨kiem niezwykłe muzyczne obrazy pobudzające
wyobraźnię słuchacza. Artysta dołącza do koncertu wybitnych instrumentalistów oraz
korzenne brzmienia wokalne bądź instrumentalne.
Grzech Piotrowski jest w trakcie przygotowywania materiału na drugi krążek "One
World". Stąd wyjątkowi goście zawitają na koncercie w Bydgoszczy - Jenifer Solidade i
Fattú Djakité. Dwie zjawiskowe artystki z Wysp Zielonego Przylądka (Cabo Verde).
Jenifer Solidade to mocny, niesamowity, stylowy głos z Cabo Verde. Od początku swej
artystycznej kariery wspierana przez tak znakomitych muzyków jak Tito Paris, Ildo Lobo,
Nancy Vieira i Mayra Andrade. Jako członek The Cesaria Evora Orchestra występowała
na scenach całego świata. Swoim pierwszym solowym albumem "Um Click", Jenifer
Solidade zawojowała muzyczną scenę tamtej części świata.
Fattú Djakité jej korzenie sięgają Gwinei - plemion Mali, Pepel, Balanta i Fula. Los
sprawił, że z całą rodziną przeprowadziła się na Cabo Verde. Jest przykładem artystki,
która muzykę ma w krwioobiegu, począwszy od rodzinnej tradycji śpiewu przy każdej
możliwej okazji, po chóry kościelne. Obecnie jest Artystką mocno osadzoną w branży
artystycznej Wysp Zielonego Przylądka.
Wokalnemu duetowi towarzyszyć będą Adam Lemańczyk (piano), Piotr Żaczek (gitara
bass), Robert Luty (perkusja), Grzech Piotrowski (sax, looper)
Grzech Piotrowski - saksofonista, kompozytor, aranżer w 2009 roku założył World
Orchestrę, choć prace nad jej powstaniem sięgają aż 1998 roku. Skupia wybitnych
solistów ze świata jazzu, klasyki, etno, folk, otwartej improwizacji. W jej skład wchodzą
artyści z Europy, Azji, Afryki i obu Ameryk. Ciężko znaleźć jedno pasujące określenie,
czy przyłożyć któryś z przyjętych szablonów do powstałej muzyki bowiem łączy ona
wiele źródeł, sięga najstarszych korzeni a każdy koncert World Orchestry to wyjątkowa
podróż. Sam autor swoją muzykę określa mianem filmowej - improwizowanej.
Zadanie jest finansowane przy wsparciu Urzędu Miasta Bydgoszczy
______________________
Kalendarz wydarzeń odbywających się w Bydgoszczy miej zawsze pod ręką dzięki aplikacji mobilnej (Android i iOS).
______________________
Informacje o wydarzeniach przesyłajcie na adres wydarzenia@visitbydgoszcz.pl
______________________
Bydgoskie Centrum Informacji nie ponosi odpowiedzialności za jakiekolwiek zmiany miejsc, godzin i dat wydarzeń.