Tupot Poetycki 24 - SLAM + Szegetz
Gdzie?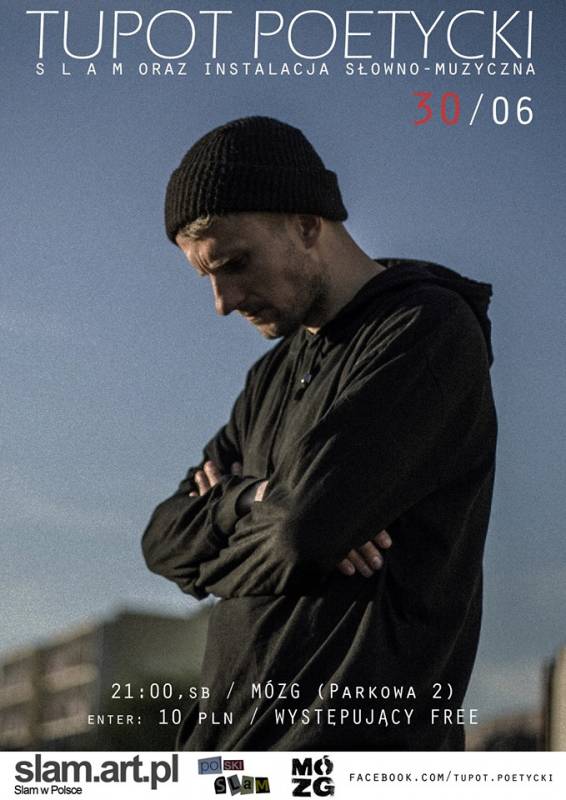 Krótko? Dwudzesta czwarta odsłona imprezy. Ostatni SLAM przed wakacjami. A w ramach instalacji przedpremierowy koncert gnieźnieńskiego poety-slamera-performera-pawła Szegetz.
/ SLAM
Pojedynek poetów. Pojedynek nie-poetów. Poezja dzisiaj. Publiczność w jury. Każdy występujący znajduje swój temat i sposób prezentacji.
Zasady? Poeta, w każdej rundzie ma 3 minuty • performuje swój własny tekst • TYM RAZEM DOPUSZCZAM UŻYWANIE REKWIZYTÓW - WSZYSTKIE CHWYTY DOZOWOLONE - ZAMYKAMY SEZON NIECH RZĄDZI SIŁA WYOBRAŹNI
To publiczność decyduje kto jest najlepszy, a zwycięski poeta otrzymuje nagrodę pieniężną w wysokości 100 PLN.
Każdy może zgłosić się, aby wziąć udział, wystarczy wysłać maila na vive_memor@vp.pl albo wpisać na listę przed wydarzeniem (pamiętajcie, że ilość miejsc jest ograniczona).
/ INSTALACJA
Szegetz to muzyczna inkarnacja slamera (Pawła Bąkowskiego), który debiutował na Slamie im. Franciszka Rabelais w Gnieźnie, by następnie wygrać duże turnieje takie jak Poznań Poetów, Miasto Poezji (Lublin) czy majowy BUUM poetycki (Slam Poetycki w Toruniu). Swoje wiersze publikował m. in. w "Odrze" czy na łamach Krytyka Polityczna. Członek duetu Destruenci, który łączył spoken word z eksperymentalną muzyką elektroniczną i trąbką - kto był na pewnym tupocie to wie :) Obecnie pracuje nad debiutanckim wydawnictwem rapowym pt. "Przedświt EP".
"Przedświt" to epka o porażkach, gapieniu się nocą w gwiazdy; o sarnach, miłości, chodzeniu po ulicy, oddechu i krwi. Stylistycznie nawiązuje od eksperymentalnego hip-hopu do atmosferycznych odmian trapu, ale całość materiału łączy brzmienie, które charakteryzuje przestrzenność, brud, głębokie i przesterowane dźwięki.
wjazd: 10 pln/ występujący wchodzą za darmo
______________________
Kalendarz wydarzeń odbywających się w Bydgoszczy miej zawsze pod ręką dzięki aplikacji mobilnej (Android i iOS).
______________________
Informacje o wydarzeniach przesyłajcie na adres wydarzenia@visitbydgoszcz.pl
______________________
Bydgoskie Centrum Informacji nie ponosi odpowiedzialności za jakiekolwiek zmiany miejsc, godzin i dat wydarzeń.