National Theatre Live - Juliusz Cezar
Gdzie?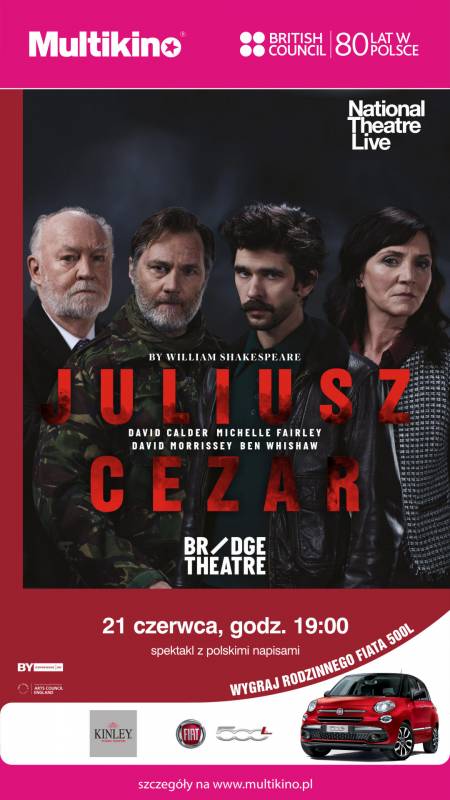 "Juliusz Cezar" z Davidem Calderem i Davidem Morrisseyem 21 czerwca 2018 w Multikinie
British Council i Multikino zapraszają na spektakl "Juliusz Cezar" z Davidem Calderem i Davidem Morrisseyem. Retransmisję przedstawienia będzie można zobaczyć 21 czerwca 2018 o godzinie 19.00 w wybranych kinach sieci Multikino w ramach cyklu "National Theatre Live w Multikinie".
Cezar tryumfalnie powraca z wojny do Rzymu. Mieszkańcy miasta wybiegają z domów, aby go powitać, wiwatować i świętować. Wstrząśnięci popularnością autokraty wykształceni patrycjusze i senatorowie zawiązują spisek, aby zgładzić Cezara. Po dokonaniu zamachu na ulicach stolicy wybucha wojna domowa.
"Juliusz Cezar" to jedna z pierwszych sztuk w europejskiej literaturze, która czerpie z prawdziwych wydarzeń z historii. Wbrew tytułowi jej głównym bohaterem nie jest Cezar, który pojawia się zaledwie w kilku scenach, ale spiskowcy, a wśród nich Marek Antoniusz. Inscenizacja Nicholasa Hytnera przeniesie widzów na uliczną imprezę, która rozkręca się przy powitaniu wodza, do kongresu, który będzie milczącym świadkiem jego śmierci i w stan chaosu i paniki, które wybuchną po dokonaniu zabójstwa.
Ben Whishaw ("Duńska dziewczyna", "Skyfall", "Hamlet") i Michelle Fairley ("Fortitude", "Gra o tron") grają Brutusa i Kasjusza, David Calder ("The Lost City of Z", "Hatton Garden Job") wciela się w postać Cezara, a David Morrissey ("The Missing", "Kaci", "The Walking Dead") jest odtwórcą Marka Antoniusza.
Transmisja na żywo z The Bridge Theatre w Londynie.
Przedstawienie zarejestrowano z udziałem publiczności w jakości HD i DD Surround. Retransmisja w wersji oryginalnej w jakości High Definition.
Przedstawienie z polskimi napisami.
Czas trwania ok.: 180 minut
Spektakl zobaczymy 21 czerwca 2018 r. o godzinie 19:00 w następujących kinach sieci Multikino: Bydgoszcz, Gdańsk, Gdynia, Katowice, Kraków, Lublin, Łódź, Olsztyn, Poznań Stary Browar, Szczecin, Warszawa Ursynów, Warszawa Targówek, Warszawa Złote Tarasy, Wrocław Pasaż, Zabrze.
Bilety:
38 zł – normalny
32 zł – ulgowy (Studenci z ważną legitymacją, Seniorzy)
28 zł – bilet grupowy (dla grup zorganizowanych powyżej 15 os.)
25 zł – bilet szkolny (dla grup zorganizowanych powyżej 30 uczniów)
Bilety grupowe dla grup powyżej 15 osób do nabycia u specjalistów ds. rezerwacji grupowej w poszczególnych kinach (telefony kom. pon - pt, 9-17): https://multikino.pl/pl/informacje/szkoly/kontakt-rezerwacje-grupowe
Bilety już w sprzedaży w kasach kin i na stronie: www.multikino.pl
______________________
Kalendarz wydarzeń odbywających się w Bydgoszczy miej zawsze pod ręką dzięki aplikacji mobilnej (Android i iOS).
______________________
Informacje o wydarzeniach przesyłajcie na adres wydarzenia@visitbydgoszcz.pl
______________________
Bydgoskie Centrum Informacji nie ponosi odpowiedzialności za jakiekolwiek zmiany miejsc, godzin i dat wydarzeń.