Wystawa na Wielkim Ekranie i wielki Cezanne
Gdzie?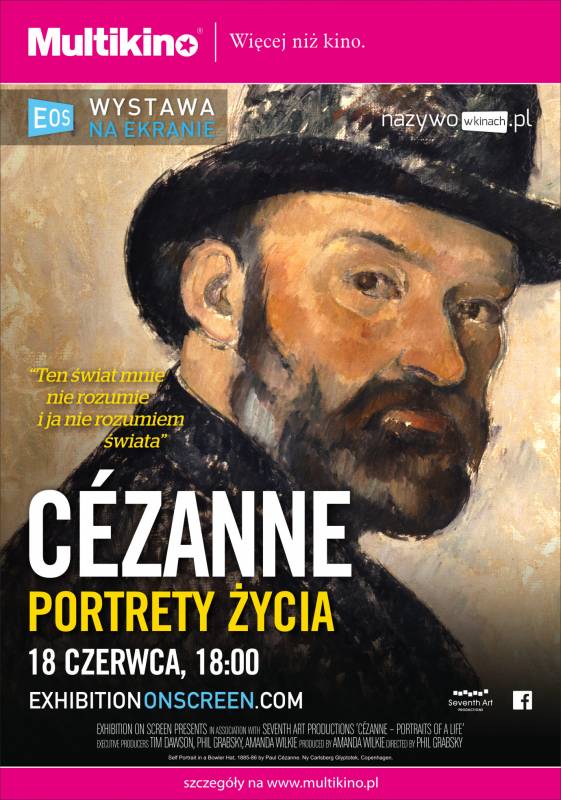 Wystawa na Wielkim Ekranie i wielki Cezanne w Multikinie już 18 czerwca
Paul Cézanne, uważany za jednego z trzech wielkich postimpresjonistów, wyznaczył nowe kierunki w sztuce europejskiej i światowej. Zdobycze impresjonistów poszerzył i zradykalizował, pozostając jednocześnie z dala od wielkiego świata i wielkiego miasta, które impresjonistów inspirowało.
Cézanne z upodobaniem kreślił zarówno pejzaże, jak niezliczone ujęcia góry Sainte-Victoire, do tego portrety ludzi i przedmiotów. Martwe natury, ale i wizerunki tak zwyczajnych rzeczy jak krzesło zajmują poczesne miejsce w jego twórczości. Artysta z wolna kształtował i zmieniał swój warsztat, przechodząc od impresjonistycznych wizji otaczającego go świata po grubo ciosane obrazy tworzone za pomocą szpachli i potężnych warstw farby. Z czasem odszedł i od niej kierując się w stronę subtelniejszych pociągnięć, ale za to zrywając z tradycyjnie pojętą perspektywą i pokazując jeden przedmiot z różnych punktów widzenia na raz, co dało inspirację dla kubizmu Picassa i innych.
Film powstał na bazie wielkich wystaw twórczości Cézanne'a, które odbyły się w National Portrait Gallery w Londynie, Musée d'Orsay w Paryżu i National Gallery of Art w Waszyngtonie. Ważną rolę w filmie odgrywają listy malarza i zdjęcia z miejsc na południu Francji, w których mieszkał i pracował z widokiem na wymienioną już górę Sainte-Victoire.
Wystawę zobaczymy 18 czerwca 2018 r. o godzinie 18:00 w następujących kinach sieci Multikino: Bydgoszcz, Gdańsk, Gdynia, Katowice, Kraków, Łódź, Poznań 51, Rzeszów, Szczecin, Warszawa – Ursynów, Warszawa – Złote Tarasy, Wrocław – Pasaż, Zabrze.
Bilety grupowe dla grup powyżej 15 osób do nabycia u specjalistów ds. rezerwacji grupowej w poszczególnych kinach (telefony kom. pon - pt, 9-17): https://multikino.pl/pl/informacje/szkoly/kontakt-rezerwacje-grupowe
Ceny biletów:
30 zł normalny, 25 zł ulgowy, 25 zł grupowy (pow 15 os.), 25 zł szkolny (pow. 30 uczniów)
Bilety już w sprzedaży w kasach kin i na stronie: www.multikino.pl
______________________
Kalendarz wydarzeń odbywających się w Bydgoszczy miej zawsze pod ręką dzięki aplikacji mobilnej (Android i iOS).
______________________
Informacje o wydarzeniach przesyłajcie na adres wydarzenia@visitbydgoszcz.pl
______________________
Bydgoskie Centrum Informacji nie ponosi odpowiedzialności za jakiekolwiek zmiany miejsc, godzin i dat wydarzeń.