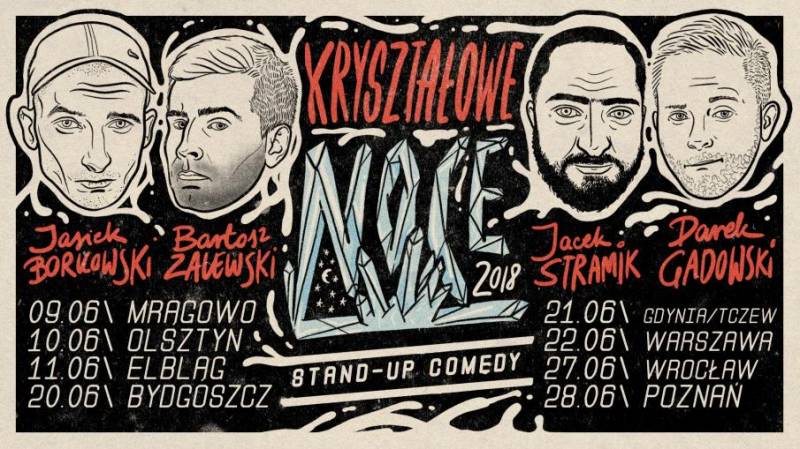 Kryształowe Noce 2
Bartosz Zalewski, Jasiek Borkowski, Jacek Stramik, Darek Gadowski
Ceny biletów: 30 PLN
Kryształowe Noce, czyli Darek Gadowski, Jasiek Borkowski, Jacek Stramik i Bartosz Zalewski powracają. W 2017 ten wyjątkowy kwartet stand-upowy przemierzył Polskę wzdłuż i wszerz, promując nieoczywistą komedię, przyjaźń, braterstwo i zręczne unikanie komorników. W tym roku wracamy jeszcze bardziej głodni chwały, jeszcze bardziej żądni absolutu, jeszcze bardziej uczesani. Kryształowa Trasa AD 2018 to jednorazowy wykwit komediowej energii, znikający w mroku i trzęsący zębami, tym razem z dodatkiem niespodziewanych gości. oprawą muzyczną z piekła rodem i wizualną w formie powidoków pod powiekami.
Wystąpią i poprowadzą:
Darek Gadowski - I Kryształ RP, koszaliński mistrz irytacji oraz relaksacji. Miłośnik przyjemnego życia, dobrych zegarków, złych czarnoksięskich mocy i solidnego wypoczynku. Występował w programach Kuby Wojewódzkiego, TVP 2 i czasami na skórze, należy się wówczas zgłosić do lekarza.
Jasiek Borkowski - Kryształ Utajony, jeden z najbardziej charakterystycznych komików na polskiej scenie. Uczestniczył w roastach, nagraniach Comedy Central, TVP2 i TVN, a także w kilku dobrych posiadówkach przy trzepaku. Wrażliwiec z duszą poety, czapką bejsbolisty i cudzym portfelem.
Jacek Stramik - Kryształ Mistyczny, w telewizji był i w Comedy Central na lajcie, i w TVP 2 na ciężkim zjeździe. Mędrzec z Poznania, na szczęście zwyczajową dla intelektu autodestrukcję zdarza mu się skierować w celach komediowych. Jeśli cenicie Artura Andrusa, to smolił w Koszalinie i kosił w Smoleńsku, ale jeśli cenicie Artura Andrusa, to Jacek Was nie lubi.
Bartosz Zalewski - Kryształ Sporadyczny, wrocławski Fagin, czyli myje zad mydłem Fa i pije gin. Był w telewizji, raz zbombił, raz Gessler rzucała w niego szklanką, nitkę absurdu trzyma w zębach, bo ręce ma zajęte obcinaniem paznokci. Dorobiono mu mordę pijaka, pierwsza spłonęła w wypadku (na podstawie Szumowska nakręciła film, położyła dramaturgię).
Całość w autorskim formacie 4 występujących - 4 prowadzących, zdecydowanie dla osób dorosłych, do komedii i życia.
____________________
Kalendarz wydarzeń odbywających się w Bydgoszczy miej zawsze pod ręką dzięki aplikacji mobilnej (Android i iOS).
______________________
Informacje o wydarzeniach przesyłajcie na adres wydarzenia@visitbydgoszcz.pl
______________________
Bydgoskie Centrum Informacji nie ponosi odpowiedzialności za jakiekolwiek zmiany miejsc, godzin i dat wydarzeń.