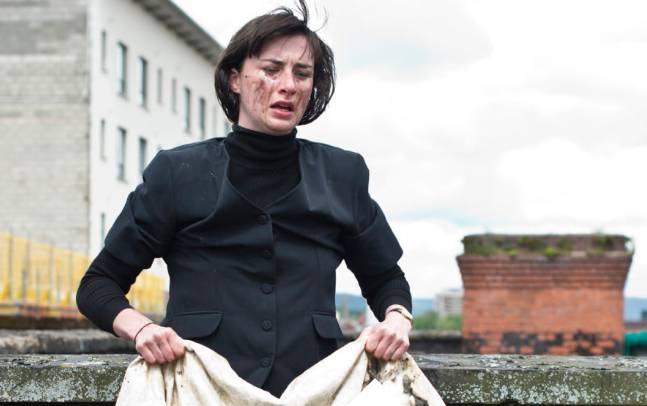 SHOW ME SOME LOVE
Tegoroczna edycja Nocy Performance czerpie soki z napotkanego w internecie listu przypisywanego Albertowi Einsteinowi o zwróceniu uwagi na miłość i o tym, by w czasach kryzysu ludzkości odżywiać się tym właśnie rodzajem energii.
Pokazać miłość – z takim działaniem spotkają się świadkowie performensów, przeprowadzonych przez Léann Herlihy z Irlandii oraz Grzegorza Bożka z Polski
Grzegorz Bożek – urodzony w 1988 r. w Owczarni na Lubelszczyźnie. Mieszka na poznańskim Łazarzu. Rok pomiędzy 2008 – 2009 spędził w Lublinie na Wydziale Artystycznym UMCS. Studia ukończył w 2015 roku na Uniwersytecie Artystycznym w Poznaniu. Praktykuje z poezją poruszając się w obszarze malarstwa, tekstu, performance, słuchowiska. W wizualnych i werbalnych zdarzeniach opowiada o osobistym doświadczeniu sytuacji peryferyjnych, dziejących się w międzyczasie, w cieniu wydarzeń politycznych i kulturowych. Równolegle od 2010 roku prowadzi dokumentalne notatki filmowe. Stażysta programu Historia Mówiona w Lublinie.
Léann Herlihy to zajmująca się performance artystka z Irlandii. Jej działania skupiają się na przecięciu niewidzialnych struktur władzy, komentują pozycję kobiecego ciała jako punktu ogniskowego stłumionych historii i politycznych pragnień. Spektakle Herlihy są surowe, ponieważ ogranicza swoje gesty do czystego instynktu cielesnego i improwizacji. Odzież w jej twórczości jest raczej obiektem niż uświęconym kostiumem – jednocześnie ukrywającym i demaskującym artystkę performance. Enigmatyczna w formie, często akcentuje te obiekty w odniesieniu do swojego ciała, badając ich historię, gdy przesiewa ich wielokrotne odczyty. Użycie wytrwałości w praktyce Herlihy podkreśla przesadne wydłużanie się czasu, a całość potęguje symbiotyczna relacja z widzem, gdzie sam akt ciągłej obserwacji sam w sobie staje się zrytualizowanym zachowaniem.
Léann Herlihy ukończyła z wyróżnieniem studia w zakresie rzeźby i świadomości przestrzennej na Uniwersytecie Artystycznym w Poznaniu w 2016 roku. Występowała zarówno w kraju, jak i za granicą, m.in. w Irlandii, Wielkiej Brytanii, Islandii, Norwegii, Niemczech, Polsce i na Słowacji, a jej twórczość jest obserwowana i oceniana również w USA.
W 2017 roku otrzymała nagrodę Travel and Training Award przyznawaną przez organizację Arts Council of Ireland, a także Travel Award oraz SIAP (Program Pomocy dla Artystów) przyznawany przez organizację Arts Council of Northern Ireland.
www.leannherlihy.com
Kuratorka: Danka Milewska
23.06.2018, godz. 18.00
ul. Gdańska 20
______________________
Kalendarz wydarzeń odbywających się w Bydgoszczy miej zawsze pod ręką dzięki aplikacji mobilnej (Android i iOS).
______________________
Informacje o wydarzeniach przesyłajcie na adres wydarzenia@visitbydgoszcz.pl
______________________
Bydgoskie Centrum Informacji nie ponosi odpowiedzialności za jakiekolwiek zmiany miejsc, godzin i dat wydarzeń.