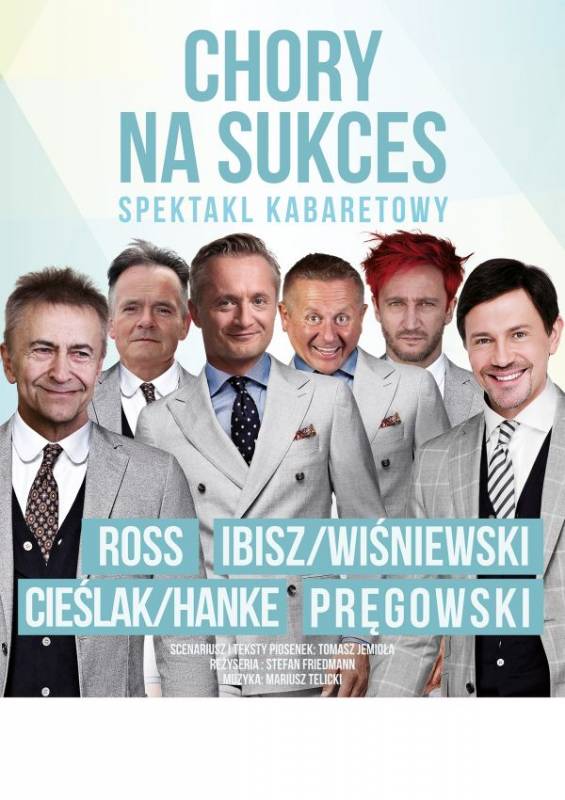 Spektakl kabaretowy "Chory na Sukces" jest zabawną próbą ukazania postaci celebryty, którego na zmianę grają Krzysztof Ibisz (wszystko o Nim wiadomo) i Michał Wiśniewski ("Ich Troje"), którzy chcą wyjść naprzeciw plotkom i próbom ośmieszenia – jak twierdzą niektórzy – ich narcyzowatej osobowości. W tym celu tworzą na scenie postać, zarozumiałego i przekonanego o swej wielkości, bufona, po to żeby dać dowód na posiadany do siebie dystans i zdyskontować to, co się o Nich niesłusznie mówi. Pomagają im w tym czołowi polscy artyści kabaretowi: Mikołaj Cieślak ("Kabaret Moralnego Niepokoju"), Krzysztof Hanke (słynny Bercik, lider śląskiego kabaretu "Rak"), Piotr Pręgowski ("Ranczo") i Tadeusz Ross ("Zulu Gula" i nie tylko), którzy żartują sobie z idoli, na wszelki możliwy sposób Im się podlizując, a jednocześnie robiąc z Nich idiotycznych celebrytów. W trakcie akcji usłyszymy też piosenki, które świetnie się wpisują w otaczającą nas rzeczywistość i dotykają spraw, które są nam wszystkim bliskie. Spektakl kabaretowy "Chory na Sukces" jest satyrą na powszechną wokół tandetę, bufonadę i nieprofesjonalność, które to cechy dotyczą nie tylko niektórych artystów ale także innych, ważnych dla naszego życia, środowisk.
W dzisiejszych skomplikowanych czasach (kiedy one takie nie były?) dobrze jest się "załapać" na trochę uśmiechu i chwilowej beztroski, którą mamy nadzieję, zapewni Państwu nasz spektakl. Zapraszamy więc do nas i życzymy wszystkim Bardzo Dobrej Zabawy!
______________________
Kalendarz wydarzeń odbywających się w Bydgoszczy miej zawsze pod ręką dzięki aplikacji mobilnej (Android i iOS).
______________________
Informacje o wydarzeniach przesyłajcie na adres wydarzenia@visitbydgoszcz.pl
______________________
Bydgoskie Centrum Informacji nie ponosi odpowiedzialności za jakiekolwiek zmiany miejsc, godzin i dat wydarzeń.