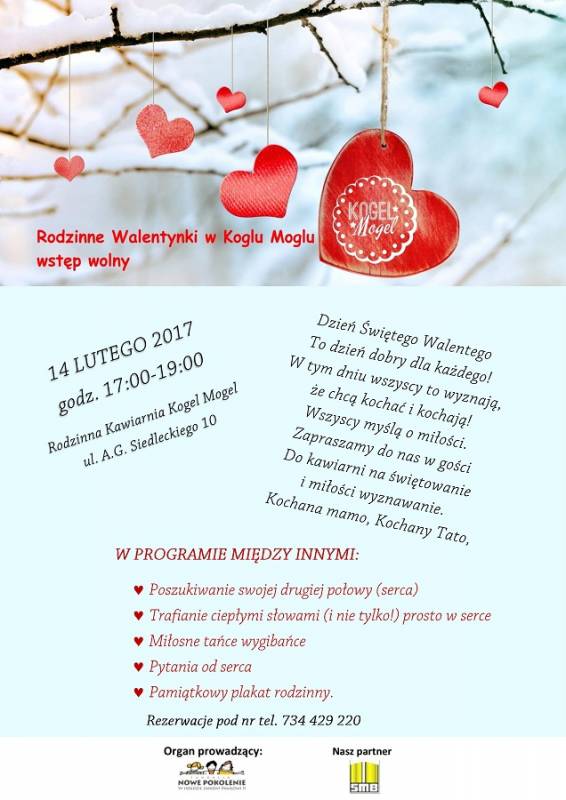 Dzień Świętego Walentego
To dzień dobry dla każdego!
W tym dniu wszyscy to wyznają,
że chcą kochać i kochają!
Wszyscy myślą o miłości.
Zapraszamy do nas w gości
Do kawiarni na świętowanie
i miłości wyznawanie.
Kochana mamo, Kochany Tato,
Walentynki ze szkrabem - co wy na to?
Rodzinna Kawiarnia Kogel Mogel serdecznie zaprasza wszystkie małe serduszka wraz z rodzicami na wspólne świętowanie Dnia Zakochanych! Tego dnia każdy szkrab będzie miał okazję wyznać swoim rodzicom jak bardzo ich kocha, nie tylko bawiąc się wspólnie podczas tematycznych gier i konkursów, ale również wykonując wspólnie rodzinny plakat na pamiątkę wydarzenia. Każde dziecko otrzyma własne walentynkowe berło wykonane z balonów.
W PROGRAMIE MIĘDZY INNYMI:
* Poszukiwanie swojej drugiej połowy (serca).
* Trafianie ciepłymi słowami (i nie tylko!) prosto w serce.
* Miłosne tańce wygibańce.
* Pytania od serca.
* Pamiątkowy plakat rodzinny.
Kiedy: 14.02.2017 (wtorek)
Gdzie: kawiarnia rodzinna Kogel Mogel ul. A.G. Siedleckiego 10
O której: 17:00-19:00
Rezerwacje pod nr tel. 734 429 220