Otwarcie wystawy fotografii ks. Macieja Kulczyńskiego
Gdzie?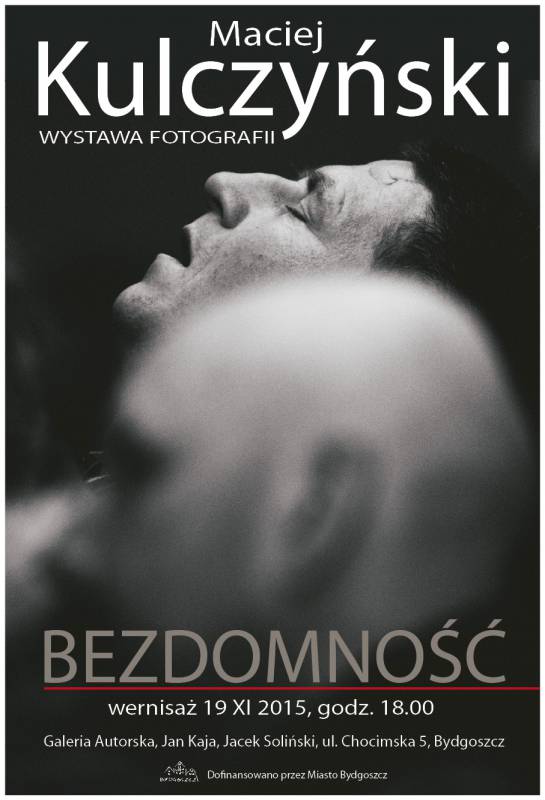 19.11.2015, godz.18.00 - otwarcie wystawy fotografii ks. Macieja Kulczyńskiego pt. "Bezdomność".
Maciej Kulczyński ur. 1977 w Szubinie, ksiądz katolicki. W 2003 ukończył Prymasowskie Wyższe Seminarium Duchowne w Gnieźnie. Aktualnie jest dyrektorem Domu Księży Emerytów w Bydgoszczy i wicedyrektorem "Caritas" Diecezji Bydgoskiej. Od 2006 roku zajmuje się fotografią kreacyjną i socjologiczną dokumentując najbliższe otoczenie. Swoje prace łączy z krótkimi poetyckimi narracjami. Autor trzech wystaw indywidualnych.
* * *
Bezdomność to trudny temat do poruszania. Łatwo o śmieszność. Kiedy z pełnym brzuchem w ciepłym domu, rozważa się wzniośle problemy tych, których tak naprawdę się nie rozumie. Stać z boku, pokazywać palcem nie zbliżając się bo śmierdzi, celować obiektywem i rościć sobie prawo do miana wrażliwego człowieka. Śmieszność. Trudno jest mi coś pisać bo wiem jak głębokie są to sprawy człowieka i jak bardzo mogę się ośmieszyć przed moimi biednymi przyjaciółmi, przed sobą i przed Bogiem. Każda z osób na fotografii jest przede wszystkim człowiekiem, który ma takie samo prawo do godnego życia jak ja. Nikt z nas nie jest lepszy ani gorszy. Nie osądzać, nie potępiać, nie poddawać się płytkim wzruszeniom, czy tanim emocjom. Starać się zobaczyć człowieka, aby samemu człowiekiem pozostać.
ks. Maciej Kulczyński