IV edycja Trendy Chef - on the street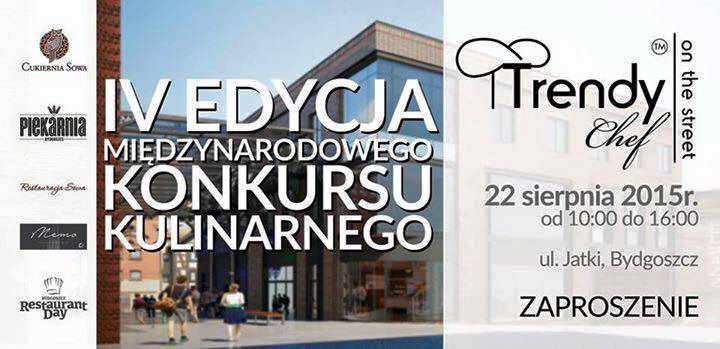 Organizatorzy zapraszają 22 sierpnia 2015 r. do Bydgoszczy, gdzie na nowo otworzonej, kulinarnej ulicy Jatki odbędzie się IV edycja Międzynarodowego Konkursu Trendy Chef - on the street !!!
Organizatorem konkursu jest: "Cukiernia Sowa" i Restauracja "Memo" z Bydgoszczy.
Konkurs nominowany jest do Kulinarnego Pucharu Polski, a jego zwycięzca wystartuje w półfinale, który odbędzie się już we wrześniu.
Celem konkursu jest odkrywanie, poznawanie i promowanie nowych talentów i osobowości kulinarnych. Trendy Chef to konkurs w którym poszukujemy nowych trendów, które obowiązywać będą w polskiej gastronomi przez następny rok.Ma pokazać nowe pomysły smakowe, techniczne, design w połączeniu z nowoczesnością i aktualną estetyką potraw na talerzu.
Inspirować poprzez nowe techniki, rozwiązania technologiczne i kulinarne kucharzy do dalszej pracy i rozwoju w tworzeniu nowoczesnej Kuchni Polskiej również w oparciu o tradycję i kulinarną historię naszego Kraju.
W tym roku zadanie konkursowe polegać będzie na przygotowaniu 7 porcji dania głównego - obowiązkowym składnikiem będą podroby (żołądki, ozorki, nerki, serca, wątróbka, grasica, móżdżek - do wyboru drobiowe, wołowe lub wieprzowe, należy użyć przynajmniej dwa elementy obowiązkowe.
Deser - obowiązkowym składnikiem będzie czekolada firmy Callebaut. Należy użyć przynajmniej 2 rodzaje czekolady w/w firmy. Przepis powinien być niepowtarzalnym autorskim pomysłem.
Lista uczestników:
1. Dawid Szram, Katarzyna Ligęza - Hotel " Marusza" - Grudziądz
2. Kamil Wiński, Piotr Pyczot - Restauracja " Trzy Beczki" - Białystok
3. Piotr Huszcz, Radosław Kosiorek - Hotel Restauracja "Piano" - Lublin
4. Krzysztof Sikora, Piotr Krawczyk - Kopalnia Soli Wieliczka Hotel Grand Sal
5. Dawid Zagrzywiec, Patryk Szarecki - Restauracja Konstancja - Konstancin-Jeziorna
6. Tomasz Łagowski, Michał Żulewski - Alter Ego food&wine - Toruń
7. Maciej Kowalski, Kamil Kubiak - Hotel Tobaco "Restauracja u Kretchmera" - Łódź
Program - Trendy Chef on The Street
Piątek 21 sierpnia 2015
17:00 - 18:00
Zakwaterwoanie uczestników konkursu i jurorów ( Hotel Holiday Inn w Bydgoszczy)
Parking podziemny dla uczestników konkursu od godziny 17:00 przy Ulicy Jatki (wjazd od ulicy Krętej)
18:30 - 19:00
Zabezpieczenie produktów konkursowych w kuchni Restauracji Sowa przez uczestników konkursu
19:15 - 20:00
Odprawa uczestników i Jurorów Restauracja Sowa ( parter sala francuska)
20:30
Kolacja dla uczetników konkursu i Jurorów Restauracja Memo Restaurant & Wine
Sobota 22 sierpnia 2015
4:00
Rozstawienie stanowisk konkursowych - Firma Gastro System
Taras Soda od strony Ulicy Jatki
7:00-10:00
Rozstawienie firm towarzyszących Ulica Jatki
9:30
Przygotowanie zawodników do pierwszej tury konkursu
10:00 -12:00
Start konkursu
10:00 - 15:00
RESTAURANT DAY -Pokazy i degustacje kulinarne
Pokazy Restauracji i firm gastronomicznych
- Ulica Jatki w Bydgoszczy oraz w Restauracji Sowa
12:00 - 12:45
Pokazy kulinarne firmy Rational i GastroSystem
13:00 - 15:00
II Tura Konkursu
16:00
Zakończenie konkursu
20:00 - 1:00
Rozdanie nagród na Gali Trendy Chef on The Street
Restauracja Sowa - Sala Malinowa
Zaproszenia dla zaproszonych gości będą udostępnione w dniu konkursu u organizatorów
Wstęp na Ulicę Jatki jest bezpłatny.
Szczegóły zamieszczone są w regulaminie, który można znaleźć na stronie www.papaja.pl i www.wszystkodlakucharzy.com, tam również można pobrać Formularz zgłoszeniowy.
Kontakt z Organizatorem:
Rafał Godziemski
Restauracja Memo
ul. Jatki 6
85-110 Bydgoszcz