Agnieszka Anioł - Dzikość serc - One-day-exhibition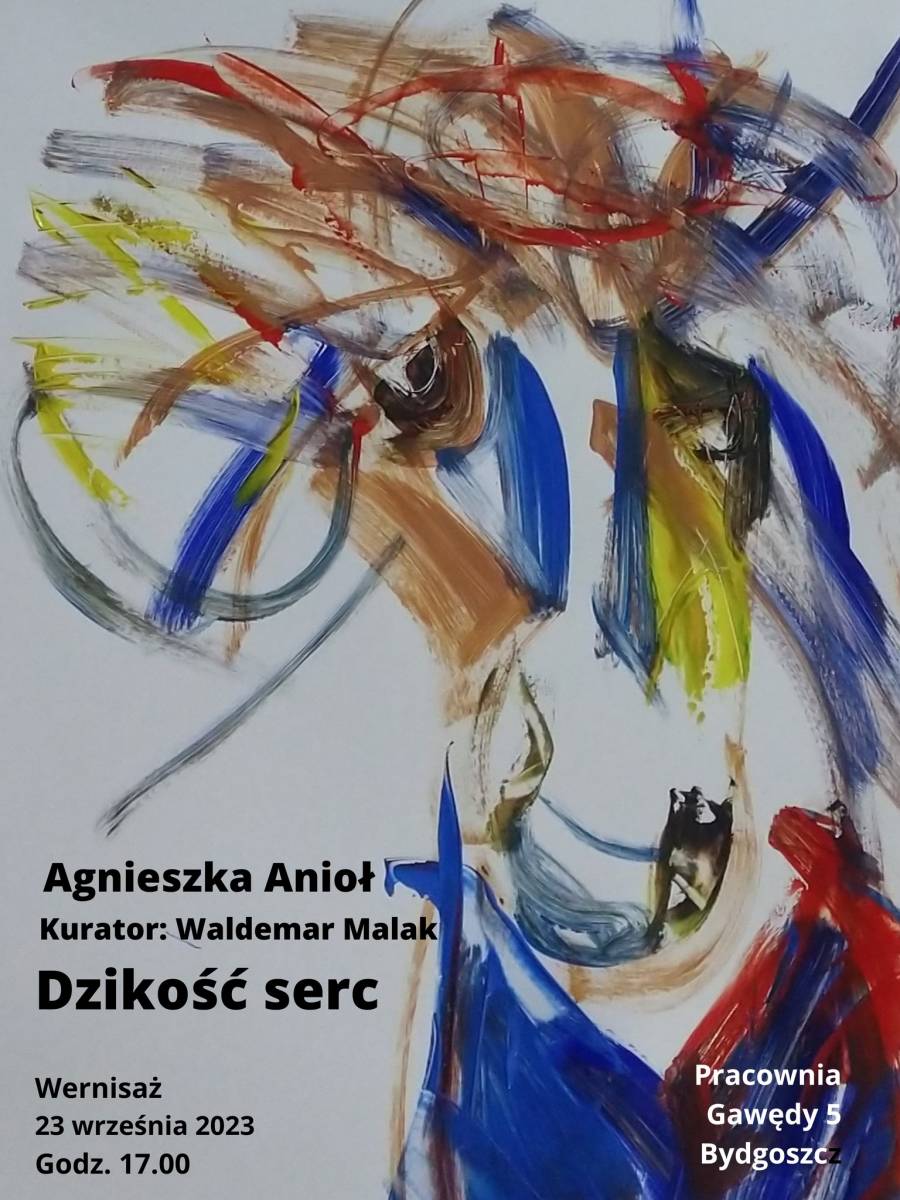 Informacje od Organizatora:
Serdecznie zapraszam na wernisaż, który jest jednocześnie... finisażem.
Miejsce: Pracownia, ul. Gawędy 5
Agnieszka Anioł, Dzikość serc
Fowistyczne płótna Agnieszki Anioł wywołują silne emocje związane z oddziaływaniem ekspresyjnej formy. Kontrasty chromatyczne i achromatyczne, ślady dynamicznego gestu nakładania farb i budowania form. Być może artystka posługuje się silnym gestem wynikającym z tematu jej prac. Agnieszka sugeruje w swych obrazach wizerunki zwierząt, przybierających nieraz prawie abstrakcyjne formy. Emocje to chyba klucz do odczytywania tych obrazów. Sama autorka mówi o zwierzętach "…są, szczere, wierne i potrafią kochać", mówi też, że te cechy zwierząt są ludzkimi cechami, można by chyba powiedzieć, ludzkimi uczuciami i emocjami. Tak wiec to malarstwo ma głęboki humanistyczny przekaz o ile humanizm rozumieć wyłączne w sposób niepejoratywny. Przecież humanizm to też bezwzględne, pozbawione uczuć panowanie nad całym światem zwierząt w imię dobra własnego gatunku albo, co gorsza składnik kultury, a nawet religii. To też bezpardonowe decydowanie o życiu i śmierci, wyrachowane wykorzystywanie zwierząt, nazywanie ich "zasobami". Agnieszka "Odnajduje w nich (zwierzętach) cechy ludzkie", a może jest zupełnie odwrotnie, to my poprzez własne emocje zachowaliśmy jeszcze trochę tego pozytywnego, szczerego świata zwierząt w sobie? "W oczach zwierząt nie odnajduję natomiast obłudy czy kłamstwa", w czyich oczach zatem można się na nie natknąć?
Wystawa Agnieszki Anioł stwarza dla odbiorcy możliwość kontaktu z dzikimi "bestiami" - zamalowanymi farbą płótnami i wizerunkami zwierząt zamkniętymi jakby w klatce - w obcej, kanciastej przestrzeni tak różnej od świata natury. Nam pozostawia odpowiedź na pytania, czy bestiami i czy bycie dzikim jest do końca złe?
Waldemar Malak
Agnieszka Anioł, bydgoszczanka, jest absolwentką Wydziału Nauk Historycznych UMK w Toruniu. W latach 2013-2014 związana z pracownią Waldemara Malaka. Od 2017 roku maluje w bydgoskiej pracowni "Dekora". Specjalizuje się w abstrakcyjnym odzwierciedleniu fotografii techniką farby akrylowej. Jej prace inspirowane są rzeźbą, urokliwymi zakątkami miast oraz zwierzętami, w tym szczególnie bliskimi jej sercu końmi.
______________________
Kalendarz wydarzeń odbywających się w Bydgoszczy miej zawsze pod ręką dzięki aplikacji mobilnej (Android i iOS).
______________________
Informacje o wydarzeniach przesyłajcie na adres wydarzenia@visitbydgoszcz.pl
______________________
Bydgoskie Centrum Informacji nie ponosi odpowiedzialności za jakiekolwiek zmiany miejsc, godzin i dat wydarzeń.