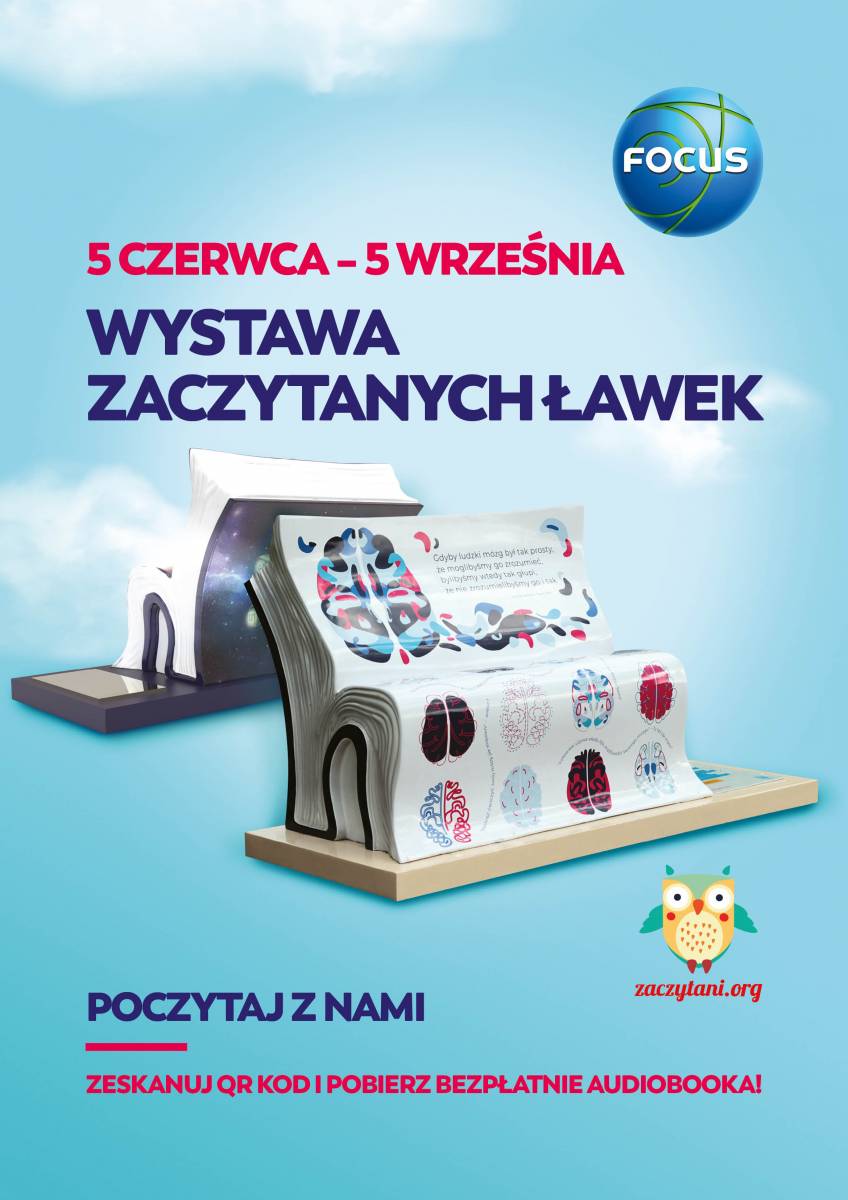 Do 5 września zapraszamy na wystawę pt. "Zaczytane Ławki" w CH Focus w Bydgoszczy. Ekspozycja składa się z trzech ławek zatytułowanych "Mózg", "W pustyni i w puszczy" oraz "Wśród Planet", stworzonych przez polskie artystki. Ta niezwykła wystawa miejskich mebli w kształcie otwartych książek ma skłonić klientów do zatrzymania się w codziennym pędzie i chwili odpoczynku na ławkach z bezpłatnym dostępem do utworów literackich. Wystawa wspiera działania społeczne Fundacji Zaczytani.org, która jest pomysłodawcą Zaczytanych Ławek.
Czytanie daje nam dużo radości i przynosi wiele korzyści. Wciągająca lektura rozwija wyobraźnię i wspomaga koncentrację, relaksuje, pogłębia wiedzę, wzbogaca słownictwo, poprawia pamięć, ćwiczy myślenie analityczne oraz podnosi empatię. Dzieci, którym czyta się książki, dużo szybciej się uczą i mają lepsze wyniki w szkole. Wspólne czytanie umacnia także więź z rodzicem. Do ogólnopolskiej akcji "Zaczytana Wystawa" aktywnie włączyło się również CH Focus, by wspólnie z jej organizatorem, Fundacją Zaczytani.org, zachęcać klientów galerii handlowej oraz mieszkańców Bydgoszczy do częstszego spędzania czasu z książką.
W ramach zaplanowanej wystawy przed CH Focus pojawiły się trzy Zaczytane Ławki – "Mózg", "W pustyni i w puszczy" oraz "Wśród Planet". Każda ławka w kształcie otwartej książki to niepowtarzalny projekt, skierowany do dzieci i dorosłych. Ich autorkami są znane osoby ze świata kultury i zasłużone dla polskiej literatury dziecięcej: Kinga Kulawiecka, Alicja Kocurek i Katarzyna Głowa.
Za pomocą Zaczytanych Ławek można wsłuchać się w książkę. Przy każdej z ławeczek znajduje się kod QR umożliwiający pobranie bezpłatnego audiobooka. Artystyczne instalacje o niezwykłym designie z pewnością skłonią przechodniów do zatrzymania się na chwilę, a być może dla części zwiedzających staną się też źródłem inspiracji i zachęcą do sięgnięcia po tę lub dodatkową lekturę.
Wystawa Zaczytanych Ławek jest dostępna w bydgoskim Focusie do 5 września w godzinach funkcjonowania galerii. Koszt eskpozycji zasili budżet na utrzymanie bibliotek i czytelni tworzonych przez Fundację Zaczytani.org w placówkach pomocowych i przyszpitalnych.
– Zaczytane Ławki to wspaniała, ogólnopolska inicjatywa promująca czytelnictwo i edukująca na temat wartości, jakie przynosi regularne sięganie po ciekawą literaturę. Książka i zawarta w niej historia pomagają oderwać się na chwilę od codzienności i pomóc się zrelaksować. Mamy nadzieję, że unikalne ławki, które staną w naszej galerii handlowej, skłonią bydgoszczan do częstszego sięgania po książkę. Ta nietypowa, innowacyjna forma promocji czytelnictwa może być również doskonałą okazją dla wielu rodziców do tego, aby zarazić czytaniem swoje pociechy. Dlatego zachęcamy wszystkich mieszkańców do aktywnego korzystania z wystawy - mówi Gregory Pertus, dyrektor CH Focus w Bydgoszczy.
Ławeczki zlokalizowane są na placu przed wejściami do centrum handlowego od strony ul. Jagiellońskiej. W projekt "Zaczytane Ławki" włączyły się także centra handlowe z Grupy Atrium w innych miastach. W ubiegłym roku wystawa odwiedziła warszawskie centrum Atrium Targówek, a już niebawem zagości w Atrium Promenada. Zaangażowanie CH Focus w ogólnopolską społeczną akcję "Zaczytane Ławki" jest częścią działań prowadzonych przez bydgoskie centrum handlowe jako element programu Atrium Razem, którego celem jest wsparcie i integracja lokalnej społeczności oraz wspólne budowanie przyjaznego środowiska rozwoju.
______________________
Kalendarz wydarzeń odbywających się w Bydgoszczy miej zawsze pod ręką dzięki aplikacji mobilnej (Android i iOS).
______________________
Informacje o wydarzeniach przesyłajcie na adres wydarzenia@visitbydgoszcz.pl
______________________
Bydgoskie Centrum Informacji nie ponosi odpowiedzialności za jakiekolwiek zmiany miejsc, godzin i dat wydarzeń.