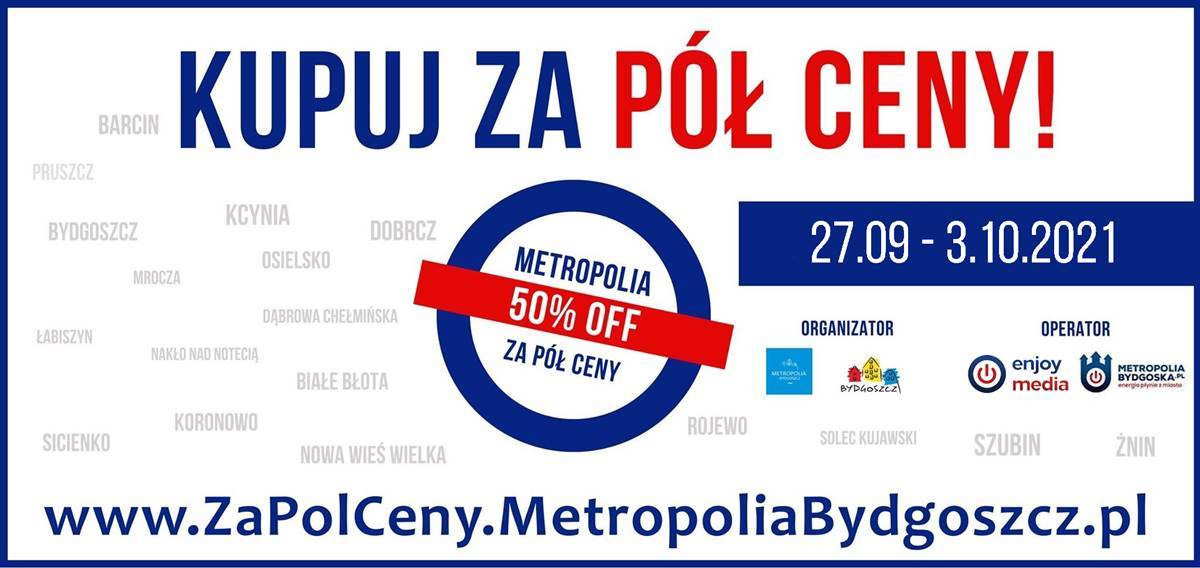 Metropolia za pół ceny powraca. Przygotujcie się na tydzień zniżek!
Akcja Metropolia za pół ceny ma za sobą już 4 edycje. W ramach tegorocznej, jubileuszowej odsłony ze zniżek będzie można ponownie skorzystać przez cały tydzień - od 27 września do 3 października 2021 r.
- Ubiegłoroczne wydłużenie akcji spotkało się z pozytywnym odbiorem ze strony zarówno partnerów akcji, jak i jej uczestników, więc pozostajemy przy tym. Zresztą wiele firm wprowadziło zniżki na cały tydzień – mówi Justyna Wróblewska, koordynator Metropolii za pół ceny 2021 i dodaje, że oczywiście w tym roku każda zgłaszającą się firma czy instytucja też samodzielnie wybiera, w które dni trwania akcji weźmie w niej udział i zaproponuje swoje wybrane produkty lub usługi za połowę ceny. Jednak muszą to być minimum 3 dni w przedziale od 27.09 do 3.10.2021 r., np. poniedziałek-środa czy piątek-niedziela.
To zdecydowanie ułatwi firmom i instytucjom dotarcie do jak większej liczby klientów. W zeszłym roku świetnie sprawdziły się też vouchery, dlatego teraz każdy z partnerów też może je wprowadzić. Firmy i instytucje, które zdecydują się na wprowadzenie tej opcji będą sprzedawać vouchery w trakcie trwania akcji i umożliwiały ich realizacje w późniejszym terminie. "Partner sam określa czas realizacji vouchera i dokładne warunki realizacji. Zastrzega się jednak, że jego cena musi być niższa o 50% od regularnej kwoty zakupu danego produktu lub usługi. Inna zniżka jest dopuszczalna, jeśli voucher będzie dodatkową propozycją do innych usług/produktów oferowanych za połowę ceny w trakcie trwania akcji." – czytamy w regulaminie akcji.
Należy pamiętać, że głównym założeniem akcji jest zapewnienie zniżki o wartości dokładnie 50% na wybrane produkty/usługi w trakcie udziału danego punktu w akcji, w wybranych wcześniej dniach. Taki sam pozostaje też obszar, na którym odbędzie się akcja. Warto wiedzieć, że to nie tylko Bydgoszcz, ale również gminy wchodzące w skład Stowarzyszenia Metropolia Bydgoszcz, czyli Białe Błota, Barcin, Dąbrowa Chełmińska, Dobrcz, Kcynia, Koronowo, Łabiszyn, Mrocza, Nakło nad Notecią, Nowa Wieś Wielka, Osielsko, Pruszcz, Rojewo, Sicienko, Solec Kujawski, Szubin oraz Żnin.
Do udziału w akcji zgłaszają się przeróżne firmy i instytucje. Informacje o nich i ich ofertach są na bieżąco publikowane na stronie akcji www.zapolceny.metropoliabydgoszcz.pl oraz na Facebooku Metropolia za pół ceny.
Organizatorami akcji są Miasto Bydgoszcz oraz Stowarzyszenie Metropolia Bydgoszcz, a operatorem agencja Grupa Enjoy Media. Udział w akcji jest całkowicie bezpłatny. Zgłoszenia przyjmowane są mailowo: zapolceny@metropoliabydgoska.pl. Wszelkie informacje o akcji można uzyskać również pod numerem telefonu: 512 951 051.
- Zachęcamy do zgłaszania się już teraz, by móc jak najlepiej wypromować swoją markę. A wszystkich tych, którzy obawiają się tego, co będzie we wrześniu zapewniamy o możliwości rezygnacji z udziału w akcji, jeśli regulacje krajowe związane z epidemią SARS-CoV-2 całkowicie uniemożliwią prowadzenie działalności danego Partnera w terminie akcji. Pamiętajmy jednak, że w ramach akcji można proponować też zakupy online czy opcje na wynos lub dostawy – podsumowuje koordynator.
______________________
Kalendarz wydarzeń odbywających się w Bydgoszczy miej zawsze pod ręką dzięki aplikacji mobilnej (Android i iOS).
______________________
Informacje o wydarzeniach przesyłajcie na adres wydarzenia@visitbydgoszcz.pl
______________________
Bydgoskie Centrum Informacji nie ponosi odpowiedzialności za jakiekolwiek zmiany miejsc, godzin i dat wydarzeń.