CANCELLED Bieg Jubileuszowy Trzech Klubów. Gwiazda BTW Polonia
Gdzie?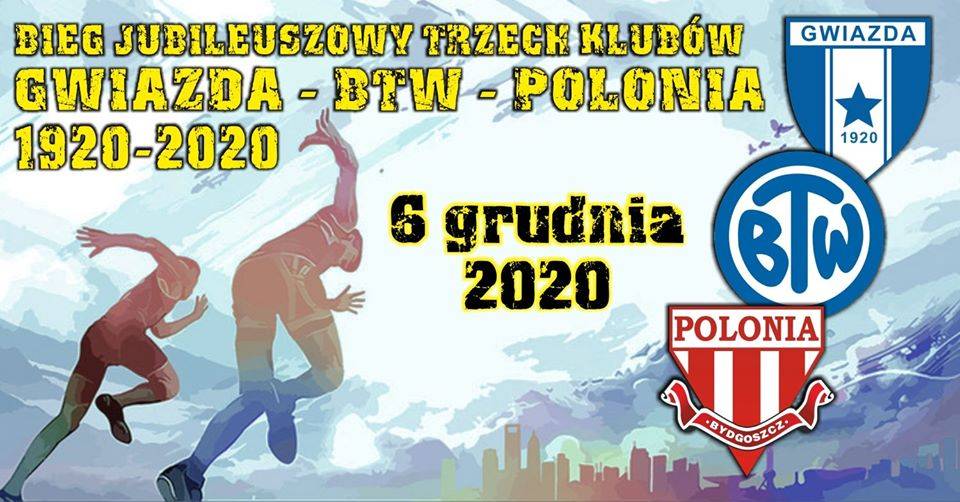 Informacje od Organizatora:
Rok 2020 jest szczególny. Bydgoszcz oraz całe Województwo Kujawsko-Pomorskie świętuje setną rocznicę powrotu do Polski. To również jubileusz trzech najstarszych klubów, które od stu lat tworzą historię sportu bydgoskiego. Powstały wiosną 1920 roku jako wolnościowa inicjatywa, formujących się wtedy środowisk społecznych.
Bydgoskie Towarzystwo Wioślarskie, Gwiazda Bydgoszcz oraz Polonia Bydgoszcz – kluby świętujące swój jubileusz – od samego początku zrzeszały ludzi, którzy z pasją i zaangażowaniem promowali wychowanie fizyczne i wyczynowe uprawianie sportu. Na trwałe zapisały się w dziejach Bydgoszczy i regionu. Przez kolejne dziesięciolecia łączą pokolenia zawodników, trenerów, działaczy oraz sympatyków.
Kluby przyczyniły się do upowszechnienia kultury fizycznej w regionie. Wychowały wielu wspaniałych zawodników, olimpijczyków, mistrzów świata, Europy, Polski oraz indywidualnych i zespołowych zwycięzców licznych imprez, dostarczając przy tym wielu wzruszeń, dzielonych przez sportowców i kibiców. W tym miejscu należy wymienić, choćby kilka nazwisk, wielkich mistrzów i ambasadorów bydgoskiego oraz polskiego sportu, którzy reprezentowali barwy jubilatów. Są to, między innymi, Teodor Kocerka, Jerzy Braun, Jan Świątkowski, Marian Sypniewski, Daniela Wachowiak, Stefan Majewski, Klemens Biniakowski, Marian Norkowski, czy Tomasz Gollob. To tylko niektórzy spośród tysięcy zawodników i adeptów trenujących wioślarstwo, kajakarstwo, piłkę nożną, lekkoatletykę, szermierkę, zapasy, judo, żużel, tenis ziemny i stołowy, kolarstwo oraz wiele innych dyscyplin.
Imponujący dorobek wychowawczy, organizacyjny i obywatelski pozwala jubilatom odważnie spoglądać w przyszłość.
Bieg Jubileuszowy Trzech Klubów. Gwiazda-BTW-Polonia 1920-2020 (10 km) to doskonała okazja do spotkania w ramach jedynego - w swoim charakterze - wydarzenia. Wspólnie z partnerami, zapraszamy Was serdecznie do wspólnego, aktywnego świętowania. Proponujemy Wam sposobność do sportowej rywalizacji - indywidualnej i drużynowej - oraz upamiętnienia imponującego dorobku klubów, a także do skorzystania z dodatkowych atrakcji przygotowanych z tej okazji.
Data biegu nie jest przypadkowa, zbiega się z Narodowym Świętem Konstytucji Trzeciego Maja oraz rocznicami zawiązania towarzystw sportowych w 1920 roku.
Zawody odbędą się na terenie Leśnego Parku Kultury i Wypoczynku "Myślęcinek", w otoczeniu przyrody. To ulubione miejsce bydgoszczan i pozostałych mieszkańców regionu. Wybrana lokalizacja zapewnia bezpieczeństwo i atrakcyjność trasy dla rywalizacji. Pragniemy, aby każdy Uczestnik czuł się komfortowo, niezależnie od poziomu zaawansowania w biegowym rzemiośle.
Miejsce: Bydgoszcz-Myślęcinek, przy Stoku Narciarskim (ul. Konna)
Trasa: 10 km (dwie pętle po 5 km)
Limit zapisów - 400 osób
______________________
Kalendarz wydarzeń odbywających się w Bydgoszczy miej zawsze pod ręką dzięki aplikacji mobilnej (Android i iOS).
______________________
Informacje o wydarzeniach przesyłajcie na adres wydarzenia@visitbydgoszcz.pl
______________________
Bydgoskie Centrum Informacji nie ponosi odpowiedzialności za jakiekolwiek zmiany miejsc, godzin i dat wydarzeń.