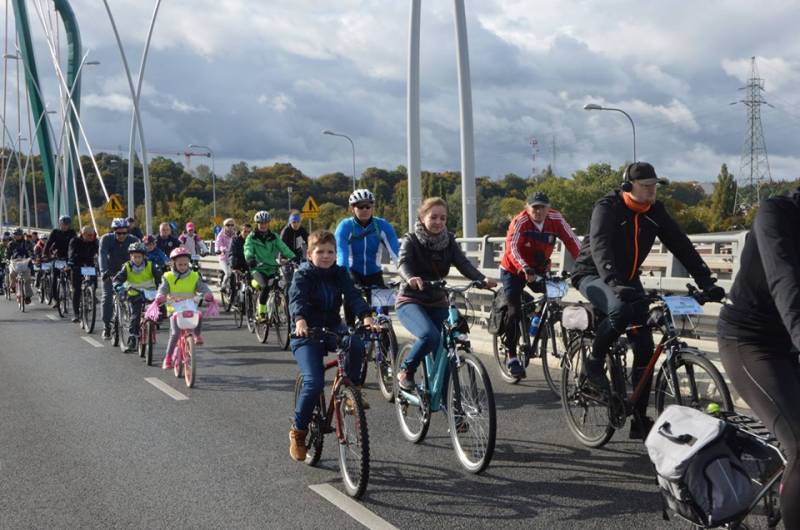 Majowym przejazdem Bydgoskiej Masy Krytycznej rozpoczynamy kampanię na rzecz walki o infrastrukturę rowerową łączącą centrum naszego Miasta z Fordonem. To jedna z ważniejszych Mas w tym roku.
Bydgoska infrastruktura rowerowa rozwija się wolniej niż byśmy tego chcieli, ale liczba kilometrów dróg rowerowych stopniowo zwiększa się. Obecnie trwa wprowadzanie poprawek w niemalże zrealizowanej inwestycji wzdłuż ulicy Grunwaldzkiej, a przede wszystkim oczekiwanie na kolejne ważne przetargi – dotyczące infrastruktury wzdłuż ulicy Kruszwickiej, Focha i Mostowej oraz rewitalizacji bulwarów nad Brdą, gdzie również powstaną drogi rowerowe. Trudno przewidzieć, jak długo będą trwać te procedury. Nasze Stowarzyszenie zrobiło, co mogło na tym etapie, pozostaje czekać... i zająć się kolejnym trudnym tematem.
Infrastruktura rowerowa ma pozwalać jej użytkownikom na bezpiecznie i możliwie najkrótszy przejazd z punktu A do punktu B. Tego na pewno brakuje na linii centrum miasta – Fordon. Rowerzyści albo wybierają przejazd ulicą Przemysłową albo Inwalidów. Na żadnym z nich nie ma jednak spójnej i ciągłej infrastruktury i obie te drogi zmuszają do wydłużenia swojego czasu przejazdu. Najkrótszą drogą jest bowiem ulica Fordońska. Bydgoscy drogowcy odrzucają jednak na razie możliwość powstania tam infrastruktury rowerowej. Nie ukrywamy, że jest to duża operacja i przede wszystkim kosztowna, ale konieczna!
Po majowym przejeździe skierujemy pismo do Prezydenta Rafała Bruskiego o oficjalne stanowisko władz Bydgoszczy w kwestii utworzenia infrastruktury rowerowej wzdłuż ulicy Fordońskiej. Nie zbieramy podpisów – Waszym podpisem jest obecność na majowym przejeździe Bydgoskiej Masy Krytycznej! Jeśli chcecie utworzenia bezpiecznego przejazdu z centrum do największej dzielnicy naszego miasta, to musicie stawić się w piątek, 31 maja na Bydgoskiej Masy Krytycznej. Ruszamy o godz. 18 spod pomnika Kazimierza Wielkiego przy Wałach Jagiellońskich, a nasza trasa poprowadzi właśnie przez Fordon. Przejazd zakończymy w Leśnym Parku Kultury i Wypoczynku, gdzie zapraszamy na ognisko (prowiant we własnym zakresie). Przejazd jest zalegalizowany i zabezpieczany przez Policję.
______________________
Kalendarz wydarzeń odbywających się w Bydgoszczy miej zawsze pod ręką dzięki aplikacji mobilnej (Android i iOS).
______________________
Informacje o wydarzeniach przesyłajcie na adres wydarzenia@visitbydgoszcz.pl
______________________
Bydgoskie Centrum Informacji nie ponosi odpowiedzialności za jakiekolwiek zmiany miejsc, godzin i dat wydarzeń.