Wernisaż wystawy "Portfolio"
Gdzie?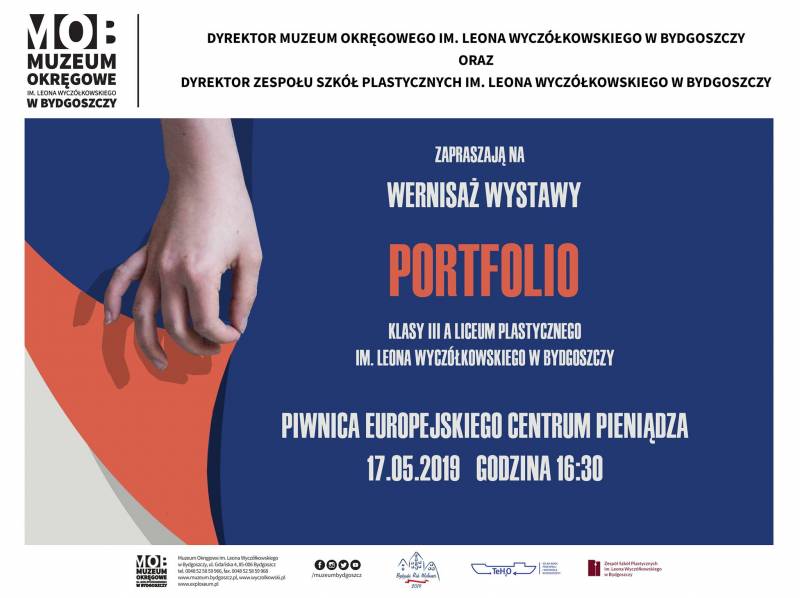 Po raz pierwszy wystawa z cyklu Portfolio, prezentująca dokonania kolejnych klas Liceum Plastycznego, zawitała do Muzeum Okręgowego. To wyjątkowa okazja, aby pogłębić współpracę między dwoma instytucjami kultury, które łączy patron – Leon Wyczółkowski – wybitny artysta i pedagog. Mianem portfolio określa się teczkę prezentującą przykładowe projekty i realizacje artystyczne mające świadczyć o umiejętnościach, doświadczeniu i gotowości podjęcia nowych wyzwań. Niewątpliwie jednym z takich wyzwań dla uczniów klasy III A jest prezentacja swoich prac w murach muzeum.
Młodzi plastycy poszukują dopiero swojej drogi, badają wszystkie ścieżki, którymi mogą podążyć. Dlatego ich twórczość jest niezwykle żywa i zróżnicowana. Nie zna rutyny, ani przyzwyczajenia. Znajduje się w ciągłym napięciu między oczekiwaniami a rzeczywistością, co przysparza tyle samo radości i smutków. W tych pierwszych krokach bardzo łatwo rozpala się twórczy zapał, który należy jak najdłużej podtrzymywać, aby pozwolić mu przerodzić się w prawdziwą pasję. Dojrzała twórczość zaczyna się wtedy, gdy powstanie każdego kolejnego dzieła spowodowane jest odczuwaną wewnętrzną koniecznością. Niezależnie od tego czy wynika z chęci autoekspresji czy też przekazania określonych treści, zawsze pochodzi z tego samego źródła.
Zgromadzone na wystawie prace nie powstawały w szkolnych pracowniach, pod nauczycielskim okiem. Stanowią więc niczym nieskrępowany wyraz tego, co porusza wyobraźnię uczniów. Być może dzięki wystawie w Muzeum Okręgowym uczniowie spojrzą na swoje poczynania z dystansu, dostrzegą coś, czego do tej pory nie widzieli w swojej twórczości. To także sprawdzian dojrzałości oraz odwagi, ponieważ uczniowie sami wystawiają się na ocenę publiczności. Trzymajmy kciuki!
Wystawa będzie czynna do 30.06.2019
Kajetan Giziński
____________________
Kalendarz wydarzeń odbywających się w Bydgoszczy miej zawsze pod ręką dzięki aplikacji mobilnej (Android i iOS).
______________________
Informacje o wydarzeniach przesyłajcie na adres wydarzenia@visitbydgoszcz.pl
______________________
Bydgoskie Centrum Informacji nie ponosi odpowiedzialności za jakiekolwiek zmiany miejsc, godzin i dat wydarzeń.