MILLENNIUM DOCS AGAINST GRAVITY: Sakawa
Gdzie?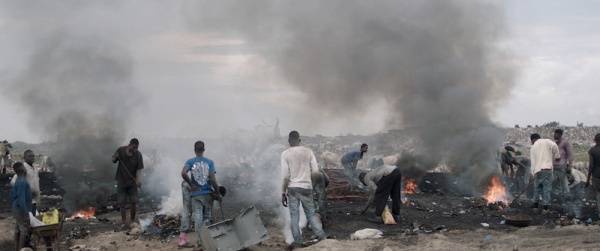 Sakawa to grupa internetowych oszustów z Ghany. Jej członkowie korzystają z nowoczesnych technologii i mediów społecznościowych, które łączą z afrykańskimi rytuałami wudu. Naciągają na pieniądze głównie obcokrajowców, szczególnie z Europy i Stanów Zjednoczonych. Łatwo usprawiedliwiają swoje oszustwa. Zachodnie kraje okradały Afrykę z zasobów takich jak złoto, boksyt, kobalt, diamenty przemysłowe, fosforowe, skały, metale z grupy platynowców, wermikulit czy cyrkon. A teraz oni – oszuści z Sakawy – odbijają to sobie z nawiązką. Wyłudzanie pieniędzy postrzegają jako akt zadośćuczynienia za popełnione na ich kraju kolonialne zbrodnie. W ubogiej Ghanie to jeden ze sposobów na przetrwanie i poradzenie sobie ze wszechobecnym bezrobociem. Brak skrupułów nie razi tu nikogo. Ile współczucia można się spodziewać po kimś, kto co tydzień musiał kupować rybę o wartości 250 euro dla swojego szefa, podczas gdy sam zarabiał 12 euro miesięcznie?
Reżyseria: Ben Asamoah
Wybrane festiwale i nagrody: 2018 – IDFA Amsterdam
Organizator Bydgoskiego Aneksu: Fundacja ART-HOUSE
Współorganizator: MCK w Bydgoszczy
współfinansowanie Bydgoskiego Aneksu: Miasto Bydgoszcz, Województwo Kujawsko-Pomorskie
Lokalny Partner Festiwalu: Katedra Przemysłów Kreatywnych/Wyższa Szkoła Gospodarki w Bydgoszczy
Partner: Stowarzyszenie Koloroffon
Ceny biletów i karnetów:
bilet na pojedynczy seans – 10,- zł
karnet na 10 wybranych seansów – 60,- zł
karnet na cały festiwal (31 seansów) – 120,- zł
______________________
Kalendarz wydarzeń odbywających się w Bydgoszczy miej zawsze pod ręką dzięki aplikacji mobilnej (Android i iOS).
______________________
Informacje o wydarzeniach przesyłajcie na adres wydarzenia@visitbydgoszcz.pl
______________________
Bydgoskie Centrum Informacji nie ponosi odpowiedzialności za jakiekolwiek zmiany miejsc, godzin i dat wydarzeń.