4| Stabat Mater Dolorosa
Gdzie?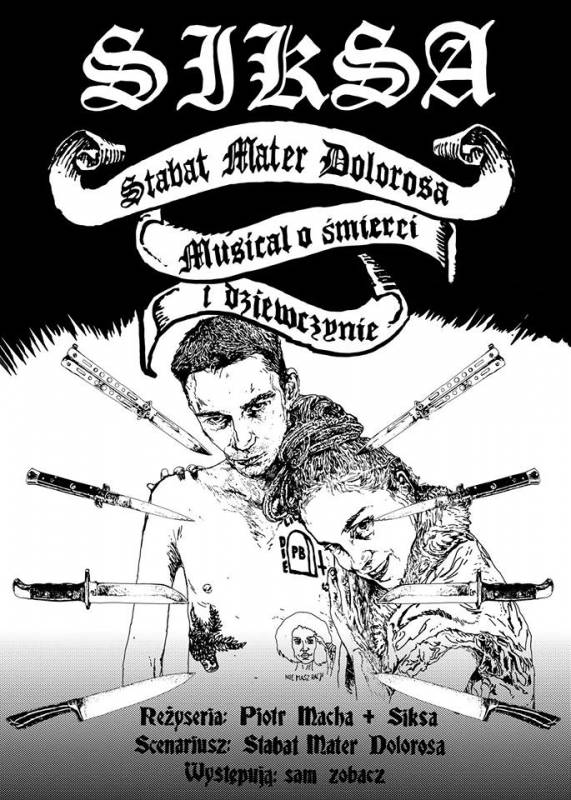 Czyli okazja, aby w odległości niespełna dwóch tygodni po koncercie (Tupot Poetycki #32 | SLAM + SIKSA) zobaczyć pełnymetraż.
"SIKSA. Stabat Mater Dolorosa"
Musical o śmierci i dziewczynie
REŻYSERIA: Piotr Macha + SIKSA
SCENARIUSZ: Stabat Mater Dolorosa
WYSTĘPUJĄ: sam zobacz
PRODUKCJA: CINŻKI DIY
Musical oparty o płytę SIKSY "Stabat Mater Dolorosa" to performatywna realizacja marzenia o robieniu kina, gdzie zarówno marzenie jak i kino jest żuciem gumy balonowej od dawna pozbawionej smaku. Nostalgiczne zaproszenie do roztańczonej opowieści o dziewczynie, która wraca do czasów dzieciństwa, kiedy to przebierała się za różne kobiety używając do tego szafy swojej mamy i wchodziła w role po to, by zadowolić samą siebie. Ten film to narzędzie do rekonstrukcji scen szczenięcych, a także barokowe pożegnanie z brokatem i jednorożcami. Stabat Mater Dolorosa wchodzi jak bagnet w posturę współczesności i całym swoim ciałem serwuje mikro-performanse wykonywane na własną odpowiedzialność. Muzyka SIKSY jest scenariuszem, który postaci odrzucają, odgrywają, mielą, wypluwają, negują, potęgują, a kamera Piotra Machy jest jednym z narzędzi zbrodni, którym SIKSA chciałaby osobiście rozjebać współczesność. Jest to język sztuki jakim SIKSA posługuje się od 2014 roku niemalże niezauważenie. Pistolet, dziewczyna i śmierć – to jest właśnie współczesność.
to właśnie jest współczesność
| TRAILER: https://youtu.be/k7unpwFSnNs
| FB: https://www.facebook.com/xsiksax/
| BANDCAMP: https://siksa.bandcamp.com/
wejście free
______________________
Kalendarz wydarzeń odbywających się w Bydgoszczy miej zawsze pod ręką dzięki aplikacji mobilnej (Android i iOS).
______________________
Informacje o wydarzeniach przesyłajcie na adres wydarzenia@visitbydgoszcz.pl
______________________
Bydgoskie Centrum Informacji nie ponosi odpowiedzialności za jakiekolwiek zmiany miejsc, godzin i dat wydarzeń.