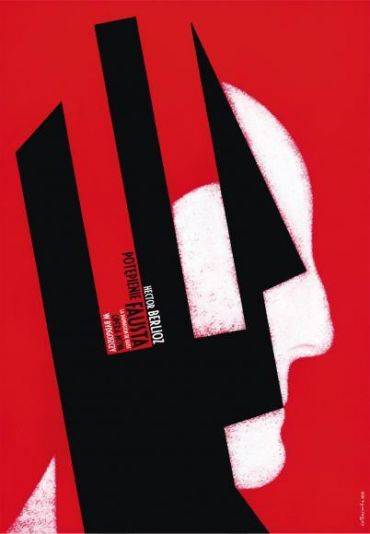 Legenda dramatyczna w czterech częściach (1846)
Kompozytor: Hector Berlioz
Data premiery: Inauguracja XXII Bydgoskiego Festiwalu Operowego, 2015-04-25
Czas trwania: 2 godz., w tym jedna przerwa
Wykonawcy: Soliści, Chór, Balet i Orkiestra Opery Nova w Bydgoszczy, Chór Dziecięcy Pracowni Wokalnej Pałacu Młodzieży w Bydgoszczy.
Według tragedii "Faust" Johanna Wolfganga von Goethe.
Wykonania odbywają się za zgoda wydawnictwa Alkor-Edition Kassel GmbH.
Historyczny Faust ( łac. szczęśliwy) urodził się ok. 1480 r. w Wittemberdze. Studiował rzekomo magię w Krakowie. Prowadził życie wędrowca. Podawał się za astrologa, wywoływacza duchów, wróżbitę , cudotwórcę. Twierdził, że – w zamian na zapisaną krwią duszę- służy mu diabeł. O Fauście krążyły liczne niemieckie podania ludowe,był bohaterem teatrzyków kukiełkowych , komiczną figurą. Jego postać wcześnie zafascynowała pisarzy, m.in. Christophera Marlowe'a.
Wreszcie Goethe ,najwybitniejszy niemiecki pisarz doby "burzy i naporu" podniósł legendę faustowską do rangi wielkiego poematu filozoficznego i arcydzieła o losach całej ludzkości. Przeniósł Fausta z jarmacznych folklorystycznych teatrzyków do wielkiej literatury . Weimarski poeta pracował nad swoim "Faustem" niemal 60 lat. Zaczął go pisać mając 25 lat, skończył jako osiemdziesięciodwuletni starzec. Przepoił dzieło własnymi przemyśleniami. W "Fauście" opowiada o swych przeżyciach młodego studenta, o szacunku do profesorów , o ucztach w piwnicy Auerbacha, o miłości do córki pastora ucieleśnionej w Małgorzacie ,o przyjaciołach-kpiarzach, których rysy zawarł w postaci Mefistofelesa. Goethe portretuje siebie. Podobnie jak Faust studiował prawo, sztukę , literaturę, nauki przyrodnicze, łączył wyobrażnię poetycką z dociekliwością badacza. Poszukiwał , próbował … Oto historia uczonego Fausta, żądnego szczęścia i poznania świata za wszelką cenę .
Tragedia "Faust" stała się inspiracją dla stworzenia innych,wybitnych dzieł ;wymieńmy zaledwie niektóre: balet A.Adama (1832), opery Ch.Gounoda(1859) i A.Boita (1863), symfonie Liszta (1857) i Mahlera (1906), uwertura Wagnera (1844) , powieści Tomasza Manna.I interesująca nas kantata dramatyczna Hectora Berlioza (1803-1869), francuskiego twórcy doby Romantyzmu. Sam kompozytor tak pisał w swych pamiętnikach:"Uważam tę legendę za jedno z najlepszych dzieł , jakie stworzyłem ; publiczność do dziś dnia zdaje się podzielać to mniemanie".
Pierwotnie (1829) kompozytor ,pod wrażeniem lektury "Fausta" w przekładzie Gerarda de Nerval, stworzył Osiem scen z Fausta op.1. Powrócił do nich po latach, podczas podróży koncertowej Passau-Wiedeń-Praga-Wrocław-Paryż. Francuska prapremiera poniosła klęskę . Dopiero następny rok przynosi zagraniczne wykonania legendy dramatycznej i jej rozwijającej się kariery. Ostatecznie dzieło Berlioza podbiło Francję w 1877 roku. Jak pisał kompozytor w pierwszym francuskim wydaniu partytury:"Już sam tytuł dzieła wskazuje,że nie opiera sie ono na głównej idei Fausta Goethego,ponieważ, w słynnym poemacie,Faust zostaje uratowany.Autor Potępienia Fausta wypożyczył jedynie od Goethego pewną liczbę scen,pasujących do projektu,który sobie wytyczył, scen,które zawładnęły z przemożną siłą jego talentem".
Obecnie "Potępienie Fausta" wykonywane jest na estradach filharmonicznych (jako opera koncertowa), jak i scenach teatrów operowych. To czteroczęściowe, monumentalne dzieło,z rozbudowanymi partiami chóralnymi, stanowi wyzwanie reżyserskie, z którym zmierzyć się mogą tylko najwięksi wizjonerzy scen operowych. Ta efektowna legenda dramatyczna została zrealizowana po raz pierwszy w historii bydgoskiej Opery.
______________________
Kalendarz wydarzeń odbywających się w Bydgoszczy miej zawsze pod ręką dzięki aplikacji mobilnej (Android i iOS).
______________________
Informacje o wydarzeniach przesyłajcie na adres wydarzenia@visitbydgoszcz.pl
______________________
Bydgoskie Centrum Informacji nie ponosi odpowiedzialności za jakiekolwiek zmiany miejsc, godzin i dat wydarzeń.