Rowerowe spojrzenie na Bydgoszcz - gra miejska
Gdzie?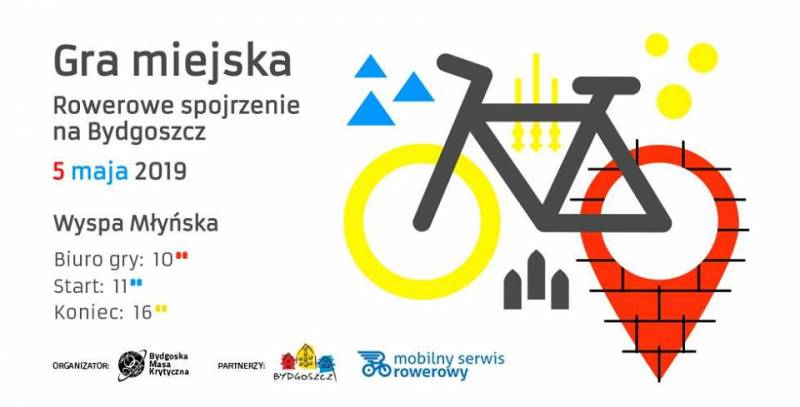 Zapisy ruszają 22 marca o godz. 12 na stronie => https://b4sportonline.pl/gra_miejska/
Rowerowa gra miejska już na stałe wpisała się w kalendarz imprez organizowanych przez Stowarzyszenie Bydgoska Masa Krytyczna. Dzięki współpracy z Miastem Bydgoszcz, możemy Was zaprosić do udziału już w piątej odsłonie tej imprezy, która odbędzie się 5 maja 2019 roku. W tym roku nawiązujemy do obchodów Roku Wolności.
Gra miejska to zabawa, w której Twoim celem jest rozwiązanie wszystkich ośmiu zadań. Lokalizacja części z nich zostanie wskazana w opisie zadania, inne natomiast będą zagadką. Uczestnicy muszą dotrzeć we wskazane miejsce, wykonać selfie i postępować zgodnie z instrukcją. W ten sposób poznacie kawałek historii Bydgoszczy, spędzicie aktywnie czas i odkryjecie turystyczne walory naszego miasta.
Opłata wpisowa wynosi 5 zł i jest ona warunkiem wzięcia udziału w grze. Limit uczestników to 60 osób. Jeżeli nie zostanie wypełniony, to będzie możliwość zapisania się w dniu imprezy. Uczestnicy w ramach pakietu startowego otrzymają numer startowy, ubezpieczenie w trakcie imprezy, możliwość skorzystania z przeglądu roweru przed startem oraz Mobilnego Serwisu Rowerowego w trakcie gry.
Najlepsi uczestnicy mogą liczyć oczywiście na atrakcyjne nagrody! Zwycięzca otrzyma rowerowe gadżety o wartości 300 zł. Nagrody otrzymają również osoby, które znajdą się na drugim i trzecim miejscu.
Możliwość odebrania zestawów startowych będzie na Wyspie Młyńskiej od godz. 10:00 w namiocie organizatora. Zabawa rozpocznie się o godz. 11. Karty z zadaniami będą przyjmowane do godz. 16:00. Zapraszamy do udziału!
Zadanie jest dofinansowane ze środków Urzędu Miasta Bydgoszczy.
______________________
Kalendarz wydarzeń odbywających się w Bydgoszczy miej zawsze pod ręką dzięki aplikacji mobilnej (Android i iOS).
______________________
Informacje o wydarzeniach przesyłajcie na adres wydarzenia@visitbydgoszcz.pl
______________________
Bydgoskie Centrum Informacji nie ponosi odpowiedzialności za jakiekolwiek zmiany miejsc, godzin i dat wydarzeń.