Oko Prolog: Twarz i Maska - Werner Herzog
Gdzie?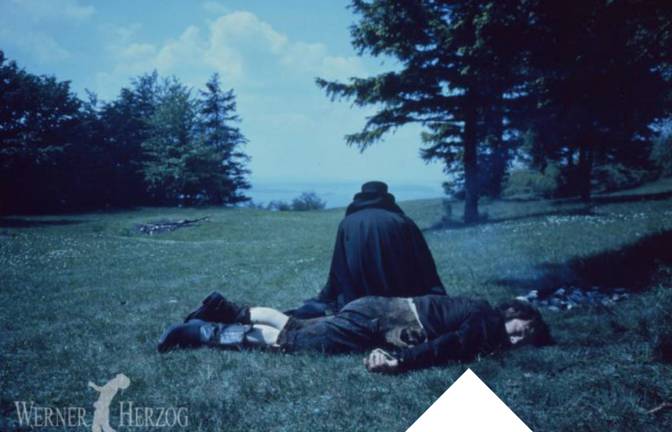 Otwarcie wystawy "Twarz i Maska: Werner Herzog"
Podczas wernisażu:
rozmowa video – Lucki Stipetić – Dyrektor Werner Herzog Filmproduction
wykład - prof. Krzysztof Kozłowski "Fitzcarraldo to ja. O filmach fabularnych Wernera Herzoga"
"Twarz i Maska: Werner Herzog"
Wystawa prezentująca 20 fotosów z kinematograficznego dorobku Wernera Herzoga koncentruje się na ukazaniu relacji i inspiracji pomiędzy malarstwem a filmowym językiem reżysera. Ekspozycja, przybierając formę multimedialnej instalacji, przywołuje osobliwą galerię obrazów, w której niczym sen pojawiają się filmowe kadry, portrety bohaterów – podświadoma projekcja niezdefiniowanych obszarów rzeczywistości. Tym samym otwiera pole do poszukiwania odpowiedzi na jedno z najważniejszych pytań stawianych przez Herzoga: kim właściwie jesteśmy jako ludzie.
Twórczość Wernera Herzoga określana jest często mianem filmowego "eseju o człowieku". Bohaterami jego obrazów są postaci "odmieńców" i "szaleńców" niedopasowanych do funkcjonujących norm, konwencji i reguł. Samotni, zbuntowani, odrzucający reguły społecznego porządku, przekraczający granice, podróżujący do kresu własnych możliwości – swoim egzystencjalnym uwikłaniem wyrażają jedyną możliwą drogę dotarcia do wewnętrznej prawdy o nas samych. Specyfika realizmu herzogowskiego obrazu służy ukazaniu wnętrza – tego, co skrywane, ukryte, pulsujące pod powierzchnią. Obecne w jego twórczości wpływy estetyki i myśli romantyzmu, egzystencjalizmu i ekspresjonizmu – zauważane i przywoływane przez krytyków i badaczy – nie wyczerpują zarówno pola odniesień, jak i interpretacyjnych odczytań. Jak zauważa Joanna Sarbiewska w książce "Ontologia i estetyka filmowych obrazów Wernera Herzoga", wyjątkowość Herzoga kryje się przede wszystkim w referencyjnej mocy filmowego obrazu, który rejestruje bytową (niemą, ukrytą) obecność – niedostępną innym narzędziom poznawczym. Choć Herzog "wierzy w celuloidową taśmę", to jego filmy zakorzenione są w tradycji sztuki. Specyfikę języka filmowego Herzoga tworzą między innymi relacje jego dzieł z malarstwem, przywołujące nie tylko twórczość przedstawicieli romantyzmu czy ekspresjonizmu, ale i baroku czy też późnego średniowiecza. Jak często mówi w wywiadach reżyser, to właśnie malarstwo miało nieporównanie większy wpływ na jego twórczość niż jakiekolwiek dzieło filmowe. Inspiracje i wpływy wykraczają tu jednak poza podobieństwa wyłącznie formalne, kompozycyjne, ikoniczne cytaty. Dotyczą znacznie głębszych obszarów doświadczenia, podnoszonych w hermeneutycznych analizach malarstwa. Jak pisze Leszek Kołakowski w "Horror metaphysicus", różne aspekty rzeczywistości ostatecznej (to, co bezimienne i nieopisywalne) najlepiej znajdują swój wyraz w religii i sztuce. Intensywny akt przeżycia i doświadczenia artystycznego otwiera bowiem poczucie zrozumienia, rodzaj ulotnego spełnienia, które jest zarówno prawomocne w sensie poznawczym, jak i dostarcza przeświadczenia, iż jest się w styczności z czymś bardziej realnym niż codzienna rzeczywistość.
Wojciech Luchowski – kurator "Oko Prolog" Edycja 2018
Pozostałe wydarzenia podczas Oko_Prolog
29.06.2018, godz.18.00
prywatna wieża przy ul. Świętej Trójcy 35/52 w Bydgoszczy
Otwarcie wystawy fotografii Piotra Różyckiego "Czarny Piotruś" – impreza towarzysząca
Po wernisażu możliwość zwiedzania tylko po uprzednim kontakcie mailowym: fundacjarozruch@gmail.com
30.06.2018, godz. 18.00
Galeria Miejska bwa w Bydgoszczy, ul. Gdańska 20
prof. Marcin Giżycki – wykład oraz pokaz filmu "Szklane serce"
04.07.2018, godz. 19.00
Galeria Miejska bwa w Bydgoszczy, ul. Gdańska 20
prof. Zbigniew Mikołejko – "Wampir niejedno ma imię"- wykład
Wydarzenie "Oko – Prolog" jest wstępem do Międzynarodowych Spotkań Nieprzypadkowych "OKO NIGDY NIE ŚPI", które odbędą się w dniach 01.07.2018 – 04.07.2018 w Pałacu Ostromecko.
kurator: Wojciech Luchowski
koordynacja: Tomasz Zieliński
Organizator: Fundacja Czarny Karzeł
Współorganizator: Galeria Miejska bwa w Bydgoszczy
Współpraca: Werner Herzog Film i Deutsche Kinemathek Museum für Film und Fernsehen
Współfinansowanie: Miasto Bydgoszcz
Początek 28.06.2018, godz. 18.00
ul. Gdańska 20
Koniec 29.07.2018
______________________
Kalendarz wydarzeń odbywających się w Bydgoszczy miej zawsze pod ręką dzięki aplikacji mobilnej (Android i iOS).
______________________
Informacje o wydarzeniach przesyłajcie na adres wydarzenia@visitbydgoszcz.pl
______________________
Bydgoskie Centrum Informacji nie ponosi odpowiedzialności za jakiekolwiek zmiany miejsc, godzin i dat wydarzeń.