Jacek Musiatowicz/Michał Musiatowicz - koncert
Gdzie?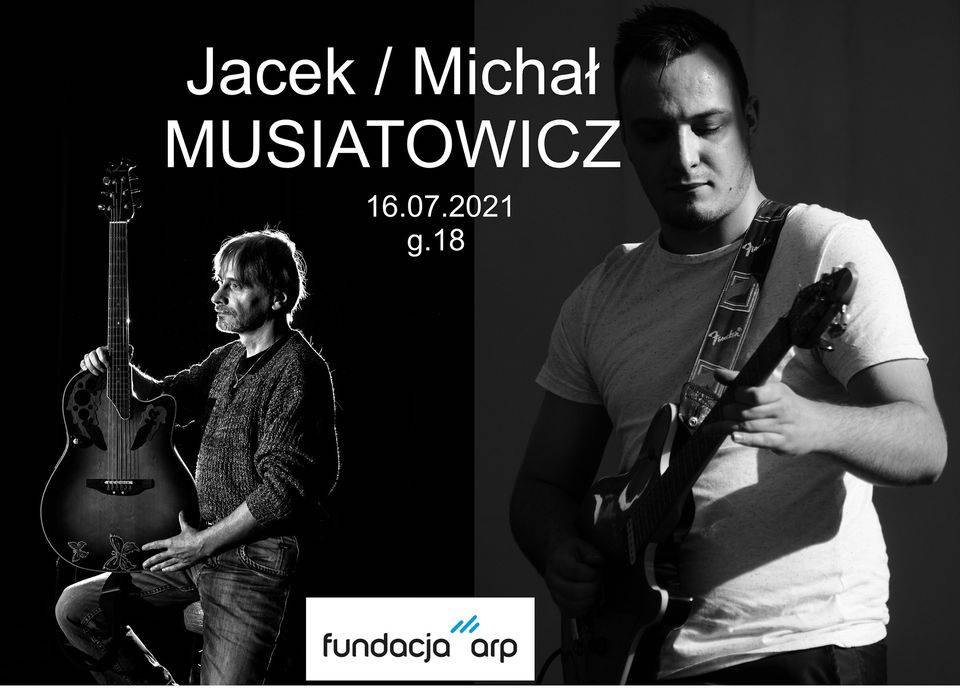 Jacek Musiatowicz – wokalista, gitarzysta, autor tekstów, poeta i kompozytor. Laureat nagrody PREZYDENTA RZECZPOSPOLITEJ za wybitną osobowość twórczą w 1997 rok.
Zwycięzca 33 Festiwalu Piosenki Studenckiej w Krakowie, laureat nagrody literackiej im. Józefa Kraszewskiego, autor tekstów Patrycji Markowskiej, Iwony Węgrowskiej, Jacka Dewódzkiego, Marka Dyjaka. Twórca muzyki do filmu: "Historia istotnej Victorii" – filmu o AIDS, który został nagrodzony Złotymi Niedźwiedziami na Festiwalu w Berlinie. Ma w swoim dorobku kilka albumów w tym m.in. "Obraz niepokojący", "Wróżyczka" ,"Live", oraz czterech tomików poezji i najnowszego rockowo-bluesowego wydawnictwa – płyty "Tak bym chciał" . Twórca Ogólnopolskiego Festiwalu Piosenki Autorskiej "Oranżeria" w Radzyniu Podlaskim. Od 10 lat związany z krakowską sceną muzyczną. Ostatnio autor piosenki "Po tamtej stronie" użytej w soundtracku filmu "UNDERDOG", a wykonywanej przez Marka Dyjaka.
Michał Musiatowicz – gitarzysta solowy, muzyk.
Jego umiejętności docenił sam amerykański gitarzysta Neil Zaza. Wyróżniony został możliwością zagrania na Warsztatach Gitarowych 2012 w Radzyniu Podlaskim wspólnie z grupą Turbo i Mr.Pollack.
W wieku 15 lat nagrał materiał muzyczny na nową płytę swojego taty pod tytułem "Tak bym chciał" . Obecnie promuje swój pierwszy solowy album "Breaking Glass" Uczestnik 10 edycji Must Be the Music Polsatu, zwycięzca Open Stage Lublin 2019. Prowadzi swój fanpage na Facebooku, a także kanał YouTube na którym można zobaczyć jego umiejętności.
Na koncercie w Światłowni artyści wykonają autorskie utwory Jacka Musiatowicza, które będą przekrojem jego dotychczasowych dokonań twórczych – oczywiście z piosenką z filmu "Underdog" – "Po Tamtej stronie dnia" na czele. Wykonają także śpiewane przez artystę wspólnie z Lubelską Federacją Bardów, z którą artysta był związany przez kilka lat, pieśni Włodzimierza Wysockiego i Georgesa Brassensa. Na zakończenie, w krótkim autorskim programie, swoje niezaprzeczalne mistrzostwo gitarowe przedstawi Michał Musiatowicz wykonując utwory najznakomitszych gitarzystów wszechczasów m.in. Neila Zazy, Paula Gilberta, Johna Petrucciego, czy Guthriego Govana. Zagra również fragmenty swojej solowej, autorskiej płyty "Breaking Glass". Podczas koncertu będzie można nabyć płytę Michała Musiatowicza "Breaking Glass" oraz książkę poetycką Jacka Musiatowicza "Wróżyczka" wydaną niedawno. Artyści są w trakcie nagrywania materiału na kolejną płytę Jacka Musiatowicza "Spacer po Kamieniach" i jeśli zdążą z produkcją przywiozą ją Państwu do Światłowni jako super premierę.
Dofinansowano ze środków Fundacji Agencji Rozwoju Przemysłu.
______________________
Kalendarz wydarzeń odbywających się w Bydgoszczy miej zawsze pod ręką dzięki aplikacji mobilnej (Android i iOS).
______________________
Informacje o wydarzeniach przesyłajcie na adres wydarzenia@visitbydgoszcz.pl
______________________
Bydgoskie Centrum Informacji nie ponosi odpowiedzialności za jakiekolwiek zmiany miejsc, godzin i dat wydarzeń.