Sobel - PUŁAPKA NA MOTYLE
Gdzie?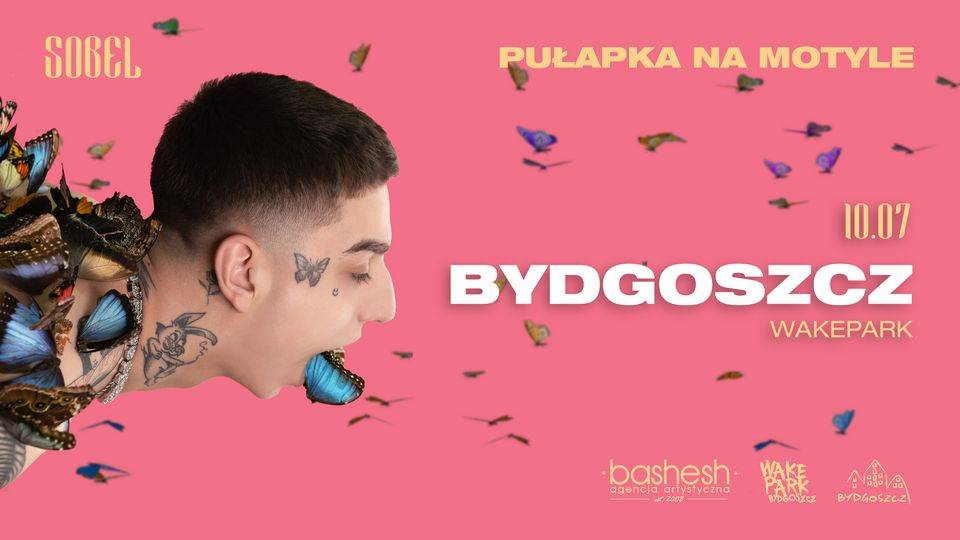 Informacje od Organizatora:
Agencja Artystyczna Bashesh oraz Wakepark Bydgoszcz z ogromną przyjemnością zapraszają na koncert Sobla, promujący jego najnowszy album "Pułapka na motyle", który odbędzie się w Bydgoszczy.
Bilety:
1Pula49/2pula59/3pula69
Na Going i w Salonach Empiku
Osoby niepełnoletnie, które nie ukończyły 18 lat powinny mieć ze sobą pisemną zgodę opiekunów prawnych. Osoby, które nie ukończyły 16 lat mogę wejść tylko z opiekunem prawnym lub osobą pisemnie upoważnioną. Opiekun również musi posiadać bilet.
Wzór zgody: https://bashesh.com/uploads/zgoda.png
Bilet upoważnia do jednorazowego wstępu na teren imprezy. Bilety należy kupować tylko w autoryzowanych punktach sprzedaży.
Godziny podane na bilecie i plakacie mogą ulec zmianie.
Start imprezy oznacza godzinę o której rozpoczynamy wpuszczanie ludzi do klubu, nie jest on tożsamy ze startem koncertu głównego wykonawcy.
Zakup biletu jest jednoznaczny z akceptacją regulaminu imprezy z uwzględnieniem aktualizacji dotyczących reżimu sanitarnego.
https://www.bashesh.com/regulamin
Oświadczenie:
https://bashesh.com/uploads/oswiadczenie%20uczestnika.pdf?fbclid=IwAR25qC38AJVoSJIbHuDdFOltnU4Q-ZXIkV-YSrHzF1IrQChXqgUn6KxKVoU
Najszybciej rozwijająca się kariera w historii polskiej muzyki rozrywkowej? To właśnie Sobel, który w rok zdobył ponad milion regularnych słuchaczy w serwisach streamingowych. W zeszłym roku dał się poznać jako różnorodny artysta dzięki EPce "Kontrast", a ostatnio światło dzienne ujrzał jego debiutancki album, z którym znalazł się na 6. miejscu TOP 10 globalnego zestawienia premier na Spotify. Wszechstronność Sobla jest jego największym atutem, a branża oraz fani zgodnie twierdzą, że jego obecność na polskiej scenie muzycznej to wyczekiwany od dawna powiew świeżości. Sobel świetnie śpiewa. Potrafi też rapować, jednak jak sam twierdzi, raperem nie jest. Po rewelacyjnym koncercie we wrześniu 2020 w Warszawie i przymusowym wstrzymaniu trasy przez pandemię pora na powrót na scenę w nowym sezonie!
______________________
Kalendarz wydarzeń odbywających się w Bydgoszczy miej zawsze pod ręką dzięki aplikacji mobilnej (Android i iOS).
______________________
Informacje o wydarzeniach przesyłajcie na adres wydarzenia@visitbydgoszcz.pl
______________________
Bydgoskie Centrum Informacji nie ponosi odpowiedzialności za jakiekolwiek zmiany miejsc, godzin i dat wydarzeń.