Wykład | Grafika polska wobec współczesnych technologii
Gdzie?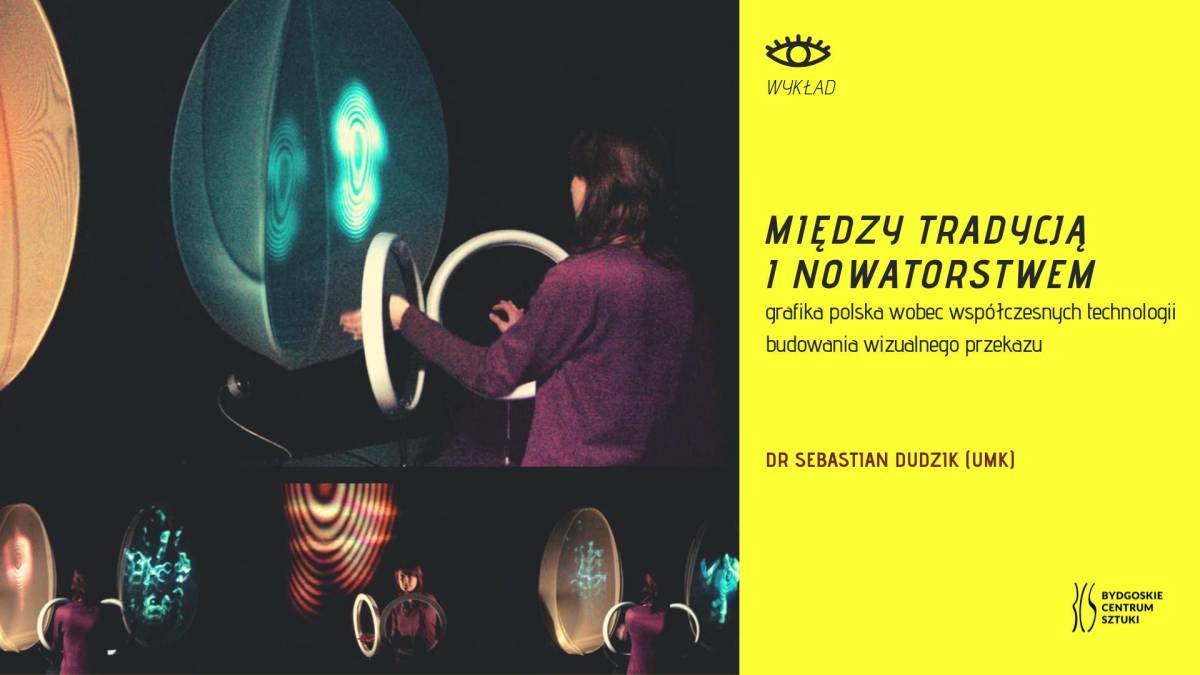 Wykład // Między tradycją i nowatorstwem. Grafika polska wobec współczesnych technologii budowania wizualnego przekazu.
Prowadzenie | dr Sebastian Dudzik (UMK)
wstęp wolny
wykład z cyklu "Okiem historyka sztuki"
Grafika, jak każda inna forma artystycznej ekspresji, nieustannie szuka odpowiedniej i zarazem aktualnej formuły budowania wypowiedzi.
Pytanie - Jak to jest zrobione? - nie może być jednak stawiane w oderwaniu od innego pytania - Dlaczego to zostało tak zrobione?. Bez tego uzupełnienia nasza odpowiedź będzie dotyczyła tylko aspektów rzemieślniczych twórczego procesu. Dopiero pytanie "dlaczego?" kieruje z powrotem naszą uwagę na język i jego aktualność, na ciągłe nieustające "dostosowywanie się" sztuki do współczesnych norm i sposobów komunikacji.
W tym kontekście grafika artystyczna zajmuje specyficzną pozycję. Dzięki swej mechanicznej naturze uwarunkowanej istnieniem matrycy i jej multiplikacyjnego potencjału blisko jej do nauki i technologii. Jednocześnie doskonale wpasowuje się we współczesną cywilizacyjną rzeczywistość, która zawładnięta została poprzez proces nieustannego, wielopoziomowego powielania (od produktów po informację).
W większości przypadków owe poszukiwania czy nawet "wichrzycielskie" próby łamania dotychczasowych norm i definicji sztuki graficznej wynikają bezpośrednio ze wspomnianego już wyżej nieustannego procesu aktualizowania "języka", dostosowywania jego norm do panujących "tu i teraz" kulturowych i cywilizacyjnych realiów.
Zapraszam zatem na małą wyprawę w fascynujący świat graficznego dyskursu z komunikacyjnymi, technologicznymi, ale także mentalnymi i kulturowymi uwarunkowaniami współczesności.
[artyści m.in.: Izabela Gustowska, Marek Glinkowski, Ksawery Kaliski, Karol Pomykała, Marta Pogorzelec, Grzegorz Myćka, Darek Gajewski, Jakub Cikała, Andreas Guskos, Małgorzata ET BER Warlikowska]
SEBASTIAN DUDZIK | absolwent Instytutu Zabytkoznawstwa i Konserwatorstwa na Wydziale Sztuk Pięknych UMK, w 2006 uzyskał tytuł doktora na Wydziale Historycznym UAM w Poznaniu pod przewodnictwem prof. dr hab. Zygmunta Waźbińskiego.
Jego zainteresowania badawcze lokują się zasadniczo w dwóch obszarach czasowych i problemowych. Pierwszym z nich jest mecenat artystyczny i kultura przedmiotu czasów nowożytnych, ze szczególnym uwzględnieniem drugiej połowy XVI i początków XVII wieku. Drugim obszarem jest historia oraz teoria grafiki artystycznej oraz mediów cyfrowych i ich relacji z tradycyjnymi formami wypowiedzi artystycznej; w tym zakresie mieści się również szeroko pojęte zagadnienie prezentacji sztuki, strategii wystawienniczych i kolekcjonerskich nowych mediów.
______________________
Kalendarz wydarzeń odbywających się w Bydgoszczy miej zawsze pod ręką dzięki aplikacji mobilnej (Android i iOS).
______________________
Informacje o wydarzeniach przesyłajcie na adres wydarzenia@visitbydgoszcz.pl
______________________
Bydgoskie Centrum Informacji nie ponosi odpowiedzialności za jakiekolwiek zmiany miejsc, godzin i dat wydarzeń.