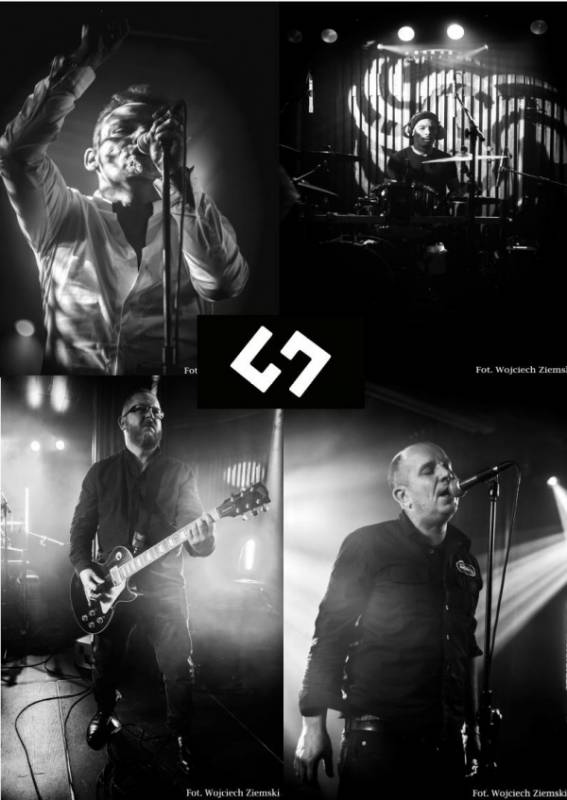 Agressiva69, legenda rocka industrialnego wystąpi w MCK w Bydgoszczy!
Zespół zaprezentuje swoje największe hity, covery Republiki oraz utwory z kultowej pierwszej płyty "Deus Ex Machina" od wydania, której mija właśnie 25 lat! Będą także inne muzyczne niespodzianki, a wszystko usłyszycie już 24 listopada!
Wydarzenie to dopełni koncert zespołu Decadent Fun Club.
Agressiva 69 to prekursorzy i najbardziej rozpoznawalny w Polsce zespół rockowo industrialny. Grupa została założona w 1987 przez Tomasza Grocholę i Jacka Tokarczyka. Ich pierwszy album, "Deus Ex Machina" został wydany w 1992 roku przez SPV Poland. Był czymś zupełnie nowym na polskim rynku muzycznym, a Agressiva nie musiała długo czekać na zainteresowanie. Występowała na największych scenach w Polsce i Europie z takimi gwiazdami jak Prodigy, Paradise Lost, New Model Army, The Mission, Front 242, Marc Almond, Alphaville i innymi. Takie osobowości jak Martin Atkins (legendarny perkusita PIL, Killing Joke, Nine Inch Nails, Pigface) czy Wayne Hussey (The Mission, Sisters of Mercy) wzięły udział w nagraniach wydanego w 2005 roku albumu "In", uznawanego za najlepszy jak do tej pory album Agressivy.
Grupa została także wielokrotnie doceniona przez polską branżę muzyczną. Klip do "Situations" był nominowany aż w 6 kategoriach na Yach Film Festival w 2003 roku i został nagrodzony nagrodą Grand Prix oraz w kategorii "animacja roku". "Hammered by the Gods" został ogłoszony najlepszym industrialnym albumem roku 2004, a "2.47" był nominowany do Fryderyka w kategorii najlepszy album techno.
W listopadzie 2011 Agressiva 69 wydała płytę pt. Republika 69 z coverami legendarnej Republiki .Płyta ta została nominowana do nagrody Fryderyka w kategorii Album roku – Muzyka alternatywna . W styczniu tego roku zespół wydał kolejne, wyjątkowe wydawnictwo – "UMMMET", będące artystyczną wizją tak ambientowej jak i industrialnej muzyki. Agressiva 69 pozostaje jedyną w Polsce grupą grającą tego rodzaju muzykę. I choć trudno jednoznacznie zdefiniować rodzaj muzyki jaki wykonują, Agressiva nigdy nie zapomina o swoich korzeniach.
Obecnie grupę tworzą: Tomek Grochola, Jacek Tokarczyk, Robert Tuta i Filip Mozul.
DECADENT FUN CLUB
Współczesny świat to śmietnik. Żyjemy w rzeczywistości pełnej przyspieszenia i wypaczenia. Być może nieprzypadkowo właśnie w tym momencie doszło do spotkania, w wyniku którego powstał Decadent Fun Club. Ich muzyka to zimny powiew świeżości i odwołanie do najpiękniejszych tradycji.
W ciągu roku działalności zespół wydał trzy single i teledyski oraz zagrał serię udanych koncertów, m.in. Spring Break Festival w Poznaniu, Europejskie Targi Muzyczne Co Jest Grane 24, Parada Równości oraz pierwszy zagraniczny koncert na Pop-Kultur Festival w Berlinie. W lipcu 2017 Decadent Fun Club jednogłośnie wygrał konkurs Jarocińskie Rytmy Młodych, organizowany w ramach Jarocin Festiwal. Jako zwycięzcy jesienią zagrali serię koncertów u boku Krzysztofa Zalewskiego podczas trasy "Złoto".
W styczniu 2018 Decadent Fun Club otrzymał "Szczotę" - nagrodę muzyczną przyznawaną corocznie przez Annę Gacek i Piotra Stelmacha podczas koncertu "Offensywa De Luxe" w Trójce – w kategorii "nadzieja roku". Zespół znalazł się w TOP 10 plebiscytu "Sanki 2018", wskazującego najciekawsze nowe zespoły na polskiej scenie muzycznej według Gazety Wyborczej.
Bilety
20 zł - przedsprzedaż
30 zł - w dniu koncertu
Dostępne w kasie MCK oraz na stronie Bilety24.
______________________
Kalendarz wydarzeń odbywających się w Bydgoszczy miej zawsze pod ręką dzięki aplikacji mobilnej (Android i iOS).
______________________
Informacje o wydarzeniach przesyłajcie na adres wydarzenia@visitbydgoszcz.pl
______________________
Bydgoskie Centrum Informacji nie ponosi odpowiedzialności za jakiekolwiek zmiany miejsc, godzin i dat wydarzeń.