Kultura Bassu 22: Emperorfari Sound System feat. MC Tanzanite
Gdzie?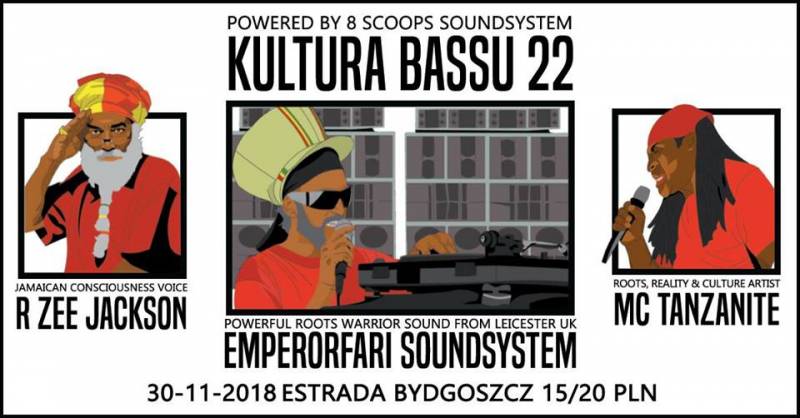 Serdecznie zapraszamy na 22 odsłonę Kultury Bassu jedynej cyklicznej imprezy poświęconej kulturze sound systemu w naszym województwie . Będzie to sesja historyczna , po raz pierwszy będzie gościć Sound system z kraju gdzie jest jego kolebka czyli Wielkiej Brytanii a dokładniej z Leicester . Panie , Panowie , Siostry i Bracia po raz pierwszy w naszym mieście EMPERORFARI High Power Sound System wraz z nimi MC Tanzanite . Rozgrzewkę pod czas sesji zapewni Ruff Puff Sound
Zagrają :
Emperorfari Sound System ( Leicester , UK )
R.Zee Jackson (Ja)
Mc Tanzanite ( UK )
Ruff Puff Sound
Wstęp 15 /20
info
EMPERORFARI (The Powerful Warrior Sound) Rootsowy soundsystem wagi ciężkiej z Leicester. Grają jedynie z winyli na jednym decku (oryginalny, pierwotny sposób grania) dostarczając słuchaczom wierne i czyste dźwięki. Kiedy grają, gorący bas porusza serca wypływając z własnoręcznie zbudowanego soundsystemu i najlepszych kontrolerów.
Założony przez Scee Naphtali w 2006 roku soundsystem niewątpliwie korzysta z faktu że ojciec jego twórcy był Inżynierem Dźwięku w Voice of Kenya i BBC. Bezpośrednio przekazywana wiedza wpłynęła na rozwój muzyczny Scee, który już od najmłodszych lat miał wraz z braćmi szansę na bliższe poznanie kultury soundsystemowej.
Emperorfari gra roots-rock-reggae dub steppers (UK style). Styl ten czerpie z wczesnego reggae oraz specjalnych wydań potocznie zwanych Dubplates.
Współpracują z wieloma rootsowymi wokalistami oraz muzykami, którzy regularnie dołączają do nich podczas sesji.W tym samym czasie wytwórnia Emperorfari wspiera niezliczone ilości wydawnictw.
Emperorfari grało z wieloma innymi sounsystemami oraz na najbardziej interesujących festiwalach w UK/Europie/na świecie. Ma-Kaya, King Earthquake, Aba Shanti I, Jah Tubbys, Kilowatt, Word Sound & Power, Massai Warrior, Roots Injection, Hytal Bosra, Kindread, Papa Roots, Scientist Sound, Lion Youth, Balckboard Jungle, Chalice Sound, Nyabin Sound, Welders, Lion Roots, Shamanie Sounds, Freedom Masses, Instrument of Jah, Jah Command, Junior Blues, King Dread, Jah Voice, Roots Youths, Jah Yabbys, Negus Dub Warrior, Jah Hamma, Jah Lokko, Moa Anbessa, Lord Ambassadorto to tylko przykłady z długiej listy pełnej wspaniałych artystów z którymi Emperorfari miało okazję kolaborować.
Przyjdź i doświadczaj Emperorfari. Kto to czuje ten wie że to jedna miłość!
https://www.facebook.com/emperorfari/
Mc Tanzanite
Dla MC Tanzanite muzyka jest przepustką do podróży po całym świecie. Holandia, Belgia, Teneryfa, Jamajka, Madryt, Meksyk oraz liczne miejscówki w UK to tylko przykłady spotów do których dotarł ze Stella performances.
MC Tanzanite występował do tej pory z takimi muzykami jak Derrick Morgan, Jimmy London, Johny Clarke, Natural Black, Shola Alma, So Solid Crew, The Deadtime Philharmoni oraz z wieloma innymi uznanymi artystami. Na liście jego dokonań znajdziemy także współpracę z takimi soundsystemami jak King Earthquake UK i Jah Command Mexico.
Obecnie MC Tanzanite w błyskawicznym tempie zdobywa muzyczne reggae szczyty, nieustannie dostarczając nam nowe single.
Posłuchaj nowego albumu MC Tanzanite LYRICAL MAFIA
MC Tanzanite mawia:
'Moja muzyka niesie w sobie miłość dla uczciwości i ogień dla niegodziwości
http://www.mc-tanzanite.com/
R.Zee Jackson (znany także jako Esso Jaxxon lub Castro Pink) wczesne dzieciństwo spędził w Clarendon i Old Harbour na Jamajce. W 1972 wziął udział w programie wymiany kulturowej i wyjechał do Stanów Zjednoczonych i pracował na obozach letnich, a następnie wyemigrował do Kanady. To tam poznał Oswalda Creary z Half Moon Studi,o i Douga z Comfort Sounds Studio. Miał również okazję nagrywać z Jackie Mittoo który tak jak on mieszkał w tamtym czasie w Kanadzie, a ponadto NAGRYWAŁ w C.C. Records Label.
W późniejszym czasie został przedstawiony Leroyowi Sibbles (The Heptones) który postawił sobie za cel nauczyć go między innymi śpiewu, dzięki czemu R. Zee Jackson został wokalistą i udał się w trasę z Sibbles Ital Groove. Był to jeden z bardziej znanych kanadyjskich zespołów reggae, który w trasie jedną połowę spędzał roku, a drugą na nagraniach w studio.
W tym samym czasie R. Zee Jackson dołączył do grupy The Groove (znanej także jako Jamafrica and Hit Squad - mającej nieco inne brzmienie niż Ital Groove), z którą występował w czasie gdy Sibbles nie grał ze swoim zespołem w pełnym składzie. To w tym okresie Jackson nagrał album 'Seat Up' wydany w 1980, dalej grając z Ital Groove kiedy tylko było to możliwe.
W latach 90 R. Zee uczęszczał do Trebas Institute i w 1996 roku uzyskał tytuł w dziedzinie Music Business Administration.
Od tamtej pory R. Zee jest aktywny na polu przemysłu muzycznego nie tylko jako wykonawca lecz również producent w swoim studio DubWorld Audio Visual HQ. Pracuje także dla Iaaj Music i jest współzarządzającym marketingiem w Kings of Kings Inc.
Za swój album 'Unda Di Struggle' otrzymał wyróżnienia takie jak kanadyjskie Top Reggae CD/Album . Na początku XXI wieku współpracował także z producentem i inżynierem dźwięku Gussie P.
______________________
Kalendarz wydarzeń odbywających się w Bydgoszczy miej zawsze pod ręką dzięki aplikacji mobilnej (Android i iOS).
______________________
Informacje o wydarzeniach przesyłajcie na adres wydarzenia@visitbydgoszcz.pl
______________________
Bydgoskie Centrum Informacji nie ponosi odpowiedzialności za jakiekolwiek zmiany miejsc, godzin i dat wydarzeń.