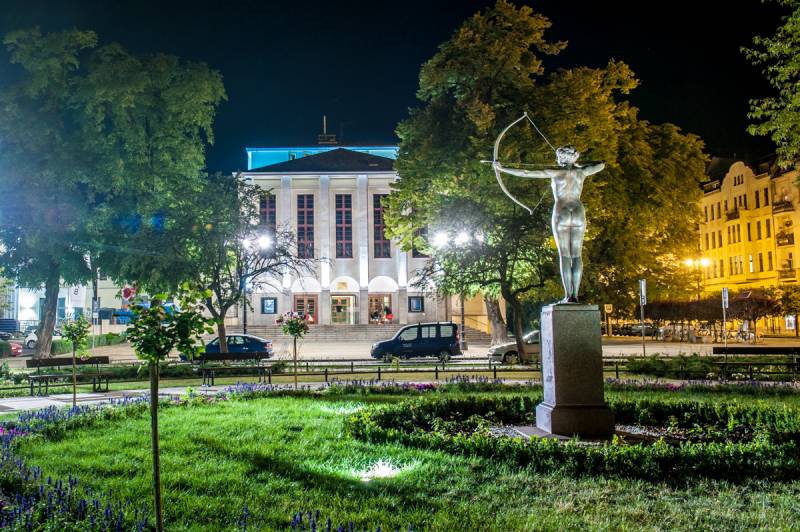 Festiwal Prapremier / Prapremiery Nie/Chciane
Disco Solski
data: 19.10.2017 godzina: 18:00
sala: Duża Scena Piosenki disco polo nie tylko cieszą się dużą popularnością, ale też wzbudzają w wielu słuchaczach niezwykle silne emocje: radość, smutek, szczęście i melancholię. Emocje wywoływane przez ten rodzaj muzyki nie są mniej wartościowe czy też mniej godne uwagi niż emocje wzbudzane przez inne gatunki. Pozwala to rozpatrywać disco polo jako materiał do opowieści o namiętnościach, marzeniach i problemach współczesnego człowieka. Kluczowe w spektaklu są aranżacje: znane piosenki disco polo prezentujemy w stylizacjach na blues, jazz, muzykę latynoską, musical, rocka, balladę pop, dubstep i wiele innych. 17 piosenek jest tak ułożonych, by stworzyć opowieść o ambicji, kreatywności, pogoni za uczuciami, niemożności rozliczenia się z przeszłością, zaś podsumowaniem jest piosenka opowiadająca o naszym wspólnym mieście – utwór podzielony na trzy osoby, śpiewany w różnych stylach muzycznych, którego główna myśl jest przesłaniem spektaklu: mimo wszelkich różnic żyjemy razem w tym mieście, łączy nas ono i wspomnienia z nim związane. Spektakl to opowieść o uczuciach, przeszłości, marzeniach i rezygnacji, w końcu porozumieniu i przyjaźni.