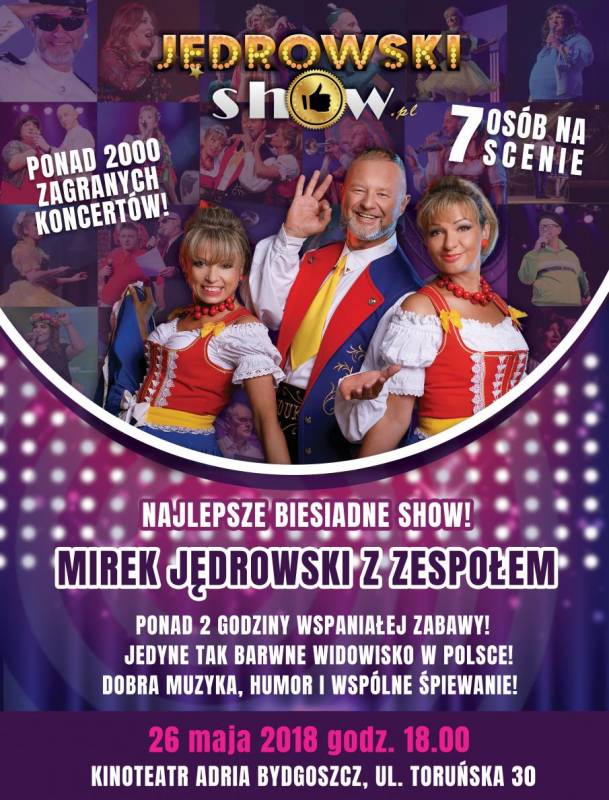 Koncert Jędrowski Show. Najlepsze biesiadne show w Polsce!
26 maja 2018, czyli w Dzień Matki o godzinie 18:00 zapraszamy do bydgoskiego Kinoteatru Adria na najlepsze Biesiadne Show w Polsce! Ponad 2 godzinny koncert w wykonaniu 7 osobowego zespołu Mirka Jędrowskiego trafi w gust każdego słuchacza. Mirek Jędrowski i jego zespół to niekwestionowani królowie każdej imprezy biesiadnej. To ponad 2000 zagranych imprez, setki tysięcy zadowolonych fanów. Ich obecność na scenie przeniesie Cię w barwny, wesoły świat, przepełniony dobrą muzyką, zabawą i świetnym humorem. To coś więcej niż zwykła zabawa. Autentyczne emocje, pozytywna energia i prawdziwie rodzinna atmosfera na scenie sprawią, że ten Śląski zespół na długo zapadnie w Twojej pamięci i będziesz chciał przeżyć to wszystko jeszcze raz.
W trakcie koncertu możecie liczyć na: przepiękne wiązanki piosenek, które wszyscy znają i śpiewają; piosenki własnego autorstwa, które otrzymały wiele nagród oraz zasiadały na szczytach śląskich list przebojów w TV; występ kabaretowy, który rozbawi do łez; przepiękne stroje, które wprowadzą niesamowity nastrój; niesamowitą atmosferę, gwarancję dobrej zabawy przez cały czas trwania programu oraz satysfakcję i zadowolenie zgromadzonej publiczności!
Rezerwacja biletów : tel: 52 371 27 39
Bilety do nabycia:
https://www.kupbilecik.pl/impreza-25645-jedrowski.show.bydgoszcz.html
Cena biletu: 47 zł
______________________
Kalendarz wydarzeń odbywających się w Bydgoszczy miej zawsze pod ręką dzięki aplikacji mobilnej (Android i iOS).
______________________
Informacje o wydarzeniach przesyłajcie na adres wydarzenia@visitbydgoszcz.pl
______________________
Bydgoskie Centrum Informacji nie ponosi odpowiedzialności za jakiekolwiek zmiany miejsc, godzin i dat wydarzeń.