Djembe w Młynach. Wydanie wakacyjne
Gdzie?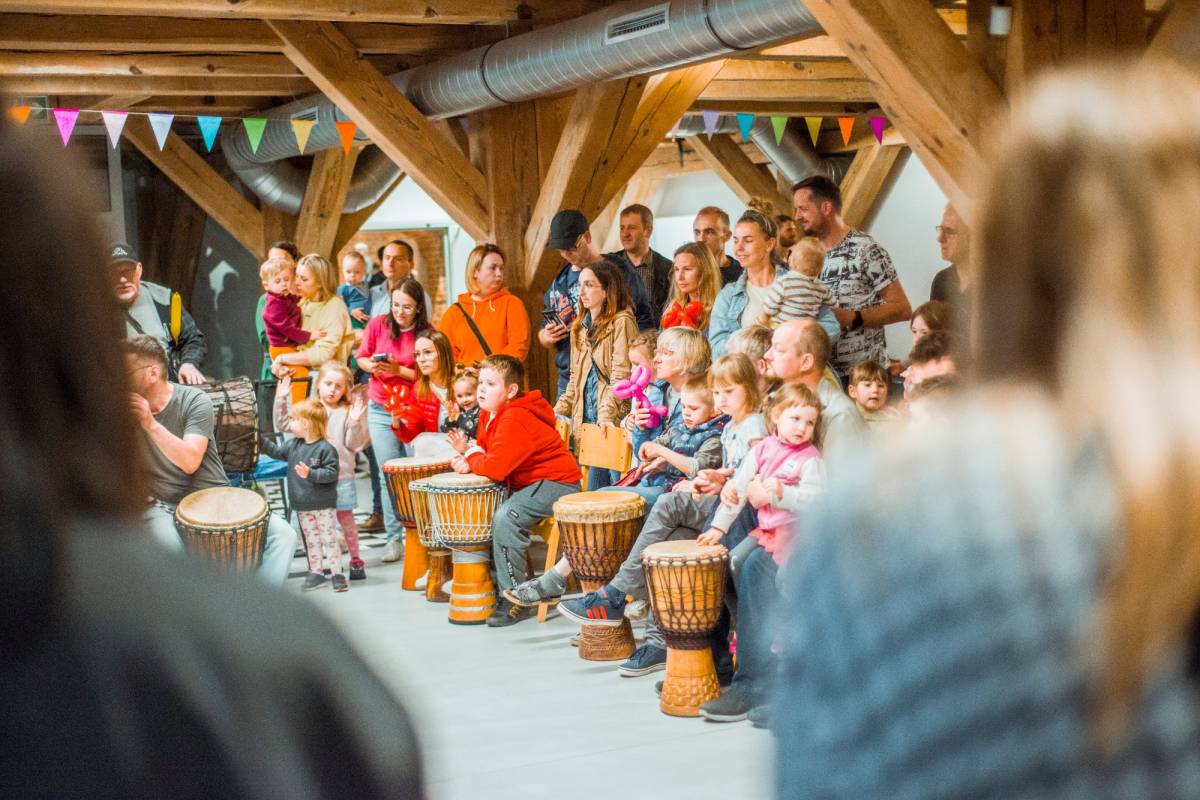 Informacje od Organizatora:
Nie trzeba być uzdolnionym muzycznie. Wystarczą ciekawość i otwartość. Poczujesz siłę bębniarskiego kręgu, uśmiejesz się do łez, nauczysz się klaskać i chodzić do rytmu oraz wokalizować dźwięki bębnów. Dowiesz się, ile pulsów schowało się w bicie i jakie dźwięki mieszkają w djembe. Sam przekonasz się, że bębnienie jest "zaraźliwe". Zapewniamy bębny, ale można przyjść z własnym instrumentem. Warsztaty poprowadzi Piotr Schutta – pedagog specjalny, pasjonat bębnów zachodnioafrykańskich, instruktor gry na djembe i dun-dunach.
Drum circle (bębniarski krąg) to zjawisko robiące furorę na świecie jako najprostsza forma twórczego spotkania z muzyką i drugim człowiekiem, a także oryginalny pomysł na spędzanie wolnego czasu. W bębniarskim kręgu spotykają się ludzie w różnym wieku i różnej profesji. To przede wszystkim świetna zabawa, relaks, ale nie tylko. Djembe wykorzystuje się dziś jako ważne narzędzie w budowaniu zespołu, w terapii zajęciowej, psychoterapii itd. Wspólne granie na bębnach w zaskakująco mocny sposób integruje, daje poczucie wartości poszczególnym członkom zespołu indywidualnie, ale też podnosi wartość grupy jako całości – Piotr Schutta.
Zajęcia są częścią oferty edukacyjnej Młynów. Rozwijają koordynację wzrokowo-słuchowo-ruchową i motorykę małą i dużą oraz stymulują obie półkule mózgu poprzez angażowanie zmysłów słuchu i propriocepcji.
Dla kogo?
Poziom podstawowy, dla dorosłych i dzieci powyżej 10. roku życia.
Cena
bezpłatnie
Zapisy:
Obowiązują zapisy pod adresem: warsztaty@mlynyrothera.pl lub osobiście, w punkcie informacyjnym Młynów (pn-nd 12.00-20.00)
Na warsztaty można zapisać się z tygodniowym wyprzedzeniem, w jednych zajęciach może uczestniczyć max. 20 osób.
Proszę podać: imię, nazwisko, wiek (w przypadku zapisywania dziecka) i telefon kontaktowy.
Warsztaty "Djembe w Młynach. Wydanie wakacyjne" są częścią przedsięwzięcia pn. Zajęcia edukacyjne, w tym przyrodniczo–matematyczne dla dzieci i młodzieży realizowanego w ramach Gminnego Programu Rewitalizacji Miasta Bydgoszczy 2023+
______________________
Kalendarz wydarzeń odbywających się w Bydgoszczy miej zawsze pod ręką dzięki aplikacji mobilnej (Android i iOS).
______________________
Informacje o wydarzeniach przesyłajcie na adres wydarzenia@visitbydgoszcz.pl
______________________
Bydgoskie Centrum Informacji nie ponosi odpowiedzialności za jakiekolwiek zmiany miejsc, godzin i dat wydarzeń.