Koncert zespołu ||ALA|MEDA||
Gdzie?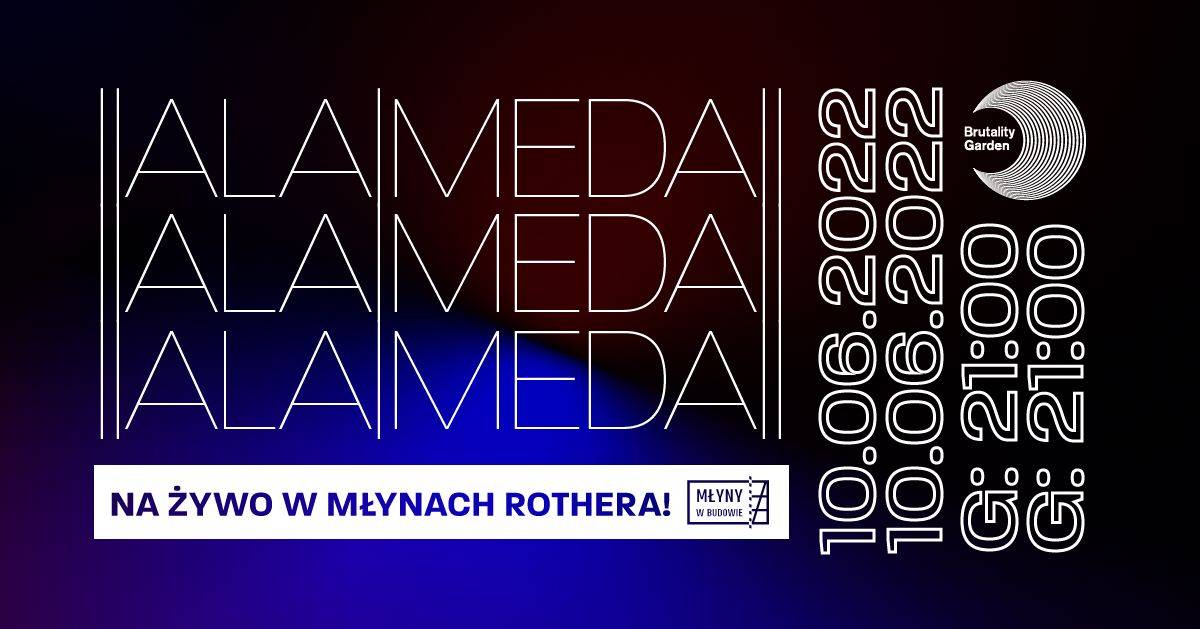 Informacje od Organizatora:
Zapraszamy na koncert zespołu Alameda zapowiadający wrześniowe otwarcie wystawy "Węzły"! Alameda to formacja reprezentująca bydgoską scenę muzyczną.
To właśnie w naszym mieście narodził się pomysł na zespół i nagrane zostały wszystkie wydawnictwa grupy.
Muzyka i jej wpływ na kształtowanie tożsamości miasta to jeden z wątków, który poruszymy na wystawie, więc na ich trasie koncertowej nie mogło zabraknąć wizyty w Młynach.
Informacje od Zespołu:
||ALA|MEDA|| powraca z nowym elektryzującym programem koncertowym i trzecim albumem zespołu pt. "SPECTRA. Vol. 1", który ukazał się w lutym 2022 roku.
Na nowym albumie ||ALA|MEDA|| zrzuca z siebie na dobre płaszczyk muzyki rockowej i podkręca do maksimum obecne już na "Duchu Tornada" (2015, Instant Classic) i "Eurodrome" (2019, Instant Classic) wpływy rytmiki afrykańskiej i latynoamerykańskiej, i to zarówno tej pierwotnej, etnicznej, jak i nowoczesnej, klubowej.
Słowem kluczem jest "batida", wywodzący się z Angoli styl muzyczny o charakterystycznej euforycznej i synkopowanej rytmice, który ||ALA|MEDA|| rozwija na własną modłę dodając do niego wpływy industrialu, post-punku, gqomu, dubu i vaporwave'u.
Efektem jest jedyna w swoim rodzaju tropikalno-industrialna mieszanka, w której awangarda spotyka się z afro-housem, a rozbudowany sampling i techniki syntezy granularnej sprzęgnięte są z frenetyczną grą żywej sekcji rytmicznej. Ideą, która przyświeca nowej twórczości Alamedy jest totalna integracja elektroniki z żywym graniem oraz zamazanie wszelkich podziałów między sztuką wysoką i niską, twórczością wysublimowaną i wulgarną, awangardą i rozrywką, muzyką "dla duszy" i muzyką "dla ciała".
Zespół składa się z pięciu znakomitych instrumentalistów znanych z takich zespołów jak T'IEN LAI, JAVVA, 3MOONBOYS, Jachna/Mazurkiewicz/Buhl, HATI (znany z wieloletniej współpracy live i studyjnej z Z'EV), VOICES OF THE COSMOS, ex-INNERCITY ENSEMBLE, ex-STARA RZEKA, ex-KAPITAL (znany z współpracy live i studyjnej z Richardem Pinhasem z HELDON) i innych.
Jacek Buhl - perkusja
Rafał Iwański - instrumenty perkusyjne
Łukasz Jędrzejczak - elektronika
Piotr Michalski - gitara basowa
Jakub Ziołek - gitara, elektronika
Szymon Szwarc - realizacja live
Jako jedni z najbardziej doświadczonych polskich muzyków undergroundowych występowali z wieloma z wyżej wymienionych projektów na takich festiwalach jak Unsound London & New York, Airwaves Festival Reykjavik, Primavera Sound Barcelona, Incubate Tilburg, Le Guess Who Utrecht, Les Siestes Electroniques ToulouseCTM Berlin, Insomnia Festival Tromsø, Luminato Toronto, Fanø Free Folk Festival, Wrocław Industrial Festival, Katowice JazzArt Festival i wielu innych.
Wydarzenie zapowiada wystawę "Węzły", która otworzy się w Spichrzu Zbożowym we wrześniu 2022 roku. To opowieść o rozwoju naszego miasta nierozerwalnie związanego z rzeką, prezentowana od połowy XIX wieku, czyli czasów, gdy powstały Młyny Rothera, do współczesności.---
Piątek, 10 czerwca 2022 r., godz. 21.00-22.00
Dla kogo?
Dla wszystkich!
Cena
Bezpłatnie
Zapisy:
wydarzenie otwarte, bez zapisów
______________________
Kalendarz wydarzeń odbywających się w Bydgoszczy miej zawsze pod ręką dzięki aplikacji mobilnej (Android i iOS).
______________________
Informacje o wydarzeniach przesyłajcie na adres wydarzenia@visitbydgoszcz.pl
______________________
Bydgoskie Centrum Informacji nie ponosi odpowiedzialności za jakiekolwiek zmiany miejsc, godzin i dat wydarzeń.