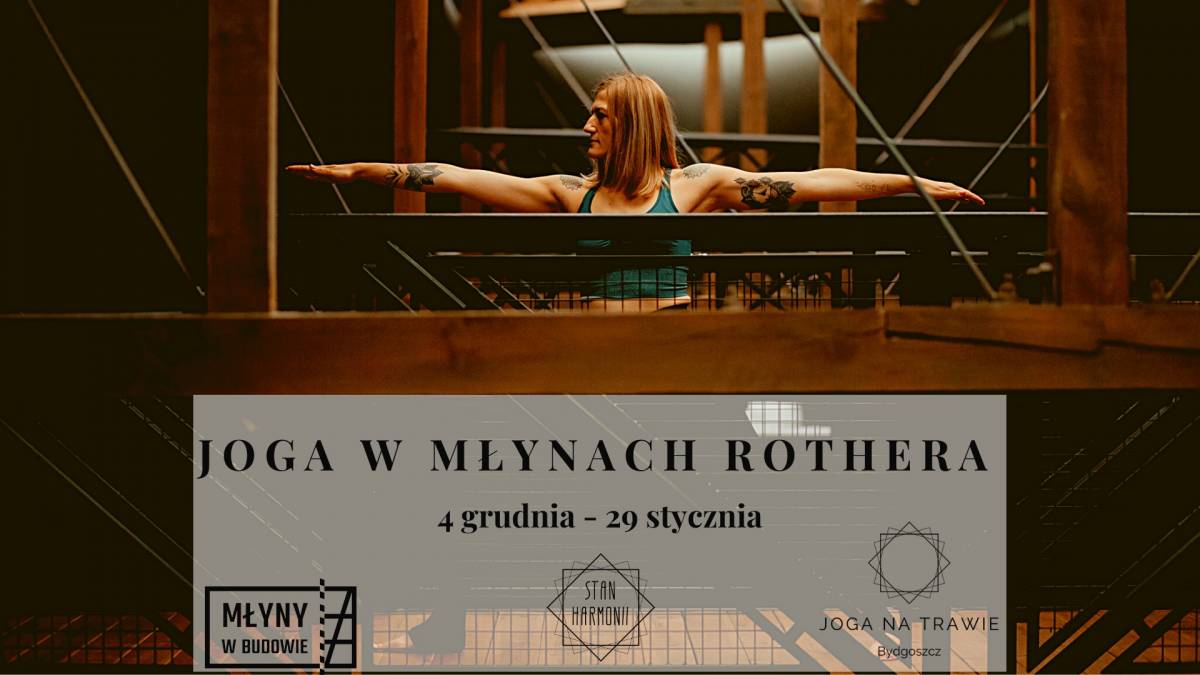 Informacje od Organizatora:
Stan Harmonii pragnie zaprosić na zimową wersję zajęć, które pokochali bydgoszczanie! Stęskniliśmy się za Wami bardzo od ostatniej edycji Jogi na trawie. Dlatego zrodził się pomysł, aby spotkać się w grudniu i styczniu. Jak powszechnie wiadomo joga wywodzi się z Indii i niskie temperatury nie sprzyjają praktyce. O tym jednak też pomyśleliśmy. Na mapie Bydgoszczy jest takie miejsce, które budzi zainteresowanie wielu mieszkańców naszego miasta – Młyny Rothera.
Spotkamy się 3 razy w grudniu i 4 w styczniu podczas DARMOWYCH zajęcia JOGI W MŁYNACH ROTHERA. Jest to wspaniała okazja, aby poznać różne style jogi, pod okiem doświadczonych nauczycieli.
KIEDY I KTO
4.12 Dorota / Vinyasa Yoga
11.12 Beata/ Yin Yoga
18.12 Stenia/ Vinyasa Yoga
8.01 Asia/ Joga klasyczna
15.01 Justyna/ Kundalini Yoga
22.01 Magda/ Hatha Yoga i relaks w dźwiękach
29.01 Dorota / Vinyasa Yoga
GDZIE
Startujemy o godzinie 10:00 w Młynach Rothera.
Zbierzemy się przy wejściu i pracownik Młynów zaprowadzi nas do odpowiedniej Sali.
ZAJĘCIA SĄ DARMOWE
Maksymalna grupa to 30 osób + prowadząca.
Zapisz się na BEZPŁATNE zajęcia w naszym systemie rezerwacji, aby mieć pewność, że jest dla Ciebie miejsce.
https://stanharmonii.pl/cennik-i-grafik/
Zabierzcie swoją matę, kocyki lub ręcznik i wspólnie spędźmy sobotni poranek.
UWAGA:
Jeśli wiesz, że jednak nie uda Ci się dotrzeć na zajęcia to dokonaj rezygnacji w systemie. To umożliwi osobie z listy rezerwowych skorzystać z zajęć. Mamy na liście rezerwowych 5 miejsc. Gdy ktoś dokona rezygnacji, osoba z listy rezerwowych otrzyma powiadomienie na maila, że może przyjść na zajęcia.
______________________
Kalendarz wydarzeń odbywających się w Bydgoszczy miej zawsze pod ręką dzięki aplikacji mobilnej (Android i iOS).
______________________
Informacje o wydarzeniach przesyłajcie na adres wydarzenia@visitbydgoszcz.pl
______________________
Bydgoskie Centrum Informacji nie ponosi odpowiedzialności za jakiekolwiek zmiany miejsc, godzin i dat wydarzeń.