ŚWIATOWE KONCERTY GWIAZD Antonio Sanchez Band Chiara Pancaldi & Darryl Hall
Gdzie?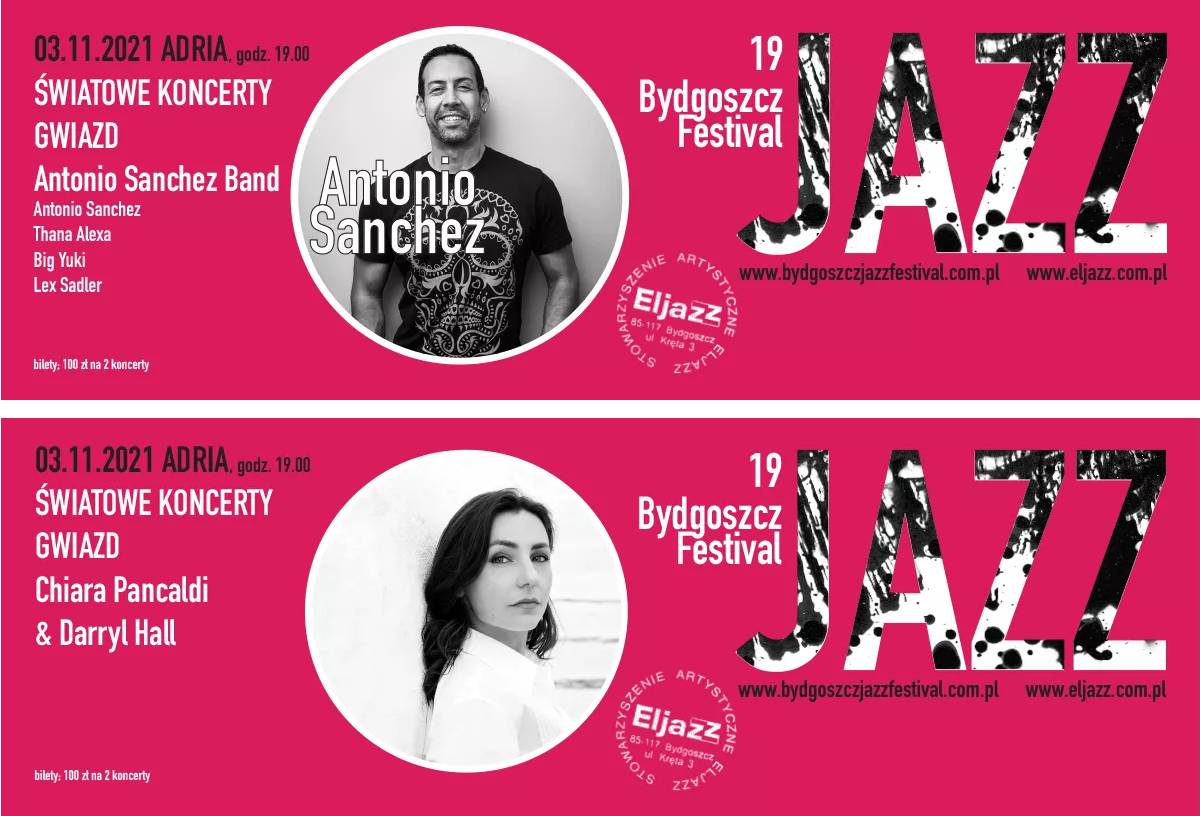 Antonio Sanchez – Drums and voice


Thana Alexa – Vocals (dry and w/ fx)


Big Yuki – Keyboards (likely multiple keyboards)


Lex Sadler – Electric Bass


Zespół , po raz pierwszy w Europie, prezentować będzie jeden z ostatnich projektów meksykańskiego perkusisty Antonio Sancheza
Perkusista znany jest przede wszystkim z występów u boku wirtuoza i wizjonera gitarowego Pata Metheny'ego. Albumy nagrywane z gitarzystą zdobywały uznanie fanów i krytyków muzycznych, chociażby w postaci nagród Grammy. W 2006 roku nagrał swój pierwszy solowy album, jednak nie chciał, żeby był odbierany jako album perkusyjny. Paradoksalnie, jedną z najbardziej spektakularnych sesji muzyka jest typowo perkusyjna ścieżka nagrana do oscarowego filmu Birdman z Michaelem Keatonem w roli głównej. Sanchez został za nią nominowany do nagród Złoty Glob i BAFTA.
Jego ostatnim studyjnym albumem jest wydany w 2019 roku "Lines in the Sand". Kontynuuje cały czas współpracę z Patem Methenym. Ich ostatnia wspólna płyta to album gitarzysty z 2020 - "From This Place".
Włoska piosenkarka jazzowa i autorka tekstów Chiara Pancaldi "nigdy nie przestaje ekscytować lub imponować" ( Jazztime).
Urodzona i wychowana w Bolonii, małym miasteczku na północy Włoch, naukę gry na fortepianie rozpoczęła w wieku 10 lat, a śpiew od najmłodszych lat. Wkrótce zainteresowała się jazzem.
Chiara ukończyła studia magisterskie z antropologii na Uniwersytecie Bolońskim w 2008 r. z pracą o indyjskiej muzyce klasycznej, a następnie w 2012 r. ukończyła Konserwatorium Bolońskie z tytułem magistra muzyki jazzowej.
Występowała na żywo w klubach i festiwalach we Włoszech, Francji, Niemczech, Austrii, Anglii, Bułgarii, Japonii: Bansko Jazz Festival, Italian Cultural Institute w Tokio, Audi Forum Jazz, Cala Gone Jazz Festival, Garda Jazz Festival, Padova Jazz Festival, Museo Internazionale della Musica, Umbria Jazz , London Jazz Festival , CrossRoads Jazz Festival , Sunset Sunside Jazz Club, Jazzkeller Jazz Club, Porgy and Bess, Unterfahrt Jazz Club, Teatro Giordano, Teatro Morlacchi, Ancona Jazz Festival, Bologna Jazz Festival, Centrum Kultury Muze , Torrione Jazz Club, Alexander Plaz Jazz Club, Cantina Bentivoglio Jazz Club, Paradiso Jazz Festival, Blue Note Milano i wiele innych.
Współpracowała i koncertowała z wieloma znakomitymi europejskimi i amerykańskimi muzykami jazzowymi, takimi jak Cyrus Chestnut, John Webber, Joe Farnsworth, Darryl Hall, Kirk Lightsey, Don Menza, Vincent Bourgeyx, Olvier Hutman, Jeremy Pelt, Laurent Maur, Fabrizio Bosso, Roberto Tarenzi , Piero Odorici, Nico Gori, Bernd Reiter, Helmut Kagerer, Marc Abrams, żeby wymienić tylko kilku.
Jej drugi album I WALK A LITTLE FASTER, z Cyrusem Chestnutem na fortepianie, Johnem Webberem na basie i Joe Farnsworthem na perkusji, został nagrodzony jako Najlepszy Album Wokalny Jazz 2015 przez Jazz Critique Magazine .
Jej ostatni album WHAT IS THE THE TO SAY (Challenge Records International) zawiera legendarnego Kirka Lightseya na fortepianie i Darryla Halla na basie. Dwóch specjalnych gości urozmaica sesję, obaj na dwóch balladach: Jeremy Pelt, który zagrał na What is there to say , utworze, który daje tytuł na płycie, oraz Laurent Maur, który zagrał na A timeless place (The pawie) .
W swoim nowym projekcie SONGS DON'T GROW OLD ALONE poszukuje nowego brzmienia, które czerpie z wpływów współczesnego jazzu i muzyki brazylijskiej. Repertuar zawiera oryginalne piosenki oraz kilka piosenek brazylijskich, popowych i folkowych przearanżowanych, eksplorowanych ze świeżością i silnym nastawieniem na grę i improwizację.
____________________
Kalendarz wydarzeń odbywających się w Bydgoszczy miej zawsze pod ręką dzięki aplikacji mobilnej (Android i iOS).
______________________
Informacje o wydarzeniach przesyłajcie na adres wydarzenia@visitbydgoszcz.pl
______________________
Bydgoskie Centrum Informacji nie ponosi odpowiedzialności za jakiekolwiek zmiany miejsc, godzin i dat wydarzeń.