Detektywa Pozytywki spacer po tym, czego już nie ma
Gdzie?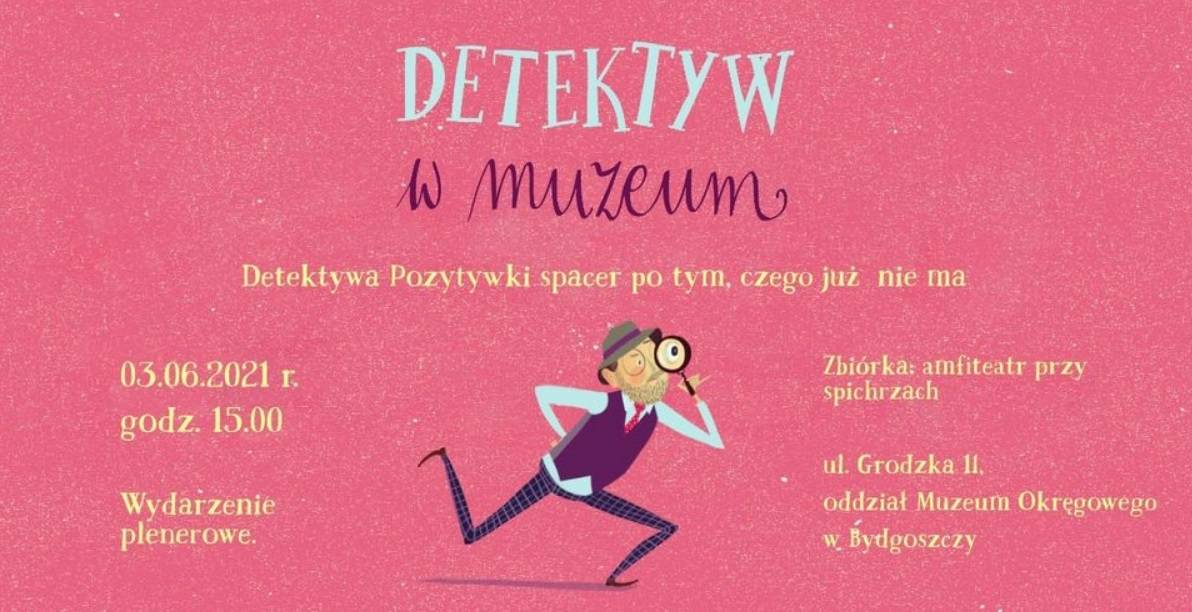 Tym razem znany Wam już doskonale Detektyw Pozytywka pojawi się na bydgoskich ulicach w zupełnie unikalnym, inscenizowanym spektaklu połączonym ze zwiedzaniem budynków i miejsc, których… już nie ma! Zapraszamy 3 czerwca na godzinę 15:00. Nie możecie tego przegapić!
Wydarzenie skierowane jest do dzieci w wieku 5-10 lat. By wziąć w nim udział, należy dokonać rezerwacji miejsca telefonicznie, dzwoniąc pod numer 887 467 102 (od poniedziałku do piątku w godzinach 8:00-16:00) lub mailowo, pisząc na adres bow2@teatrkameralny.com. Koszt biletu to 30 zł. Rezerwację będzie można opłacić w dniu zwiedzania w miejscu zbiórki, tj. w Amfiteatrze przy Spichrzach (ul. Grodzka 11, oddział Muzeum Okręgowego w Bydgoszczy). UWAGA – płatność tylko kartą, nie przyjmujemy gotówki! Liczba miejsc jest ograniczona, decyduje kolejność zgłoszeń!
Autorem scenariusza wydarzenia jest Grzegorz Kasdepke. Wykreowana przez niego postać Detektywa Pozytywki tym razem pojawi się – wyjątkowo – na bydgoskich ulicach, niezmiennie jednak wspierając młodych entuzjastów zagadek, wskazując ślady, dzieląc się posiadanym doświadczeniem. Dzieci będą miały możliwość wcielenia się w detektywów-amatorów. Będą tropić, węszyć i szukać poszlak.
Interaktywne zwiedzanie ma być okazją do nauki uważności i dedukcji, poznania historii Bydgoszczy oraz – oczywiście – zabawy poprzez teatr i z teatrem. Zwiedzanie z udziałem aktorów, wzbogacone o kryminalną intrygę, to szansa nie tylko na historyczny spacer, ale również na dobrą zabawę oraz niezapomniane doświadczenie. Dzieci będą miały niepowtarzalną okazję, by poznać miasto, wątki lokalne oraz odbyć podróż w czasie i przestrzeni.
______________________
Kalendarz wydarzeń odbywających się w Bydgoszczy miej zawsze pod ręką dzięki aplikacji mobilnej (Android i iOS).
______________________
Informacje o wydarzeniach przesyłajcie na adres wydarzenia@visitbydgoszcz.pl
______________________
Bydgoskie Centrum Informacji nie ponosi odpowiedzialności za jakiekolwiek zmiany miejsc, godzin i dat wydarzeń.