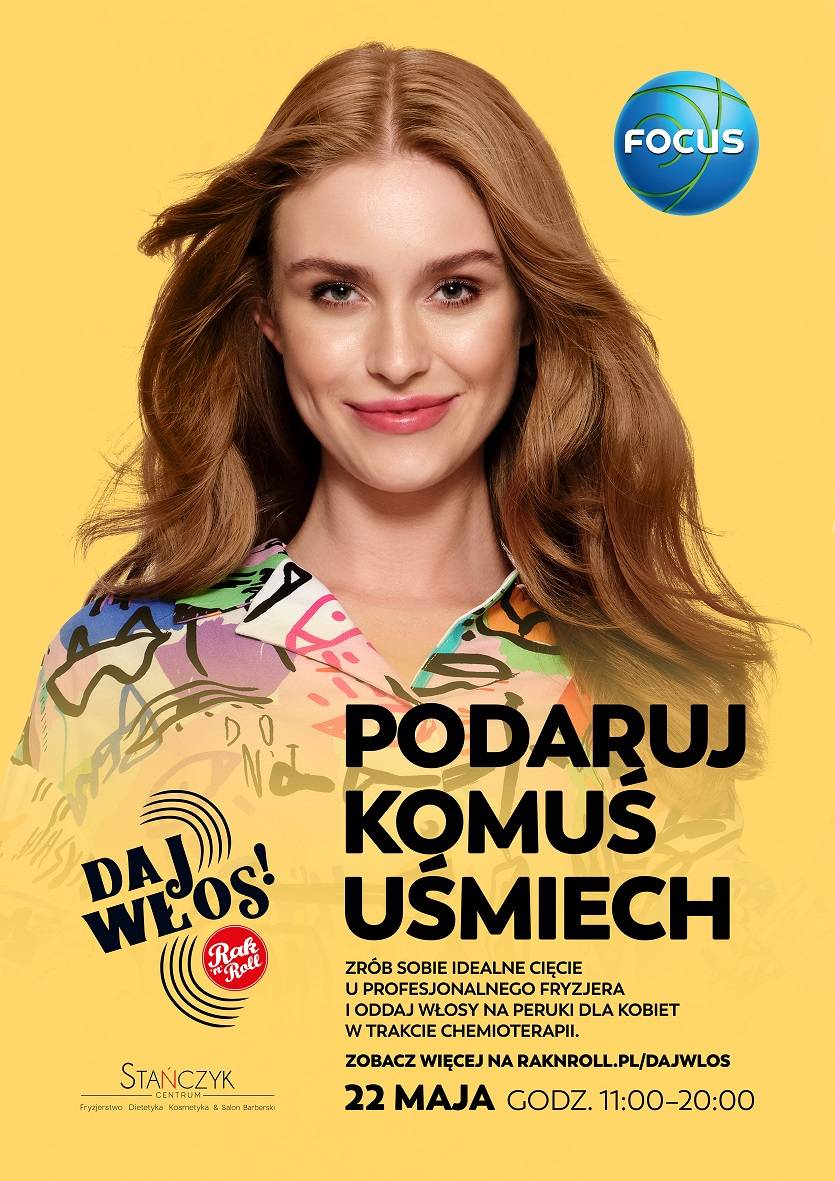 Czasem wystarczy mały gest, by wspomóc potrzebującą osobę – to przesłanie towarzyszące programowi "Daj Włos!", który wkrótce zawita do bydgoskiego CH Focus. W ramach tej akcji, 22 maja br., centrum handlowe uruchomi specjalną strefę fryzjerską, w której mieszkańcy będą mogli bezpłatnie skorzystać z profesjonalnego strzyżenia w szczytnym celu. Włosy zebrane podczas wydarzenia posłużą do wykonania peruk dla kobiet w trakcie chemioterapii.
Pomysłodawcą i realizatorem programu "Daj Włos!" jest Fundacja Rak'n'Roll, która już od 12 lat zmienia schematy myślenia o chorobie nowotworowej i działa na rzecz poprawy jakości życia osób dotkniętych chorobą nowotworową. Dzięki idei Rak'n'Roll kobiety zmagające się z rakiem, zaczęły walczyć o swoją kobiecość w chorobie i o to, aby świadomiej leczyć się. "Daj Włos!" to jeden z programów wspierających je w drodze do zdrowia podczas leczenia chemioterapią. Dzięki niemu kobiety, które straciły swoje włosy w wyniku leczenia onkologicznego, mogą bezpłatnie otrzymać piękne peruki. W program zaangażowane są salony fryzjerskie, które wykonują profesjonalne strzyżenie osób chętnych oddać swoje włosy na szczytny cel.
W tę społeczną inicjatywę włączyło się również CH Focus. W sobotę, 22 maja w bydgoskim centrum pojawi się strefa "Daj Włos!", w której wszyscy mieszkańcy miasta i okolic, bez względu na wiek i płeć, będą mogli pomóc kobietom chorującym na raka. Każdy, kto zdecyduje się oddać "włos" w strefie fryzjerskiej, otrzyma darmowe profesjonalne cięcie. Dodatkowo, wszyscy uczestnicy wydarzenia otrzymają pamiątkowe zdjęcia w nowej fryzurze.
Warunkiem udziału w akcji jest posiadanie włosów, które spełniają kryteria pozwalające na wykonanie peruki – czyli minimum 25 cm długości do ścięcia, a także włosy nie powinny być rozjaśniane, farbowane henną oraz nie mogą być po zabiegach ingerujących w strukturę włosa.
– Z przyjemnością kolejny raz wspieramy szczytną inicjatywę Fundacji Rak'n'Roll. "Daj Włos!" to wyjątkowy i szlachetny program, wymagający szczególnego zaangażowania ze strony naszych mieszkańców. Każdy podarowany włos w ramach inicjatywy to szansa dla kogoś na poprawę jego samopoczucia i samooceny, a także na odzyskanie wiary i siły potrzebnej do przejścia przez chorobę nowotworową. Zdrowy i atrakcyjny wygląd to ogromna motywacja dla kobiet po chemioterapii i szansa na szybszy powrót do normalności. Wierzymy, że tym pięknym gestem bydgoszczanie podzielą się z osobami, które na to niezwykle liczą - mówi Gregory Pertus, dyrektor CH Focus w Bydgoszczy.
W trosce o zdrowie i bezpieczeństwo klientów oraz organizatorów, na czas trwania akcji wprowadzone zostaną szczególne zasady ostrożności związane z pandemią koronawirusa. U osób zgłaszających się do strefy cięcia włosów przeprowadzony będzie pomiar temperatury ciała, z kolei u personelu i fryzjerów wykonane zostaną testy przesiewowe. Zapewnione zostaną środki dezynfekcji i ochrony osobistej, a także zachowana będzie odpowiednia odległość pomiędzy stanowiskami oraz stała dezynfekcja całego sprzętu wraz z ozonowaniem produktów wielorazowego użytku.
Wydarzenie odbędzie się 22 maja br. w godzinach otwarcia centrum handlowego. Szczegółowe informacje na temat akcji oraz oferty CH Focus można znaleźć na stronie www.focusbydgoszcz.pl.
____________________
Kalendarz wydarzeń odbywających się w Bydgoszczy miej zawsze pod ręką dzięki aplikacji mobilnej (Android i iOS).
______________________
Informacje o wydarzeniach przesyłajcie na adres wydarzenia@visitbydgoszcz.pl
______________________
Bydgoskie Centrum Informacji nie ponosi odpowiedzialności za jakiekolwiek zmiany miejsc, godzin i dat wydarzeń.