KONCERT: Duet Michał Górczyński / Buba Badjie Kuyateh
Gdzie?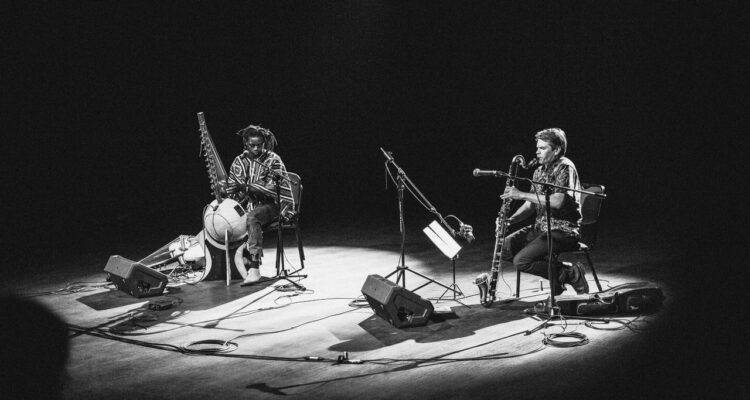 Duet Michał Górczyński / Buba Badjie Kuyateh skupia się na procesie improwizacji, która to uwalnia wyobraźnię i pozwala komunikować się muzykom ponad doświadczeniami kulturowymi. Utwory rodzą się ze wspólnego odczuwania i łączenia doświadczeń muzyki klasycznej z muzyką afrykańską. Tematy, melodie to efekty emocji, reakcji na nowe obrazy.
Buba Badjie Kuyateh
Urodził się w 1982 r. w Gambii w mieście Brikama, skąd wywodzi się tradycja gry na korze, zwanym także "Krainą kory", w rodzinie jednych z najbardziej prestiżowych graczy na korze, czyli griotów. W wieku 6 lat zaczął uczyć się gry na balafonie, a następnie, jako siedmiolatek, gry na korze. W tej właśnie dziedzinie ukazał się jego talent, dzięki któremu wybrano go na spadkobiercę bardzo prestiżowej tradycji gry na korze, której przedstawicielem był jego ojciec.
Michał Górczyński
Rocznik 1977. Klarnecista, kompozytor, pedagog muzyczny. Jest absolwentem warszawskiej Akademii Muzycznej im. F. Chopina. Od 1998 roku zajmuje się komponowaniem muzyki na różne składy instrumentalne ("Zróżnicowanie" dwa fagoty i klarnet, "Rondo a la krakowiak" na wrzeszczącego pianistę i klarnet basowy, "Malowanie" na dwa klarnety, fagot, kontrabas i śpiew, "Suita w stylu żydowskim" na klarnet, skrzypce i kontrabas oraz cykle utworów inspirowane językami świata na skrzypce, klarnet i wiolonczelę) oraz muzyki do teatru (około 25 spektakli dla teatrów dramatycznych i lalkowych). Czynnie zajmuje się improwizacją i interpretacją muzyki współczesnej. Występował jako solista z takimi zespołami jak: de Ereprijs, Kwartet Śląski, Orkiestra "Aukso", Filharmonia Podlaska, Filharmonia Szczecińska. Uczestniczył w Międzynarodowych Kursach Muzyki Współczesnej w Darmstadt gdzie prezentował swoje autorskie techniki wykonawcze na klarnecie basowym. Jest twórcą instalacji, tekstów teoretycznych na temat autorskich teorii, audycji radiowych oraz filmów undergroundowych. Od 2002 roku współtworzy zespół "Kwartludium", specjalizujący się w wykonywaniu muzyki współczesnej. Od 2008 roku pracuje nad poszerzaniem możliwości brzmieniowych klarnetu basowego inspirując się beatboxem i współpracując z jednym z najlepszych polskich beat boxerów "Tik Takiem" Patrykiem Matelą.
Informacje o zakupie biletów dostępne wkrótce.
Karnet w cenie 50 zł.
Bilet na koncert w cenie 20 zł.
______________________
Kalendarz wydarzeń odbywających się w Bydgoszczy miej zawsze pod ręką dzięki aplikacji mobilnej (Android i iOS).
______________________
Informacje o wydarzeniach przesyłajcie na adres wydarzenia@visitbydgoszcz.pl
______________________
Bydgoskie Centrum Informacji nie ponosi odpowiedzialności za jakiekolwiek zmiany miejsc, godzin i dat wydarzeń.