KONCERT: Radical Polish Ansambl
Gdzie?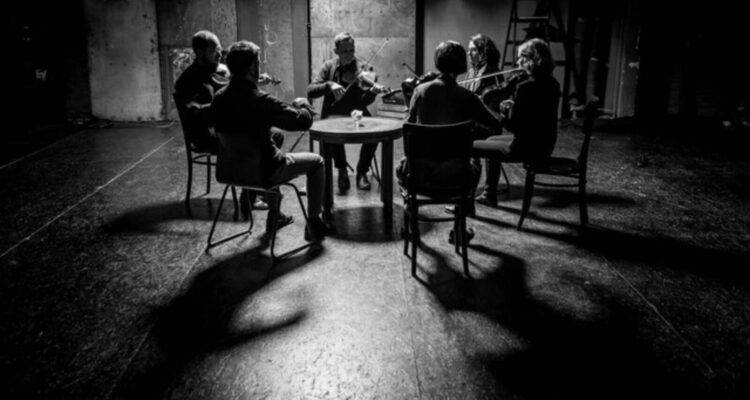 Radical Polish Ansambl to utopijna próba połączenia tego, co najbardziej archaiczne w tradycji polskiej wsi, z tym, co najbardziej awangardowe we współczesnej muzyce eksperymentalnej.
Co niemniej paradoksalne, inspiracja dla tej szalonej idei przypłynęła z północnych Indii, w których regularnie gości wybitny polski klarnecista awangardowy Wacław Zimpel. W 2016 roku okrył on w archiwach Biblioteki Publicznej w Delhi tajemnicze zapiski, a w nich dosyć nietypowe dlatego zakątka świata nazwisko – श्रीतादेउश शिएलंका (pol. Sri Tadeusz Sielanka). O wiele bardziej zaskoczyły go jednak powiązane z ową enigmatyczną postacią notacje muzyczne, w których utrwalone zostały tematy o ewidentnie mazurkowej proweniencji. Towarzyszący im werbalny komentarz sugeruje, że stanowiły one podstawę dla rozbudowanych utworów, zbliżonych w swej logice formalnej i tonalnej do ragi. Okazało się więc, że międzykulturowe eksperymenty i zaawansowane transowe formy leżą w naturze polskiej muzyki tradycyjnej!
A może tak naprawdę niema w tym nic dziwnego? Wystarczy nieco szerzej otworzyć oczy i uszy, by zorientować się, że sztuka dźwiękowa polskiej wsi to fenomen o wiele bardziej unikatowy oraz interesujący w wymiarze globalnym, niż zwykliśmy to sobie uświadamiać. Wszak rdzennie polski mazurek dotarł swego czasu między innymi do Francji, Włoch, Brazylii, Meksyku, na Azory, Wyspy Zielonego Przylądka, Wyspy Kanaryjskie czy Filipiny. Być może, gdyby owa ekspansja dokonała się w epoce globalnego przemysłu rozrywkowego, mazurek cieszyłby się we współczesnej kulturze takim samym statusem jak reggae.
Ale kim tak naprawdę był Tadeusz Sielanka? Bardzo obiecujący trop przynoszą wspomnienia Witolda Glińskiego, polskiego uciekiniera z gułagu, który w 1941 roku, wraz z grupą towarzyszy, dotarł pieszo do północnych Indii. Pół wieku później Peter Weir oparł na owej historii swój ostatni film – "Niepokonanych" z Edem Harrisem i Colinem Farrellem w obsadzie. Wśród uczestników "długiego marszu" znalazł się właśnie niejaki Sielanka – wiejski muzykant z okolic Sochaczewa, wcielony przed wojną do Wojska Polskiego.
Sześciu "ludowych" skrzypków oraz grający na "dżazie" perkusista – artyści znani z takich grup, jak L.Stadt, Lautari, Tęgie Chłopyczy Odpoczno – podjęli wyzwanie rekonstrukcji muzyki na poły mitycznego polsko-indyjskiego eksperymentatora. I namówili współczesnych kompozytorów awangardowych do podążenia tym samym tropem. Dziś Radical Polish Ansambl ma w repertuarze nie tylko dzieła Tadeusza Sielanki, lecz także Zygmunta Krauzego, Sławka Kupczaka, czy Agnieszki Stulgińskiej. Działający dopiero od roku i pracujący nad swoim fonograficznym debiutem zespół występował już min. na lubelskich Kodach i krakowskim Sacrum Profanum.
Skład zespołu:
Maciej Filipczuk – skrzypce, kierownictwo muzyczne
Emilia Bolibrzuch – skrzypce
Łucja Siedlik – skrzypce
Maria Stępień – skrzypce
Mateusz Kowalski – skrzypce
Marcin Lorenc – skrzypce
Michał Mendyk –szeptun
Piotr Gwadera – dżaz
Informacje o zakupie biletów dostępne wkrótce.
Karnet w cenie 50 zł.
Bilet na koncert w cenie 20 zł.
______________________
Kalendarz wydarzeń odbywających się w Bydgoszczy miej zawsze pod ręką dzięki aplikacji mobilnej (Android i iOS).
______________________
Informacje o wydarzeniach przesyłajcie na adres wydarzenia@visitbydgoszcz.pl
______________________
Bydgoskie Centrum Informacji nie ponosi odpowiedzialności za jakiekolwiek zmiany miejsc, godzin i dat wydarzeń.