ŻABKI. CzyTam Świat w Kamienicy 12
Gdzie?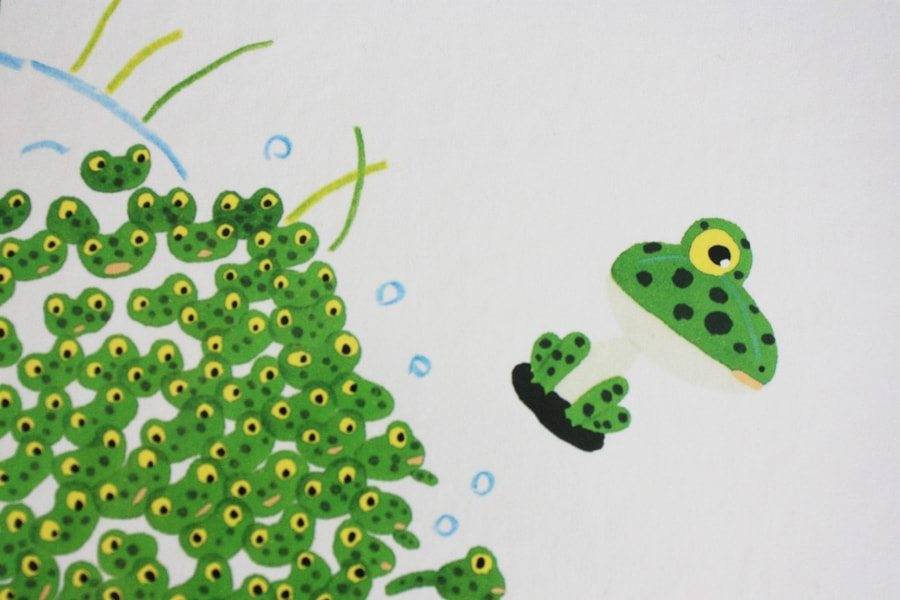 Informacje od Organizatora:
Drodzy Rodzice, zapraszamy do Fundacji 12 Kamienica na niezywkłe spotkania z najlepszymi książkami dla NAJmłodszych (i nieco starszych) dzieci.
To spotkania dla Rodziców (jak najbardziej dorosłych) i dzieci w wieku od 1,5 roku do 6 lat (piękne są interakcje między dziećmi w różnym wieku).
Formuła obejmuje warsztaty, na których Wasze dzieci nie tylko rozkochają się w książkach. Zetkną się też z innymi dziedzinami sztuki, np. muzyką, plastyką, tańcem, a nawet kulinariami. Wszystko to w formie wspierającej ogólny rozwój dziecka i procesy integracji sensorycznej. W oparciu o temat książek z danego spotkania dzieci poznają świat, przez wzrok, słuch, dotyk, smak, węch...
TYM RAZEM BĘDZIE O SPOKOJNYCH I NIESPOKOJNYCH ŻABKACH, (w tym również o kijankach), KICANIU, RECHOTANIU...
Dla tych, którzy nie znają tej autorskiej formuły, informacja, że zajęcia, według własnego pomysłu, prowadzi Lucyna Brzezinska-Eluszkiewicz, filolożka polska, pedagożka i absolwentka studiów z zakresu terapii i diagnozy SI. Dwukrotnie (w latach 2019 i 2020) nominowana do nagrody Książka Roku Polskiej Sekcji IBBY, International Board on Books for Young People, w kategorii Upowszechnianie Czytelnictwa.
Zaglądajcie pod #CzyTamŚwiat #CzytanieiDziałanie.
Prowadząca jest zaszczepiona przeciw Covid 19, jednak na zajęciach stosowane będą obowiązujące przepisy sanitarne.
M.in. z tym wiąże się konieczność stałych grup i opłat abonamentowych.
Miesięczny koszt za marzec (spotkania co sobotę), wynosi 140 zł (35 zł za zajęcia). Jeśli ktoś dołączy później, jego abonament będzie obowiązywał po prostu dłużej (łącznie 4 spotkania).
Zapisujcie się, bo zajęcia odbędą się tylko, jeśli zbierzemy odpowiednią grupę.
PISZCIE: tuczytam@op.pl, w temacie wiadomości wpisujcie "czytam, 27"
Warto też w zgłoszeniu zawrzeć wiek dziecka (dzieci) i swój numer telefonu.
Kolejne tematy ogłoszę niebawem, każdy z nich planuję na sobotę o 11.00.
WARTO MIEĆ UBRANIA NA ZMIANĘ.
Wykorzystana ilustracja pochodzi z książki pt. "999 kijanek", autor: Ken Kimura, ilustracje: Yasunari Murakami, tłumaczenie: Julia Kownacka, wydanej przez Wydawnictwo Tatarak.
______________________
Kalendarz wydarzeń odbywających się w Bydgoszczy miej zawsze pod ręką dzięki aplikacji mobilnej (Android i iOS).
______________________
Informacje o wydarzeniach przesyłajcie na adres wydarzenia@visitbydgoszcz.pl
______________________
Bydgoskie Centrum Informacji nie ponosi odpowiedzialności za jakiekolwiek zmiany miejsc, godzin i dat wydarzeń.