Bydgoszcz Canal Night Marathon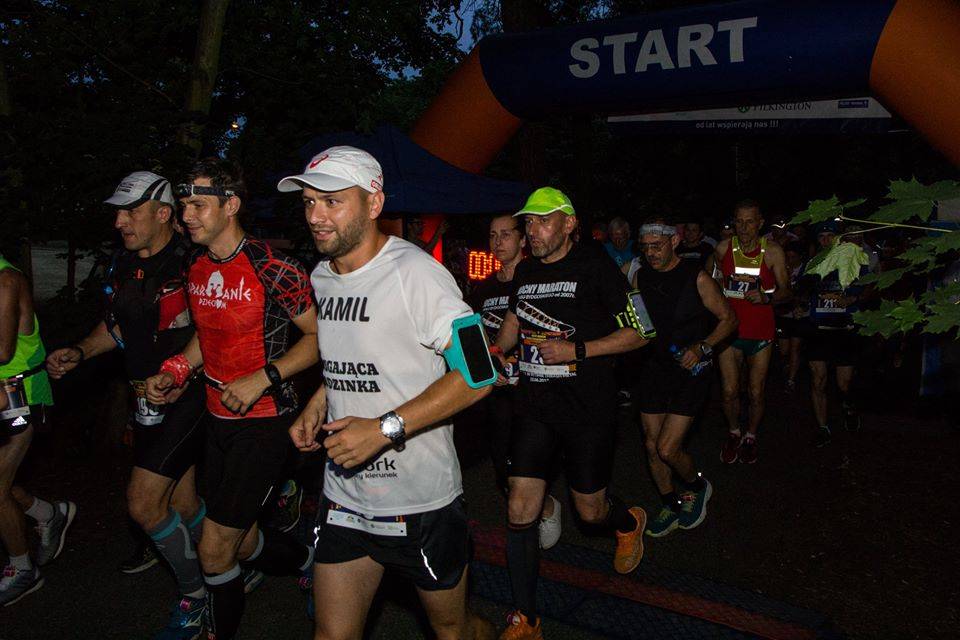 W Bydgoszczy od 16. lat organizowana jest kultowa impreza biegowa pod nazwą "Nocny Maraton Kanału Bydgoskiego od 2007r.".
Zawody odbędą się 12 czerwca br. Zapisy trwają do 22 maja. Rywalizacja odbywa się na 10. dystansach. Możliwy jest również, udział zdalny na równych prawach z biegiem stacjonarnym.
Zapraszamy na witrynę biegu. Tam znajdziecie też link do zapisów - http://polskiemaratony.pl/index.php?option=com_content&task=view&id=1063
Zapraszamy też na FB - https://www.facebook.com/NocnyMaratonKanaluBydgoskiego
Nocny Maraton Kanału Bydgoskiego to najstarszy, nieprzerwanie organizowany nocny maraton w Polsce! Zawody są kultowe, bowiem gromadzą na starcie stałych uczestników, którzy są symbolem wartości, jaką niesie sport a w szczególności biegi maratońskie!
Te zawody, to wielka atrakcja dla uczestniczących w niej osób. Bieg, bowiem rozgrywany jest w nocy w przepięknej scenerii Plant Bydgoskich w parku nad Starym Kanałem Bydgoskim pośród częstych tu zabytków hydrotechniki rodem z XVIII wieku.
To wyjątkowe w skali kraju przedsięwzięcie każdego roku spotyka się z licznym zainteresowaniem, potwierdzającym jego rosnący prestiż i powszechne uznanie wśród zawodników. Towarzyszące inicjatywie liczne atrakcje, sprawiają, że każdy uczestnik, poprzez czynny udział bądź dopingowanie, może poczuć ducha sportowej atmosfery i doświadczyć artystycznych wrażeń.
Wszyscy zawodnicy otrzymują autorskie, nietuzinkowe odlewane medale, wyjątkowe okolicznościowe koszulki i niespotykane jak na warunki w kraju bogate pakiety startowe. Oferujemy też oryginalne pamiątkowe profesjonalne numery startowe elektroniczne zapisy i pomiar czasu. Zawsze też coś nam gra, głośno i na żywo, co jest dużą atrakcją dla biegaczy i kibiców! Klasyfikacja odbywa się aż na 10. dystansach!
Jak pokazują kolejne edycje, w wydarzeniu uczestniczą maratończycy nie tylko z Bydgoszczy a w większości z całego kraju, a także biegacze z Litwy, Łotwy, Szwecji, Czech, Słowacji, Niemiec, Francji, Belgii, Hiszpanii, USA, Kanady, Ukrainy i Białorusi.
Unikalna sceneria bydgoskiego parku, położonego wzdłuż unikatowego zabytku hydrotechniki, promuje nasze Miasto od strony wodnych tradycji, atrakcji turystycznych i gościnności, którą powitani zostaną przybyli, nieraz z odległych stron świata goście.

______________________
Kalendarz wydarzeń odbywających się w Bydgoszczy miej zawsze pod ręką dzięki aplikacji mobilnej (Android i iOS).
______________________
Informacje o wydarzeniach przesyłajcie na adres wydarzenia@visitbydgoszcz.pl
______________________
Bydgoskie Centrum Informacji nie ponosi odpowiedzialności za jakiekolwiek zmiany miejsc, godzin i dat wydarzeń.