Rękopis znaleziony w Saragossie - online
Gdzie?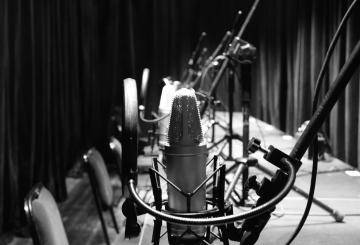 słuchowisko| dostępne po wykupieniu dostępu na platformie vod.teatrpolski.pl
Drugie z cyklu słuchowisk "Teatr w odsłuchu. Odzyskane przedstawienia", który oparty jest na archiwalnych spektaklach.
Trudno znaleźć powieść równie fascynującą jak "Rękopis znaleziony w Saragossie" – trudno przeniknąć jej wszystkie tajemnice. Bo tylko do tej tajemniczości nie można mieć tu wątpliwości. Napisana przez Polaka, ale po francusku – nigdy za życia autora w pełni nieopublikowana – stała się punktem wyjścia do nieustających poszukiwań tej jedynej, oryginalnej wersji, gdyż jej najbardziej kanoniczne wydanie okazało się w ogromnym stopniu kreacją pierwszego edytora. Czytelnik wraz z Alfonsem van Worden – próbującym dotrzeć przez góry Sierra Morena do Madrytu – wchodząc w zawiły gąszcz opowieści, gubi się niechybnie i zatapia niczym w labiryncie, który miesza miejsca i czasy. To zagubienie właśnie to jedna z największych przyjemności jakie niesie jej lektura.
Spod powierzchni atrakcyjnych gatunków jak powieść łotrzykowska, powieść grozy czy romans, wyziera - doświadczany przez Potockiego - kryzys oświeceniowego racjonalizmu. Umysł zapada się w sobie i nie jest w stanie ogarnąć otaczającej go rzeczywistości pełnej duchów, zjaw i wydarzeń nadprzyrodzonych. Ludzkie życie – tak, jak je widzi Potocki – staje się wartkim potokiem przypadków, a jeżeli ktoś doszukiwałby się w nim uniwersalnej prawdy czy wiedzy – to nie ma szans na powodzenie. Każda prawda lub ideologia zostaje tu podważona i pokazana z różnych perspektyw.
Adaptacja została opracowana na podstawie ostatniej wersji autorskiej z 1810 roku opracowanej przez François Rosset I Dominique Triaire w tłumaczeniu Anny Wasilewskiej.
______________________
Kalendarz wydarzeń odbywających się w Bydgoszczy miej zawsze pod ręką dzięki aplikacji mobilnej (Android i iOS).
______________________
Informacje o wydarzeniach przesyłajcie na adres wydarzenia@visitbydgoszcz.pl
______________________
Bydgoskie Centrum Informacji nie ponosi odpowiedzialności za jakiekolwiek zmiany miejsc, godzin i dat wydarzeń.