Jestem.Tylko.Ja. - spektakl
Gdzie?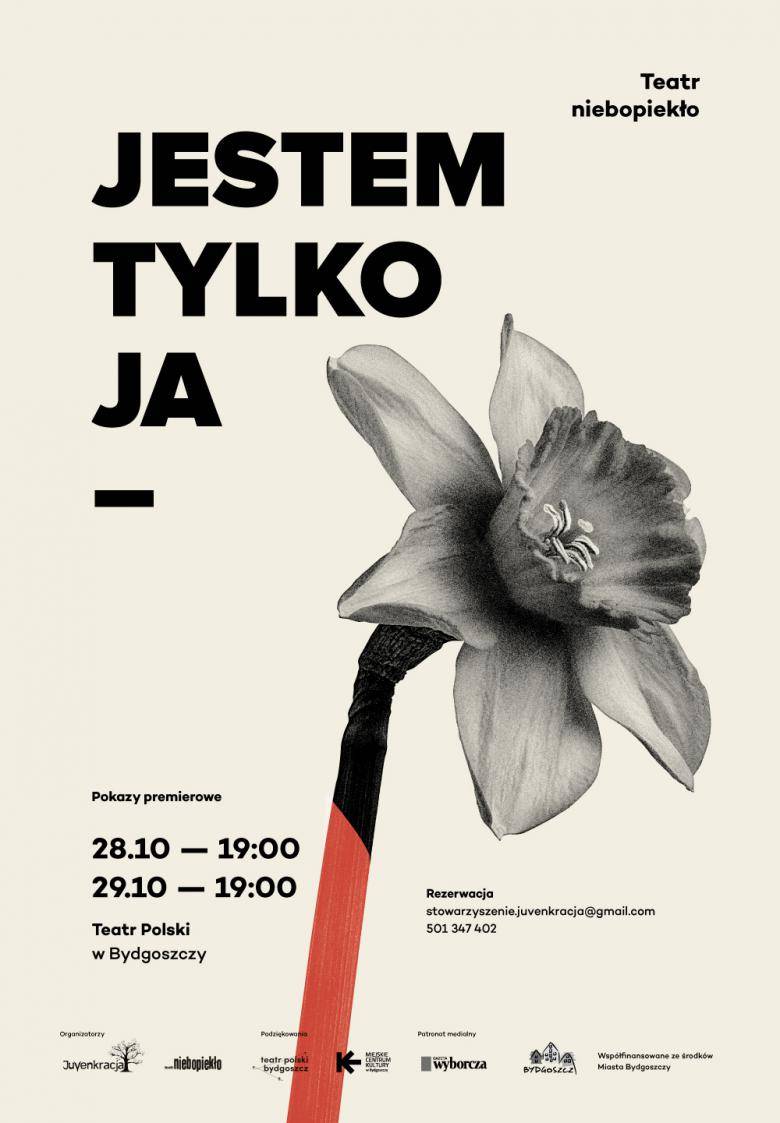 Jestem. Tylko. Ja. to spektakl konsekwentnie wpisujący się w problematykę, z którą mierzy się teatr niebopiekło, dotykając kolejnej przestrzeni zła i zadając pytanie o jego źródło.
Stanowi opowieść o samotności i pragnieniu bycia dostrzeżonym. Szukaniu przynależności i niemożności jej osiągnięcia. O dumie i odrzuceniu. Obawie przed byciem niekochanym. O tym, do czego zdolny może być człowiek, jeden z nas, w promowaniu siebie. Swoich przekonań, poglądów i opinii.
To spektakl o narcystycznej chęci bycia pierwszym, bycia kimś w społecznej konkurencji, i sprawowaniu władzy na własnych warunkach.
O funkcjonowaniu poza jakimkolwiek etosem moralnym, a jedynie w ramach własnego, osobiście wykreowanego kodeksu, gdzie narcyzm staje się elementem sumienia, i w którym "mniejsze zło" , oraz swoista ekonomika zła, są nie tylko usprawiedliwieniem, ale eliminują winę i stają się powodem do dumy.
To "opowieść" o tym, że owocem spotkania narcyzmu z ideologią, zderzenia dumy z odrzuceniem jest zło. Okrutne, niewytłumaczalne, niewyobrażalne, wymykające się zdrowemu rozsądkowi.
Jestem. Tylko. Ja.
rodzi pytania.
Czy ideologia, każda, nie nosi w sobie zarodka zła.
Czy dotarliśmy do momentu, w którym zło jest oczywistym narzędziem w ustanawianiu dobra?
Czy istnieje granica, wartość, której człowiek w realizacji swoich pragnień, w wielbieniu siebie, autopromocji, w narcystycznym zrobieniu "czegoś wielkiego, czegoś naprawdę wielkiego", nie przekroczy?
Bo jeśli jej nie ma, to co nas czeka?
Pretekstem do powstania spektaklu stała się autentyczna historia, która w lipcu 2011 roku wstrząsnęła światem. Wtedy to Andreas Brevik dokonuje aktu terrorystycznego na norweskiej wyspie Utøya. Zabija 69 nastoletnich uczestników obozu młodzieżówki rządzącej Norweskiej Partii Pracy, jego ideowych przeciwników.
teatr niebopiekło
Pokazy spektaklu:
28.10.2020 godz. 19.00
29.10.2020 godz. 19.00
Po spektaklach dyskusja na temat spektaklu. Prowadzi socjolog dr Grzegorz Kaczmarek
W związku z ograniczoną liczbą miejsc ( obostrzenia COVID - 19 ), bilety tylko poprzez rezerwację.
email: stowarzyszenie.juvenkracja@gmail.com
tel: 501 347 402
decyduje kolejność zgłoszeń
______________________
Kalendarz wydarzeń odbywających się w Bydgoszczy miej zawsze pod ręką dzięki aplikacji mobilnej (Android i iOS).
______________________
Informacje o wydarzeniach przesyłajcie na adres wydarzenia@visitbydgoszcz.pl
______________________
Bydgoskie Centrum Informacji nie ponosi odpowiedzialności za jakiekolwiek zmiany miejsc, godzin i dat wydarzeń.