Piotrek Szumowski / Enzymy i Pioruny
Gdzie?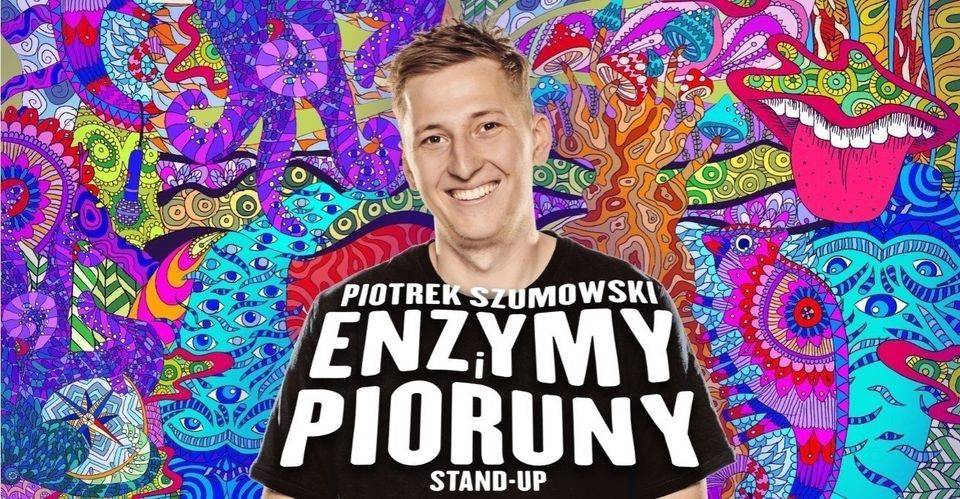 Piotrek Szumowski - Komik Dookoła Świata, Półczłowiek, Półgłówek, komik, autor, erudyta, tancerz, nie wojownik. Ma za sobą tysiące przemierzonych kilometrów, setki napisanych puent i uśmiech wart miliona słów (Jak to uśmiech ma za sobą? Na tyle głowy czy co?). Przed sobą i Wami: nowy program!
"Enzymy i pioruny " zaczęły się od pytania. Mniejsza jakiego, ważne że odpowiedź na to pytanie wywołało kolejne i tak dalej, i tak dalej. Tak powstał ten materiał- z pytań, nie odpowiedzi. Nie pytaj dlaczego.
Spodziewajcie się charakterystycznych dla Piotrka komediowych głębokich zanurzeń w tematy z pozoru błahe, zawsze opatrzonych trzeźwym spojrzeniem na własne możliwości i kiepską kondycję świata. Z pozoru mamy do czynienia z szerokim naiwniakiem, który potrzebuje mapy by wyjść z toalety. Tak naprawdę zawsze wychodzi oknem, by zmylić wrogów.
Piotrek, niczym żaba z kontuzją pośladków, będzie skakał po tematach bez przystanku, ale każdy sus będzie kwitowany wybuchem śmiechu. Szykujcie się na mocne wyładowanie stand-upu, które zmienią Waszą dalszą percepcję obcowania z tą formą sceniczną.
Lub nie, ale na pewno nie będzie to czas zmarnowany.
+ support
Bilety: 35zł
45zł - w dniu wydarzenia (o ile zostaną)
Wydarzenie dla dorosłych!
* Nagrywanie występu w formie audio i video jest zabronione
* Bilet nie daje prawa do przeszkadzania występującym. Organizator zastrzega sobie prawo - wyproszenia przeszkadzającej osoby, bez możliwości zwrotu za bilety.
______________________
Kalendarz wydarzeń odbywających się w Bydgoszczy miej zawsze pod ręką dzięki aplikacji mobilnej (Android i iOS).
______________________
Informacje o wydarzeniach przesyłajcie na adres wydarzenia@visitbydgoszcz.pl
______________________
Bydgoskie Centrum Informacji nie ponosi odpowiedzialności za jakiekolwiek zmiany miejsc, godzin i dat wydarzeń.