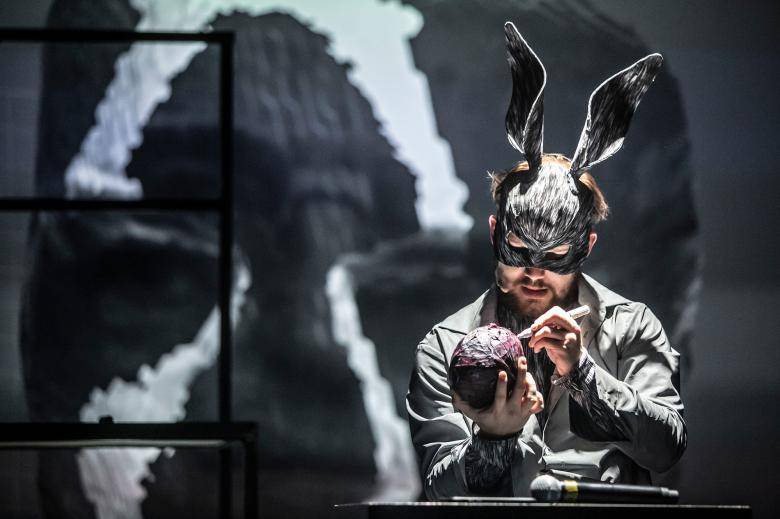 Spektakl "Mur" to nie kartka z kalendarza, lekcja historii, czy nawet nie kolejna okoliczność obchodów rocznicy obalenia muru berlińskiego.
To opowieść tocząca się na tle betonowej konstrukcji, która pewnego dnia rozdzieliła część świata na pół. Jak wygląda życie wokół muru? Jaką energię mur wyzwala w ludziach? Jak wpływa na los pojedynczych osób i jakie uruchamia w nich odruchy? Czy ślady rozłamu zniknęły, a bliznę po murze można uznać za dowód zamkniętej przeszłości? W końcu – co prowokuje ludzi, którzy ryzykują swoim życiem, by przedostać się na drugą stronę?
"Mur" w reżyserii Justyny Sobczyk to próba refleksji nad procesami odnalezionymi w prywatnych historiach ludzi, którzy bezpośrednio lub pośrednio dotknęli muru berlińskiego. To również obraz ukazujący świadectwa zarówno odwagi i brawury, jak i zwątpienia i beznadziei, które na zmianę towarzyszyły bohaterom tej opowieści. Mur w tej historii przeobrazi się w scenę dla różnych zachowań, przejmie rolę performera wpływającego na los jednostki, by na końcu stać się milczącym tłem dla życia realnych osób.
Spektakl (nie) powstał z okazji 30. rocznicy obalenia muru berlińskiego.
Sztuka powstała na podstawie książki "Mur. 12 kawałków o Berlinie" pod redakcją Agnieszki Wójcińskiej.
Utwory wykorzystane w sztuce: "Fluchthelfer" Agnieszki Wójcińskiej, "Rewolucja Waltera K" Macieja Wasilewskiego, "Przesunięcie fazy" Antje Ravic Strubel, "Tylko nie matura córeczko" podrozdziały: "Walizka", "Mur", "Oko matki" Katarzyny Brejwo, "Pan Człowiek z kliniki Berlin-Buch" podrozdziały: "Problemy z planami", "Dokąd wyniosą się te ptaszki" Natasha Kramberger, "Ich bin ajn Berliner" podrozdziały: "Krzysiek", "Warschau", "Świątynia" Kaji Puto i Ziemowita Szczerka, "Las palmowy, las sosnowy" Magdaleny Kicińskiej, "Obrączki wysokiej próby" Juliusza Ćwielucha.
W tekście zostały wykorzystane improwizacje aktorów i aktorek.
______________________
Kalendarz wydarzeń odbywających się w Bydgoszczy miej zawsze pod ręką dzięki aplikacji mobilnej (Android i iOS).
______________________
Informacje o wydarzeniach przesyłajcie na adres wydarzenia@visitbydgoszcz.pl
______________________
Bydgoskie Centrum Informacji nie ponosi odpowiedzialności za jakiekolwiek zmiany miejsc, godzin i dat wydarzeń.