13. Sputnik nad Bydgoszczą: "Van Goghi"
Gdzie?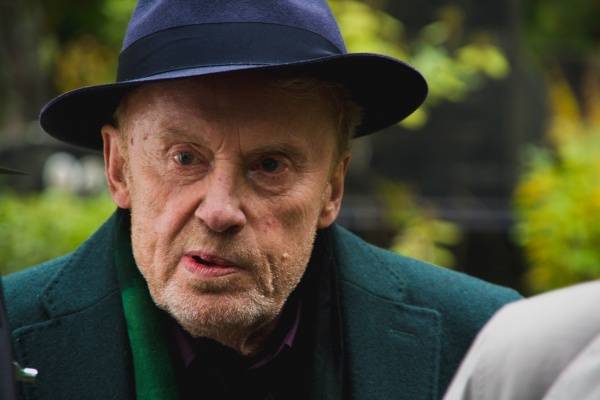 Kiedy na planie filmowym spotykają się dwie tak wielkie aktorskie indywidualności, jak Aleksiej Sieriebriakow i Daniel Olbrychski, musi iskrzyć. Zwłaszcza jeśli to iskrzenie staje się częścią kreacji postaci. W filmie Siergieja Liwniewa, który powrócił do reżyserii po prawie ćwierćwieczu (w tym czasie zajmował się głównie produkcją), wcielają się oni w syna i ojca – artystów żydowskiego pochodzenia, których drogi rozeszły się dwie dekady wcześniej. Grany przez Olbrychskiego (mówiącego po rosyjsku własnym głosem) Wiktor Ginzburg jest światowej sławy dyrygentem; jego syn Mark, w którego wciela się Sieriebriakow, to utalentowany, ale szerzej nieznany twórca instalacji artystycznych. Dowiedziawszy się o postępującej szybkimi krokami chorobie ojca, Mark przyjeżdża z Izraela do rodzinnej Rygi. U boku Wiktora zastaje Irinę, niegdyś studentkę, później asystentkę, wreszcie gospodynię starego Ginzburga, jedną z wielu jego kobiet. Syn zdaje sobie sprawę, że to ostatnia szansa, aby naprawić trudne relacje z ojcem, ale nie będzie to możliwe dopóty, dopóki nie zostanie wyjaśniona tajemnica sprzed lat dotycząca matki Marka. Kim była? Co się z nią stało? Dlaczego porzuciła własne dziecko? Prawda okazuje się gorzka, ale zarazem wyzwalająca. Nad filmem Liwniewa od pierwszej do ostatniej minuty unosi się duch Śmierci, która nie daje o sobie zapomnieć. Przybiera on różne postaci: obecny jest w często rozbrzmiewającym w ścieżce dźwiękowej "Requiem" Mozarta, naznacza fizycznym cierpieniem życie obu bohaterów, rozpościera swój złowrogi cień nad zarastającą bluszczem willą Wiktora. Dodatkową atrakcją "Van Goghów" jest udział w rolach drugoplanowych wielkich, lecz dzisiaj nieco już zapomnianych, gwiazd kina radzieckiego: Olgi Ostroumowej ("Tak tu cicho o zmierzchu"), Swietłany Niemoliajewej ("Romans biurowy") oraz Natalii Niegody ("Mała Wiera").
Nagrody: 2019 NIKA (nagroda Rosyjskiej Akademii Sztuki Filmowej) za Najlepszą rolę męską (Aleksiej Sieriebriakow), Najlepszą drugoplanową rolę męską
Karnet na całość (obejmuje również Małego SPUTNIKA): 70 zł
Karnet na 5 seansów: 50 zł
Dramat, reż. Siergiej Liwniew, Rosja, 2018, 102 min
______________________
Kalendarz wydarzeń odbywających się w Bydgoszczy miej zawsze pod ręką dzięki aplikacji mobilnej (Android i iOS).
______________________
Informacje o wydarzeniach przesyłajcie na adres wydarzenia@visitbydgoszcz.pl
______________________
Bydgoskie Centrum Informacji nie ponosi odpowiedzialności za jakiekolwiek zmiany miejsc, godzin i dat wydarzeń.