Piwnica Pod Baranami - Kolędy i Pastorałki "Dla Miasta i Świata"
Gdzie?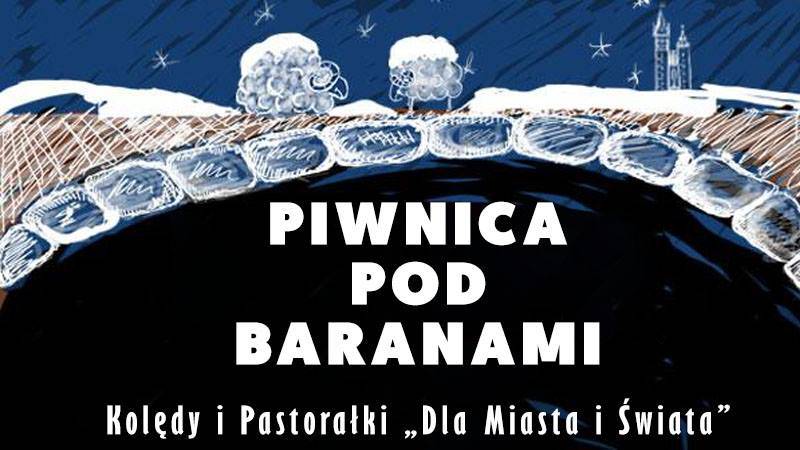 60-lecie Piwnicy Pod Baranami
Kolędy i Pastorałki "Dla Miasta i Świata"
"już ponad 60 lat działalności twórczej, magicznego, wręcz historycznego już Krakowskiego Kabaretu."
Słowem, które najlepiej opisuje tradycyjny Piwniczny koncert świąteczny jest "magia". Już sam tytuł koncertu jest zimowy i magiczny, otula słuchacza niezwykłą tajemnicą. Muzyka od samego początku wprowadza słuchacza w tajemniczy świat a kolejne etapy widowiska muzycznego odkrywają 60-letnią historię Krakowskiej legendy. Wszystko to potęguje fakt, iż Piwnica obchodzi w tym roku jubileusz 60-lecia, co każe spodziewać się dodatkowych niespodzianek na koncercie.
Kraków, mgła, śnieg, kolędnicy, galicyjskie wino to obrazy, które zimową porą towarzyszą Świątecznym koncertom Piwnicy Pod Baranami. Spektakle legendarnej Piwnicy gromadzą od wielu lat tysiące widzów pragnących zatopi się w nastrój krakowskiej cyganerii i magiczny świat sztuki. Zespół Piwnicy rozpoczął sześćdziesiąty sezon swojej działalności kultywując w swoim przesłaniu najlepsze wzorce europejskiego kabaretu, rodzimych teatrzyków przedwojnia, jak i tego bardziej współczesnego. Wszystkie utwory to oryginalne kompozycje Jana Kantego Pawluśkiewicza, Zygmunta Koniecznego, Andrzeja Zaryckiego, Zbigniewa Preisnera, do tekstów Dymnego, Nowaka, Długosza, Wójtowicza i innych. Ten niezwykły występ - który już od 20 lat przygotowują twórcy i kompozytorzy związani z Piwnicą, co roku prezentując nowy repertuar - będziemy mieli okazję obejrzeć w wykonaniu ponad 30 osobowej grupy artystów, gwiazd i muzyków Piwnicy pod Baranami.
______________________
Kalendarz wydarzeń odbywających się w Bydgoszczy miej zawsze pod ręką dzięki aplikacji mobilnej (Android i iOS).
______________________
Informacje o wydarzeniach przesyłajcie na adres wydarzenia@visitbydgoszcz.pl
______________________
Bydgoskie Centrum Informacji nie ponosi odpowiedzialności za jakiekolwiek zmiany miejsc, godzin i dat wydarzeń.